Review: Apple iPod nano (3G)
The third-generation iPod nano, one of four new and/or updated iPods announced at Apple's "The Beat Goes On" special event, was released in early September 2007.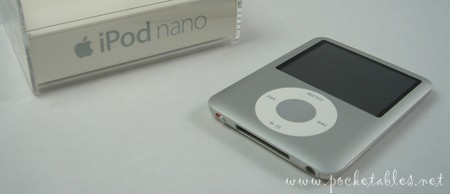 The first nano capable of playing video, it was also the first device to become available with the revamped split-panel user interface now found on the iPod classic and iPod touch. 
System specifications
Capacities:

4GB, 8GB
Supported audio:

MP3, MP3 VBR, AAC, Protected AAC, WAV, AIFF,
Apple Lossless, Audible
Supported video:

H.264, MPEG-4 (30 fps, up to 2.5 Mbps, 640 x 480)
Extras:

Photo viewer, games, light PIM (read-only), clocks,
alarms, notes, stopwatch
Display:
2.0" LED-backlit LCD (320 x 240, 204 ppi)
Dimensions:
2.75" x 2.06" x 0.26"
Weight:
1.74 ounces
Colors:

4GB: Silver
8GB: Silver, blue, green, black, red
Take a look at my nano unboxing to see the player's packaging and included accessories.
Design
Although Apple hasn't abandoned its obsession with thinness, it has said goodbye to the long and lean look it gave to previous nano generations.
Unfortunately dubbed the "fatty" by many, the new nano has been made shorter and wider to accommodate the (comparatively) large 2-inch display that takes up half of its slightly tapered anodized-aluminum face.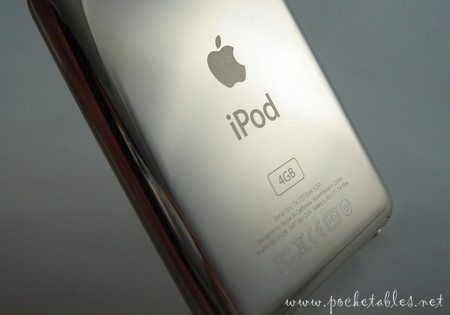 The front casing seems resistant to both fingerprints and scratches; the same cannot be said for the mirrored chrome back. It doesn't show in the picture above, but the player picked up at least 20 scratches from just being placed on top of and picked up from a smooth table. None of the scratches are deep, so they can likely be buffed/polished away, but it's still a design element that should have stayed in 2005 with the original nano.
That aside and true to Apple's standards, the 3G nano is solidly built and nice to look at.
The edges of the face are a tad sharp, making it uncomfortable to cradle with one hand, but the player is so light (only 1.74 ounces) that holding it with two fingers isn't an issue.
Size
To date, the 3G iPod nano is Apple's smallest digital media player with a color display.
There's no denying that it's small . . .

and impossibly thin.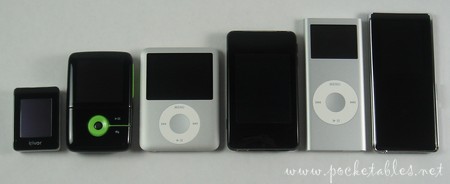 I don't think any major manufacturer makes a thinner player, but several make smaller ones. Shown above from left to right: iriver S10, Creative Zen V Plus, 3G iPod nano, iriver clix 2, 2G iPod nano, and Samsung K3.
Controls
Much in the same way that "MP3 player" has become synonymous with " iPod" to most mainstream consumers, the family of players cannot be regarded independently of their infamous click wheel.
The touch-enabled wheel is responsive to even the lightest touch of the thumb, and the circular motion required for adjusting the volume and scrolling through menu items and media content is natural and comfortable. The center button is used for selecting highlighted items, while the buttons on the wheel are used to control media playback (previous/rewind, play/pause, next/fast-forward) and to access the main menu.
Any button can be pressed to turn on the nano, while the play/pause must be held down for about a second to turn it off.
Since the click wheel is the only control on the nano, there's nothing on either side or the top of the player.
On the bottom are the hold switch (to disable the click wheel), universal dock connector (for charging, syncing, and connecting to any number of accessories), and the headphone jack.
Display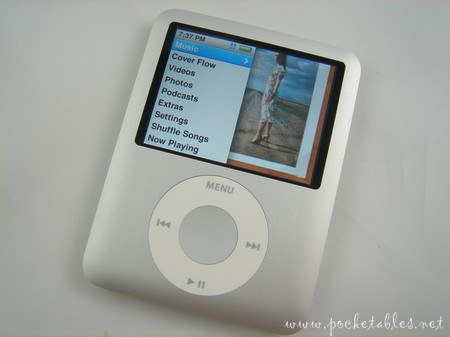 The nano is equipped with a 2-inch 320 x 240 display backlit by a blue-white LED. There's no official documentation on the number of supported colors, but I think it's 262K. Previous generations of iPods had 64K-color displays and this one is noticeably brighter and more colorful. Viewing angles are pretty good as well, though with a screen of this size, you probably wouldn't hold the player anywhere but directly in front of you.
The 3G nano's display also has more pixels per inch (204) than other Apple DAPs, including the iPod touch and iPhone, so images and videos look sharp and detailed.
User interface
Apple's new split-pane user interface is similar to the Creative-patented one it used in all of its previous players, except that now it's split in half.
The classic menu is shown on the left, while an image relevant to the highlighted menu item is shown on the right. Photos, videos, and album art make use of the Ken Burns Effect seen on Apple's iMovie, Windows Movie Maker, and other software.
Other menu-item graphics are static.
Music and main menu items can be customized to better suit your personal preferences.
Simply put, the iPod nano's interface is straightforward, logical, and easy to use.
Transferring content
The 3G nano, like all other iPods and the iPhone, must be used with iTunes. There are workarounds, of course, but none of them are sanctioned by Apple.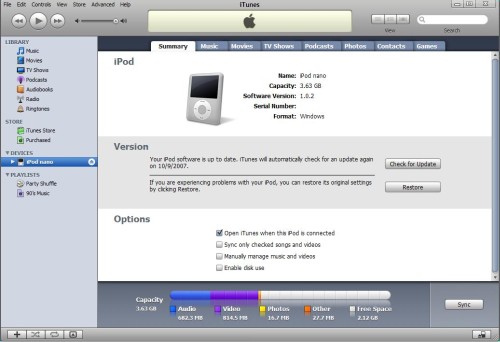 The exclusive tie to iTunes is often on the naysayer's list of strikes against the iPod, but for the technology newcomer, devoted Apple fan, or anyone else who doesn't mind installing yet another piece of software dedicated to another company's device, iTunes is so streamlined and simple.
And the iTunes + iPod + iTunes Store is a powerful combination that no one has been able to match in terms of seamless integration, ease of use, and content variety. Although a valid argument can be made that the iPod ecosystem forces consumers to conform to it, it also eliminates the guesswork often involved in ripping, converting, and transferring media to portable devices. It makes setting up, using, and subsequently enjoying a newly unboxed purchase so easy.
Audio
Keeping in mind that sound quality is incredibly subjective, my ears report that they are satisfied with the nano's output. I've never been particularly impressed with the audio on any iPod, as I find it to be less rich and full than other players, but it's still good and perfectly acceptable for most users.
In lieu of a custom EQ, the nano has a whopping 22 preset levels (complete with graphic representation on the right panel): acoustic, bass booster, bass reducer, classical, dance, deep, electronic, flat, hip hop, jazz, latin, loudness, lounge, piano, pop, R&B, rock, small speakers, spoken word, treble booster, treble reducer, and vocal booster.
Depending on what kind of music you're listening to, the EQs can moderately improve or drastically worsen the sound quality. I usually use the "off" setting, as it's too much of a hassle for me to switch EQs between songs.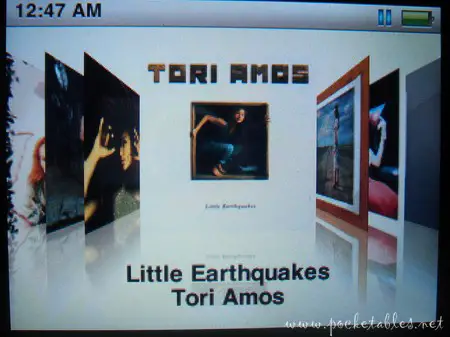 Music is sorted by ID3 tag and can be viewed by artist, song title, album title, and even Cover Flow. "Flipping" through album covers isn't quite as fluid as it is on the iPhone (and presumably the iPod touch), but it's definitely a standout feature you'll want to show off at least once.

An unlimited number of on-the-go playlists can be created directly on the nano by selecting an album or song and holding down the center button until the title flashes. These playlists can be saved on the player, but editing, renaming, and deleting them requires the use of a computer.

Even though scrolling through long lists of songs is quick and easy on the nano, finding exactly what you're looking for is made even quicker and easier through the handy Search feature. Other niceties of the player's audio features include permanent and on-the-fly music shuffling, song ratings, and lyrics display.
Video
The nano's 2-inch display isn't designed for watching epic movies, but for music videos, TV shows, and the occasional movie, it's quite lovely.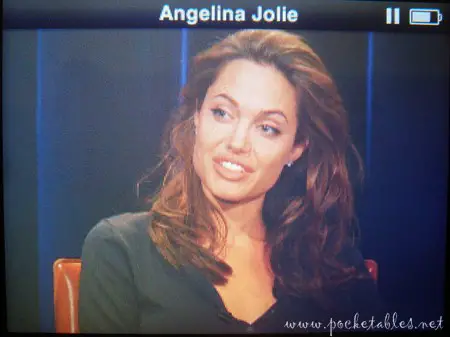 Colors are more saturated and vibrant in person, but even when a video (Inside the Actors Studio from 2005, if you're curious) is paused and a picture of the nano screen is taken with a digital camera, the quality is still great.

Videos (and photo slideshows) can also be output to a TV through the use of Apple's proprietary component/composite AV cables or AV connection kit.
Extras
The nano may not have the FM radio or voice recorder that has long been available on other DAPs, but it does have a host of other extras to round out its feature set nicely. In addition to external disk use, it has a photo viewer, games, light PIM functions, clocks, alarms, text viewer, and stopwatch.
Photo viewer
Viewing photos on the nano is pretty standard fare. Slideshows with transitions (random, cross fade, fade to black, zoom out, wipe across, wipe center)? Output to a TV? Simultaneous music playback? Check, check, and check.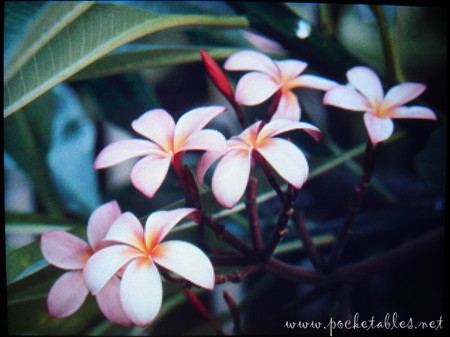 As with videos, images look great and in some cases pretty spectacular on the nano's 2-inch display.
Games
Three games come preloaded on the 3G iPod nano: iQuiz, Klondike, and Vortex.

None of them will threaten even the lamest titles in your PSP or DS Lite collection, but they're mildly entertaining for when you have a few minutes to kill. Better games like Ms. Pac-Man, Tetris, and Sudoku are available for $4.99 each from the iTunes Store.
Calendar/Contacts/To-do lists
The nano can sync PIM data with Address Book and iCal on a Mac and Windows Address Book and Outlook 2003+ on a PC.

Calendar events, contact information, and appointments can also be added manually when the nano is connected to a computer in external disk mode.
Everything synced or manually added to the player can only be edited through the use of a computer. In other words, the PIM features are read-only on the nano.
Clocks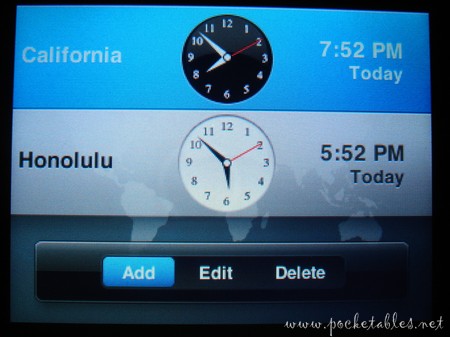 Not much to say about the clocks feature other than that it's there and that a seemingly limitless amount of new clocks can be added.
Alarms
The sleep timer (15, 30, 60, 90, and 120 minutes) and alarm clock function appear together and can be found under Main Menu –> Extras –> Alarms.
Notes
Like Calendars and Contacts, Notes is a read-only feature. Only files saved in .txt format are compatible, and the nano must be enabled as an external disk to accept documents that are dragged and dropped onto it.
Stopwatch
The stopwatch is technically designed for use when exercising or running laps, but I use it for things like timing page load times on mobile browsers.
It's a little bonus that isn't seen on most other companies' players, and I find it to be pretty useful. Its inclusion or omission wouldn't make or break a device, of course, but I like that it's there.
Battery life
The nano's li-ion battery is non-removable and rated for up to 24 hours of audio and 5 hours of video playback time, depending on screen brightness, file format, bitrate, and other variables. I haven't run any drain tests, but based on my usage of the player over the past few weeks, Apple's estimates seem about right.
Conclusion
The third-generation Apple iPod nano is a significant upgrade over the previous generation, not only in terms of design but also in features.
The new nano has a new look, new video playback capabilities, and a new user interface. It's also got great battery life, terrific image quality, and is as easy to use as ever.
Available in five colors from Amazon.com and other major retailers for $149 (4GB) and $199 (8GB).