Review: HTC Advantage X7501 keyboard
One of the most unique features of the HTC Advantage X7501 is its detachable magnetic keyboard.
Since nearly everything about it—size, usability, comfort—has generated commentary from users and interest from curious consumers, I'd like to offer my take on it with a full keyboard review.
Overview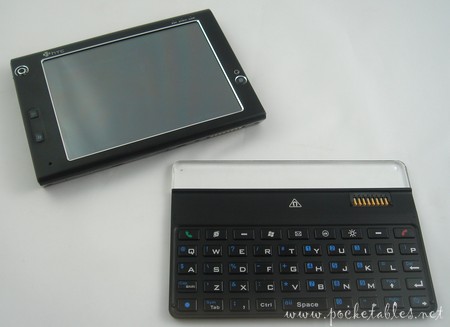 If you're familiar with the Windows Mobile 6 Professional handtop, you already know that the keyboard and the Advantage are two separate units.
A small section at the bottom of the Advantage and the entire top strip and bottom corners of the keyboard are magnetic. The copper connectors on both pieces need to be in contact for the device to detect the keyboard and for key presses to register.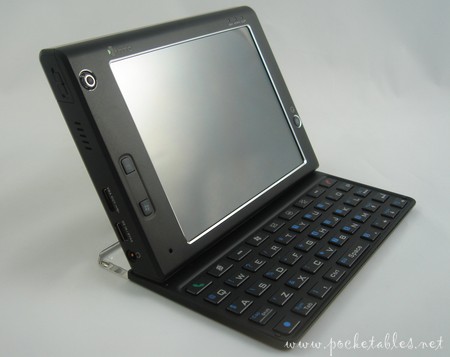 The angle at which the main unit is attached is not adjustable. I've previously demonstrated the strength of the connection in my "One week with the HTC Advantage X7501" article, but here's the video again in case you missed it the first time.
As shown in my unboxing gallery, when the keyboard is not in use, it can be flipped over and magnetically attached to the Advantage to protect its 5-inch screen.
The unit's subdisplay is automatically activated when the keyboard is pressed against the display and can be turned on/off using the power button on the right side of the device. The clear plastic strip on the keyboard enables easy viewing of the subdisplay, which shows the current connectivity status, battery information, volume, time, and other notifications (new email, missed calls, etc.) by default. With the use of WorldMate software, it can also show world time, weather, and temperature information.
Design
There isn't much to say about the look of the keyboard because . . . well, it's a keyboard. The keys are evenly spaced, the color contrast is easy to see (though a backlight would be much appreciated), and from a design standpoint, that's about it.
It's not bad looking by any means, but again, it's a keyboard.
Size
For what it's worth, though, it's probably one of the thinnest ones around.

It's only 0.16 inches thick, which is about the same as a stack of four credit cards, and is about 75% thinner than the main unit.

It's very similar in size to the Think Outside (now iGo) Stowaway Universal Bluetooth
keyboard.
But only when folded.
Usability
Those familiar and/or comfortable with using mobile device keyboards, or thumboards, should be able to adapt to the HTC Advantage's keyboard with relative ease.
The biggest initial hurdle, aside from the lack of backlighting and very little tactile feedback, is the layout. Every key—except those in the top row, enter/return, control, and function (blue dot)—is double-mapped, so it takes a bit of time to learn where everything is.
This is typical of thumboards, as only so much can be fit onto a small space, but there's really no reason for the comma key to be between Tab (already less than ideally placed) and Ctrl. I understand the desire for symmetry, but it still should've been next to the period key. That's just where it belongs! It's one of the most commonly (mis)used punctuation marks in the English language, so a good deal of brain retraining is required to remember where it is. It isn't that hard to remember, of course, but it's still annoying.
English-major-inspired griping aside, the HTC Advantage keyboard is better than it looks. It isn't the most usable thumboard around (I give that honor to the OQO Model 02 and Pepper Pad 3), but for its size, it's pretty versatile.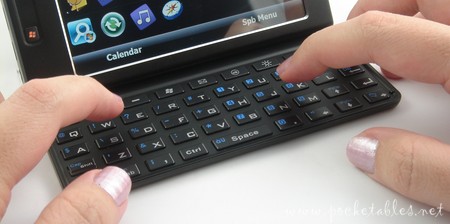 It can be used with relatively equal success in both mini laptop (hunt-and-peck on a flat surface) and UMPC (thumb typing held between two hands) modes.
Typing Speed
To quantify that, here are my typing test "scores" alongside my other mobile device keyboard results.
Handtop
Percentage of
touch-typing speed
DialKeys on Samsung Q1P
29% (25 wpm)
OQO Model 01+
34% (29 wpm)
Apple iPhone
35% (30 wpm)
Kohjinsha SA1F00A (UMPC mode)
36% (31 wpm)
Sony Vaio UX180P
37% (32 wpm)
HTC Advantage X7501 (laptop mode)
38% (33 wpm)
HTC Advantage X7501 (UMPC mode)
40% (34 wpm)
FlipStart, high-capacity (UMPC mode)
40% (34 wpm)
FlipStart, both batteries (laptop mode)
41% (35 wpm)
FlipStart, slimline (UMPC mode)
43% (37 wpm)
Kohjinsha SA1F00A (laptop mode)
51% (44 wpm)
OQO Model 02
51% (44 wpm)
Pepper Pad 3
54% (46 wpm)
Even though the difference between both usage modes is only one word per minute, I was still surprised that two-handed thumb typing was faster for me than hunt-and-peck typing with several fingers.
My results aren't that impressive, but both numbers are getting better with time. I was typing at less than 30% of my normal speed when I first unboxed the Advantage six weeks ago, so I'm making decent progress. Experimenting with hand positions and becoming familiar with the keyboard layout play a big part in increasing typing speed.
Comfort
The size of the keyboard and the keys themselves make for a nice, comfortable experience . . . when the keyboard is not attached to the device. I suppose it's a ridiculous thought, but sometimes I wish the two pieces could be connected over Bluetooth. If the Advantage had a built-in stand, I could see myself typing quite comfortably with the keyboard in both hands.
The problem now, in UMPC mode, is the positioning. Unlike a slider-style device like the OQO Model 02 or Sony Vaio UX series, the Advantage's keyboard has to held horizontally in order to best view the screen. This makes typing feel a bit unnatural, as a typical thumboard position would be more vertical. As you saw in the video above, the magnets are strong enough to withstand more daring angles, but the optimal keyboard position makes the screen nearly impossible to see.
In addition, the thinness of the keyboard makes it a little uncomfortable to hold, especially because there's a slight balancing act involved due to how top-heavy the unit becomes when held by the keyboard with the Advantage attached.

I must have really weak index fingers because they get tired much more quickly in mini laptop mode than my thumbs get in UMPC mode. Either that, or the lack of substantial tactile feedback from the shallow keys makes me press down harder than necessary.
The keys don't actually require a very deliberate press to register the keystroke, but I think my index fingers need acknowledgment of their efforts to move on.
Conclusion
The HTC Advantage X7501 may not be equipped with the most comfortable or usable keyboard, but its versatility and "detachability" make it a nice add-on to have when you tire of the on-screen input methods (virtual keyboard and handwriting recognition) or if you don't have a portable Bluetooth keyboard on hand.
The Advantage keyboard is best suited for typing URLs, user IDs, passwords, text messages, and other short text entry. Anything more extensive is either an exercise in patience or in masochism.