The OQO Model 02 was introduced at CES 2007 as the world's smallest Vista-capable personal computer and began shipping to customers (sort of) in late March.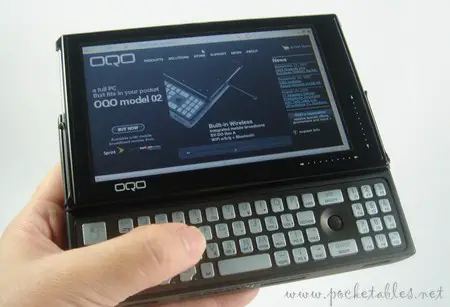 The award-winning UMPC was updated with better specs and reduced prices in early September and a review unit from Dynamism found its way into my hands several weeks later. I've been using it daily for three weeks, and I honestly don't want to stop.
Read my complete review below to find out why.
System specifications
| | |
| --- | --- |
| Processor: | 1.5GHz VIA C7-M ULV |
| Memory: | 1GB DDR SDRAM |
| OS: | Windows Vista Ultimate |
| Storage: | 60GB shock-mounted HDD |
| Display: | 5" LCD (800 x 480) with active digitizer |
| Wireless: | EV-DO Rev A, 802.11a/b/g, Bluetooth 2.0 +EDR |
| Size: | 5.6" x 3.3" x 1.0" |
| Weight: | 1.0 lb. |
The Model 02 is available in several configurations and price points. According to OQO's labeling system (below), my review unit is the "better" model.
Box contents
OQO's presentation of the 02 is simple and elegant.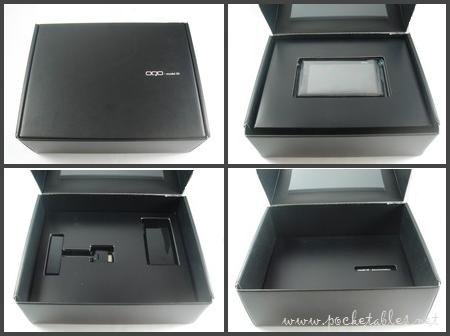 Nestled inside the black outer box are three additional boxes: the unit on top, accessories in the middle, and documentation and reinstallation DVD on the bottom.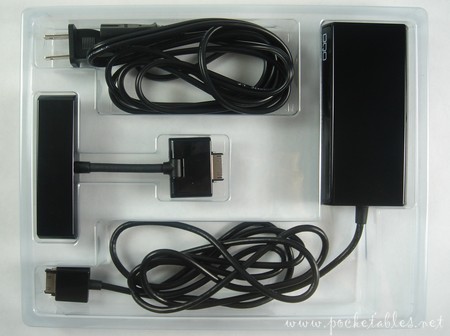 Along with a preinstalled screen protector, extra track stick cap, and standard 4500mAh li-ion polymer battery, the unit ships with a glossy black AC power supply and VGA/ethernet adapter.
Sadly absent from all models except those running Windows XP Tablet PC Edition 2005 is a digital pen, which is required for interacting with the active digitizer. In other words, if you opt for any other operating system and don't already have a pen, you either have to go out and buy one (the official OQO pen is $29) or forget about touching the 02's display with anything but the mouse pointer.
Design
Fashioned largely out of rugged magnesium alloy and glossy black plastic, the Model 02 is really quite beautiful and classy (a nice improvement over its 01+ predecessor).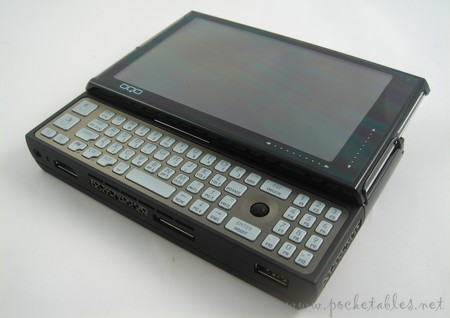 Build quality is outstanding: sturdy and solid with no loose parts or wobbly bits.
Even though the UMPC weighs a mere pound, it actually feels heavier than it looks. It is by no means a brick, but several people I showed it to did comment on its weight as soon as they picked it up.
Size
The only reason, really, to be taken aback by the 02's weight is because it's so small. When you see the little unit sitting on the table, you just expect it to weigh next to nothing.
Picking it up with that expectation in mind is sort of like grabbing an empty carton of milk that you actually think is full (well, it's the opposite reaction, really, but it's the same type of disconnect between your arm and brain).
Seeing the 02 alongside the HTC Advantage X7501, Nokia N800, and Archos 604 WiFi really drives home this point, as the other devices weigh 12.7, 7.3, and 10.2 ounces, respectively. None of the other gadgets are full Vista computers, of course, but you can see why one would expect the 02 to weigh less based on looks alone.
OQO has given the Model 02 the "world's smallest full-featured PC" title, which I believe is absolutely true (at the time of this writing). One of its closest competitors, in terms of size, is the Sony Vaio UX Micro PC series.
Display
The 02 features a 5-inch active digitizer LCD with a native resolution of 800 x 480.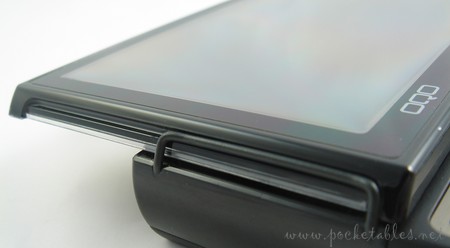 With the help of metal side rails, the screen bezel slides up and down smoothly and easily.
Brightness
A light sensor in the top right corner of the display frame detects ambient light and automatically adjusts screen brightness for optimal viewing. Brightness levels can also be set manually, but the sensor does its job nicely so there's little need to fiddle with it yourself. Over the last three weeks, I've kept my review unit set at mid-brightness (10 of 20) and it's been perfect. Unlike the Model 01+, the 02's display is plenty bright and somewhat readable outdoors.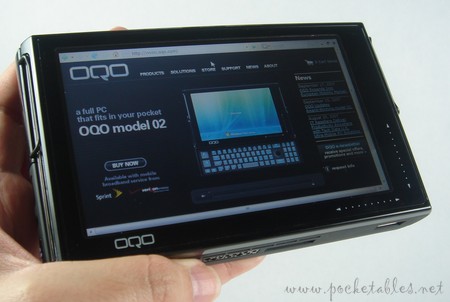 Resolution
Although it introduces horizontal scrolling on certain websites and causes some programs to fall off the screen a bit, the 02's native 800 x 480 resolution on its 5-inch display is quite nice and very easy on the eyes. It's more comfortable for extended viewing than the Vaio UX's higher resolution, which begins to cause a bit of eyestrain after about 30 minutes for me.
The 02's display supports 1000 x 600 and 1200 x 720 interpolated resolutions, which are usable to an extent but obviously not as pleasant to look at as the native resolution. Text and graphics look slightly fuzzy up close but are otherwise fine from a normal viewing distance.
Rotation & Active Digitizer
There's a keyboard shortcut to rotate the display into portrait mode, but every time I tried it, the system either crashed or ignored the command. The active digitizer is another feature I wasn't able to use during my time with the unit because:
OQO doesn't include a digital pen if the unit isn't running XP Tablet.
I don't have a pen from another device at home (all of my touchscreen devices have passive/resistive displays).
None of the brick-and-mortar electronics shops here in Hawaii carry digital pens (or even Tablet PCs).
Since the functionality was nonexistent for me, I'll redirect you to Ultra Mobility for a nice overview of the inking experience afforded by the Model 02.
External Display
The OQO can be connected to external VGA (using supplied VGA/ethernet adapter), HDMI (through built-in HDMI port), and DVI (using HDMI-to-DVI adapter, sold separately for $19) monitors with resolutions up to 1920 x 1200. Dual display in both mirrored and extended desktop viewing modes are also supported.
Controls
Even without the use of the active digitizer, there are still a lot of other ways to navigate through Windows XP or Vista on the 02. Most of the hardware controls are on the keyboard, which has its own section below, so let's take a look at everything else first.
At the bottom right corner of the display frame are horizontal and vertical capacitive TouchScrollers. As their name indicates, sliding your thumb across and/or up and down these scrollers allows you to scroll through web pages and documents horizontally and vertically. They're pretty responsive and easy to reach and use whether the display is in its open or closed position.
On the left side of the unit are the integrated wi-fi and WWAN antennas, battery release button, security slot, and power button.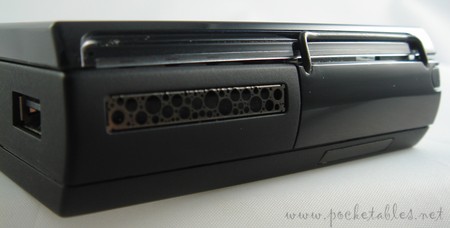 One of three fancy-looking air vents is located on the right side of the 02. Next to it are another housing for the wireless antennas and the retractable WWAN whip antenna (more on this in the "Connectivity" section below). Below that is the LED battery gauge.

At the bottom are a standard 3.5mm headphone jack, microphone, HDMI port, the second fancy air vent (the third is at the top), docking connector, and USB 2.0 port.
Nothing but the removable battery is on the back. Actually, the battery is the back.
Keyboard
The Model 02's display slides up to reveal what is one of the best thumb keyboards, or thumboards, I have ever used.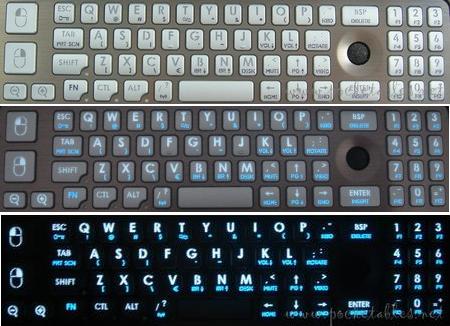 The same light sensor that automatically adjusts screen brightness also controls the thumboard's backlight, which is visible in low-light environments (above middle) and in complete darkness (above bottom). This makes typing absolutely anywhere, absolutely possible.
Track Stick
To the left of the number keypad is a textured track stick used to control the mouse pointer.
The track stick is well placed for right-handed folks and its movement is relatively smooth. Controlling the pointer out of the box, with no practice, is easier and more accurate than on other devices will similar track sticks (e.g., FlipStart 1.0), but "mouse drift" can occasionally become an issue. It happened to me once during the past three weeks of daily use and could only be resolved with a restart.
Mouse Buttons
On the left edge of the Model 02 keyboard are left and right mouse buttons, which duplicate the typical left- and right-click functions on standard computer mice. Their placement takes some getting used to because most people expect the tab and shift keys to be on the left edge of keyboards. The mouse buttons being in their place can sometimes cause issues when thumb typing; I still occasionally press the right mouse button when I mean to hit the shift key instead.
SmartLock Keys
OQO equipped the keyboard with four of what it calls SmartLock keys.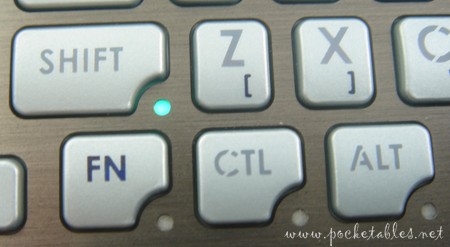 They perform the same function as Windows' built-in StickyKeys feature, which allows key combinations to be pressed sequentially rather than simultaneously, but have LEDs next to them to serve as visual indicators for when the function is active (pulsing light) or locked (solid light).
Because so much of the navigational controls are on the keyboard, using the OQO Model 02 with its display in its closed position is difficult without the use of a digital pen (which, I can't stress enough, is not included with units running anything other than XP Tablet).
Typing
Although some of the keys aren't where they normally are on standard U.S. layouts and the dedicated number keypad introduces a bit of extra right-thumb stretching, the 02's thumboard is superb.
The keys are nicely sized and spaced, and tactile feedback is excellent. Excellent.
Here are my typing test results alongside previously published results from some of my other reviews.
Handtop
Percentage of
touch-typing speed
DialKeys on Samsung Q1P
29% (25 wpm)
OQO Model 01+
34% (29 wpm)
Apple iPhone
35% (30 wpm)
Kohjinsha SA1F00A (UMPC mode)
36% (31 wpm)
Sony Vaio UX180P
37% (32 wpm)
FlipStart, high-capacity (UMPC mode)
40% (34 wpm)
FlipStart, both batteries (laptop mode)
41% (35 wpm)
FlipStart, slimline (UMPC mode)
43% (37 wpm)
Kohjinsha SA1F00A (laptop mode)
51% (44 wpm)
OQO Model 02
51% (44 wpm)
Pepper Pad 3
54% (46 wpm)
Being able to type at 51% of my average full-size keyboard typing speed on a thumboard of this size is nothing short of amazing to me.
Of course when extensive typing needs to be done, connecting a portable Bluetooth keyboard is always an option.
Connectivity
With ethernet (via supplied VGA/ethernet adapter), wi-fi, Bluetooth, and EV-DO Rev A connectivity, the OQO Model 02 almost makes it impossible not to be online at all times.
The wireless dashboard utility makes it easy to monitor and switch between various connections.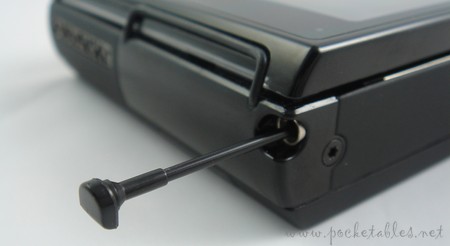 EV-DO Rev A mobile broadband is available (with activation and contract; monthly plans start at $60) through either Sprint or Verizon. The retractable antenna is housed in the top right corner of the 02, extends about 4 inches, and can be rotated in just about any direction.
My review unit didn't come with an activated account, so I couldn't test the speeds or coverage here in Honolulu. I have been on Sprint's network using the FlipStart 1.0, though, and found performance to be acceptable (scroll down or do a Ctrl + F search for the "Connectivity" section of the FlipStart review for more information).
Since the Model 02 is a full-featured computer running Windows Vista Ultimate, web browsing is as rich and enjoyable as it is on a regular notebook or desktop. Horizontal scrolling is something of a given, as few pages these days are optimized for 800 x 480 resolutions, but the TouchScrollers and other navigational controls make it easy to work around.
YouTube and most other online videos play back with no problem on the 02's VIA C7-M processor.
Performance
As I often say around here, even with benchmark results and other technical data, how well a system performs in the real world is really based on individual perception.
If you can tolerate nothing less than the top-of-the-line powerhouse desktop systems, then something like the OQO Model 02 (or any UMPC, for that matter) will definitely not make you happy.
My personal processing requirements are very low. I'm more of a computer neat freak than a multi-tasker, so aside from whatever background nonsense Windows is doing, I typically have only one program running at a time (I can't stand seeing too many open windows and apps on the taskbar). And that one program is usually just Firefox.
That said, I'm rather pleased with the 02's performance. The fan can get quite loud (sounds like distant rain or white noise) at times, but otherwise it's a relatively quiet machine.
There's been a lot of talk about Vista having no place on an ultramobile device, but I don't agree with most of it. Vista is much faster than XP in awakening/resuming from standby/sleep, which means relatively quick access to email, the web, and other important information (and who can complain about that?). To illustrate, here are the OQO Model 02 results from a series of timed tests I performed this afternoon with the 02 in its out-of-box state (i.e., no optimization or tweaking).
Sleep:

5 seconds
Wake:
6 seconds
Restart:
1 minute, 55 seconds
Shut Down:
1 minute, 4 seconds
Cold Boot:
1 minute, 47 seconds
Launch Firefox:
10 seconds (first launch after restart)
3 seconds (subsequent launch)
Launch IE7:
8 seconds (first launch after restart)
3 seconds (subsequent launch)
Launch
Origami Experience:
8 seconds (first launch after restart)
3 seconds (subsequent launch)
Launch WMP11:
6 seconds (first launch after restart)
3 seconds (subsequent launch)
Wake to Firefox Launch:
14 seconds
Wake to IE7 Launch:
16 seconds
Wake to Origami
Experience Launch:
17 seconds
Wake to WMP11 Launch:
11 seconds
The unit doesn't have any LEDs to indicate disk activity, so testing was a bit tricky.
Comfort
Generally speaking, the Model 02 is comfortable to hold and use in one or two hands. Its compact frame makes it easy to hold in just about any position and if the screen rotation feature on my review unit worked properly, the device would be great for reading eBooks or for taking handwritten notes because it fits very nicely in hand when in portrait mode.
Nothing on the device is sharp, but more rounded corners or some additional contour would eliminate the possibility of ever being jabbed (even if very slightly) in the hand when holding the unit in certain positions.
As one of the lightest (if not the lightest) UMPCs currently on the market, the 02 can be used for extended periods of time without causing any fatigue in the forearms, wrists, or hands.
Battery life
The standard 4500mAh lithium-ion polymer battery (3.7V) included with the unit is given an "up to 3 hours" estimated life by OQO.
While this figure may be accurate under a specific set of conditions, based on my usage (wi-fi on, bluetooth off, screen at mid-brightness, system's "balanced" power plan), the 02 is really only about a 2-hour device.
Light browsing (no online video) via Firefox for an hour, for example, knocked off 52% of the standard battery's charge. The drain rate in sleep mode seems a bit inefficient as well, as 11 hours of sleep drained 44% of the battery. This suggests that if the 02 is kept in sleep mode for a full day, it will be almost dead when you turn it on the following day.
Conclusion
Starting at $1299, the OQO Model 02 may be more expensive than most are willing to pay for a pint-size PC, but its outstanding thumb keyboard, beautiful design, compact form factor, connectivity options, easy navigation, and respectable performance make it well worth the cost.
Substandard (for a second-gen UMPC) battery life and the fact that a digital pen is not included unless the 02 is preloaded with Windows XP Tablet are incredibly annoying, to be sure, but both problems can be solved with a single swipe of your credit card; OQO sells the double-capacity battery for $199 ($189 at Amazon
) and the digital pen for $29.
That aside, the Model 02 is an amazing upgrade to previous models and definitely steps up and delivers on all of its pre-release promises.
Tomorrow will be
     a very sad day
FedEx will take
     my review unit away
This article is part of the Quick Takes series. Quick Takes are based on short-term usage of various gadgets provided by Dynamism, the best place to find next-generation notebooks and consumer electronics from Japan and around the world.