Review: Sony S610 Walkman
The S610 Walkman series is one of Sony's first portable media devices to support video playback. Available in 2GB (S615F), 4GB (S616F), and 8GB (S618F) capacities, the flash player is also among the company's new generation of products that finally embrace an "open format" by shunning both SonicStage and ATRAC, its proprietary audio codec, in favor of Windows-based drag-and-drop and syncing with Windows Media Player.
Read on for my full review.
System specifications
| | |
| --- | --- |
| Capacities: | 2GB, 4GB, 8GB |
| Supported audio: | MP3, WMA, WMA-DRM10, WAV, AAC-LC |
| Supported video: | MPEG-4, H.264/AVC (M4V) |
| Extras: | Photo viewer, FM radio |
| Display: | 1.8" TFT (320 x 240) |
| Dimensions: | 3.11" x 1.65" x 0.45" |
| Weight: | 1.8 ounces |
| Colors: | Black, pink, red, silver (Sony Style exclusive) |
Take a look at my S610 unboxing to view the player's packaging and included accessories. Other accessories, such as a Bluetooth adapter, cradle, speaker system
, and various cases, are available separately.
Update 11.25.07: Read my full Sony Walkman cradle review.
Design
Designed with a more youthful demographic in mind (according to the press release), the S610 looks and feels a bit like a toy because of its heavily rounded corners and mostly plastic casing.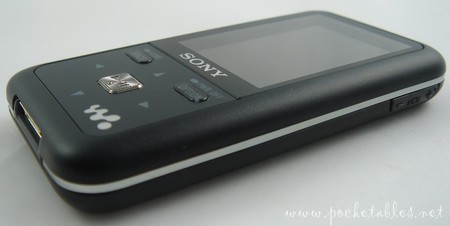 Build quality is good, but not quite on par with what I've come to expect from Sony. The player creaks when squeezed and although this isn't really the case, it feels like I could pry the device apart at its seams with little effort.
Tiny flecks of silver and blue are embedded into the plastic, which is smooth and resistant to smudges and fingerprints. This "glitter effect" furthers the toy association for me because the only time I come across glittery plastic is when I'm shopping for my 1-, 3-, and 5-year-old nieces.
Size
There's nothing particularly remarkable about the size of the S610.

It isn't the smallest or the thinnest player around, but it's by no means too big or too thick either. From a comfort standpoint, I think it could stand to be a little wider, as my fingers tend to feel cramped after using the device for even short periods of time (under 30 minutes).
Display
Although the S610 Walkman's TFT screen measures only 1.8 inches diagonally, viewing photos/videos and reading text is easy on the eyes and quite enjoyable.
Screen brightness can be adjusted in five levels, and a clock screensaver can be set to automatically display after 15, 30, or 60 seconds of screen inactivity. The clock can also be called up manually through the player's context menus.
For such a small screen with such low resolution, the S610 does a fine job of accurately reproducing colors and fine details. Images are bright, colorful, and sharp.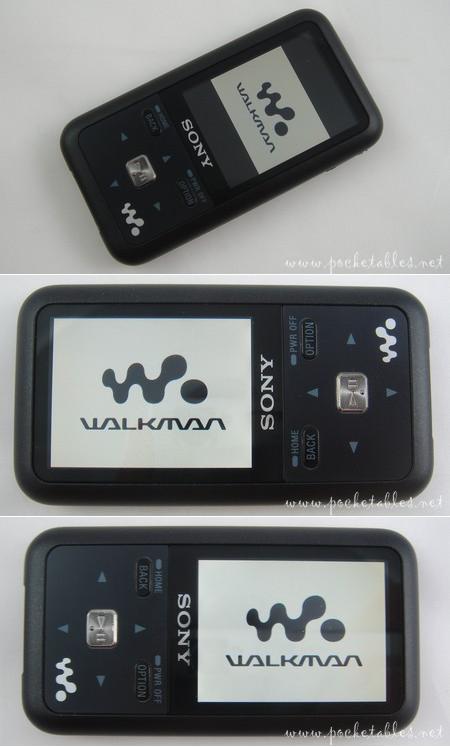 The display can be rotated manually through the context menu available in each section of the system (the function of the controls rotate along with it). Orientation "rules" can also be set so that, for example, all videos play back in right-handed landscape mode by default.
Controls
There's really no learning curve for using the S610 Walkman because its controls are labeled and logically placed.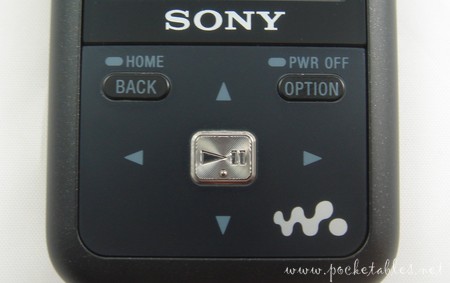 On the front of the player is the 5-way control (the blue arrows for navigating through the menus, the silver center button for starting/pausing media playback), back/home button (quick press for going back to the previous menu or screen level, press and hold for returning to the home menu), and option/power button (quick press for bringing up context menus, press and hold to turn off the screen and enter standby mode).
The player will stay in standby for about a day before it is turned off completely. Any button will turn on/awaken the device and display the Now Playing screen.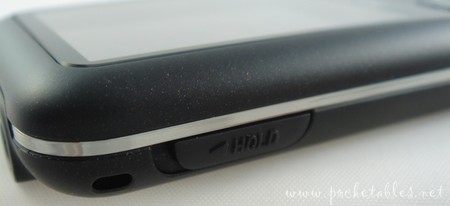 To prevent accidental operation of the S610, there's a dedicated hold switch on the left side of the player.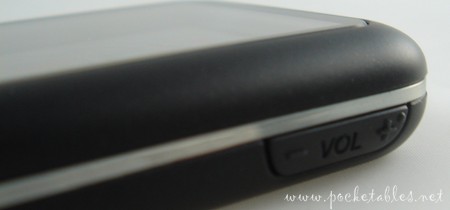 Volume controls (0 to 30) are on the right side.
At the top is a standard 3.5mm headphone jack.
And on the bottom are a reset button and what Sony calls a WM-PORT jack. This proprietary connection is used for charging and syncing the player, as well connecting to various accessories.
Graphical user interface
Like the hardware controls, the S610's graphical user interface is straightforward and easy to understand for users of all levels of expertise.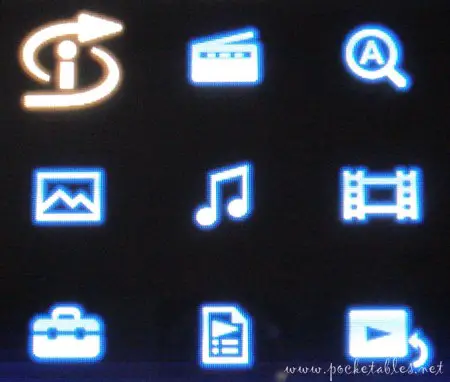 The home menu isn't customizable, but it still makes navigation a breeze because each icon corresponds to a particular function. From top left to bottom right: Intelligent Shuffle, FM Radio, Initial Search, Photo Library, Music Library, Video Library, Settings, Playlists, Now Playing.
When an icon is selected using the 5-way control, a line of text describing its function appears near the bottom of the screen and the graphic enlarges and glows orange.
There is absolutely no lag time between pressing a button and reaching the desired area of the system, so navigation is very fast.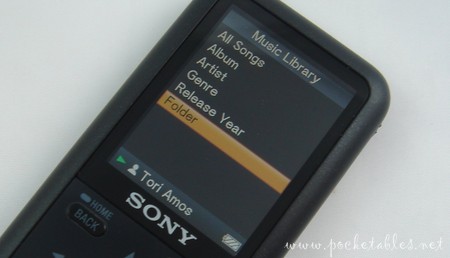 One oddity in the GUI is that certain functions you'd expect to be grouped together are actually treated separately. For example, playlists have their own home menu icon and are therefore not accessible through the music library.
A similar anomaly can be found in the way play modes are handled. Pressing the option button while on the Now Playing screen brings up a context menu. Selecting "Play Mode" from this menu (which can also be accessed via Home -> Settings -> Music Settings -> Play Mode) displays five modes: normal, repeat, shuffle, shuffle & repeat, and repeat 1 song.
This would be fine and standard . . . if there wasn't a dedicated Intelligent Shuffle icon on the home menu. "Shuffle All" duplicates the shuffle or shuffle & repeat play modes, while "Time Machine Shuffle" selects a release year randomly and plays back all songs from that year in random order.
Although the "Time Machine Shuffle" is a unique feature (assuming your ID3 tags are in tiptop shape) and I understand the appeal of having quick access to a general shuffle mode, I'm not sure that it deserves its own home-menu icon.
Transferring content
Included with the S610 is a software CD that contains Napster (free 14-day trial subscription), the product manual, Windows Media Player 11, and a utility called MP3 Conversion Tool that will convert ATRAC audio files to MP3s.
The S610 is an MTP-based PlaysForSure device, so it is compatible with Windows computers running any version of XP or Vista (32-bit). Other operating systems are not supported.
Assuming you have a Windows PC with the latest service pack installed, transferring media to the player is as easy as drag-and-drop through Windows Explorer. The device is automatically recognized when plugged into a USB port and will appear in "My Computer" under the "Portable Devices" section.
Clicking on the Walkman icon opens its directory, which allows you to drag and drop various files into the appropriate folders. Each media folder has its own set of (inconsistent) rules:
Eight levels of folders and loose files can be added to the MUSIC folder. Folders and files are displayed on the player in alphabetical order.
One level of folders and two levels of loose files can be added to the VIDEO folder. Videos are displayed in the order that they were transferred to the player (most recent on top).
One level of folders and two levels of loose files can be added to the PICTURE folder. Pictures can also be transferred to the DCIM folder, but it will only recognize a folder on the first level and files on the second level. Folders are displayed on the player in alphabetical order.
The six folders shown in the screenshot above cannot be renamed or deleted.
Content can also be managed using Windows Media Player and other music software such as Media Monkey or Winamp.
Audio
Once music is loaded onto the S610, it can be accessed by ID3 tag (song, album, artist, genre, release year) or folder and searched (by artist, album, or song) using the Initial Search function found on the home menu.
Playlists cannot be created directly on the player, but others songs in your library can be searched for based on the information displayed on the Now Playing screen, enlarged cover art and detailed song information can be viewed through the context menu, the Now Playing screen can be set to pop up every time a new song plays, and playback ranges can be customized.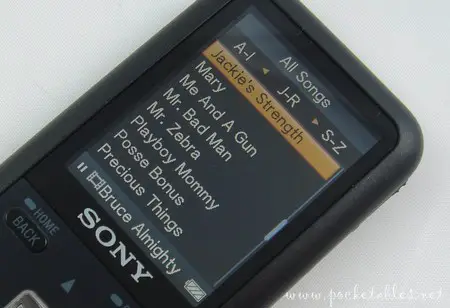 A carousel-like menu system with a horizontal index scroller at the top makes scrolling through extensive libraries simple and painless. Lists can also be scrolled through completely using the up and down arrow keys, but using the left and right arrows to jump to alphabetically grouped sections is often faster.
Equalizers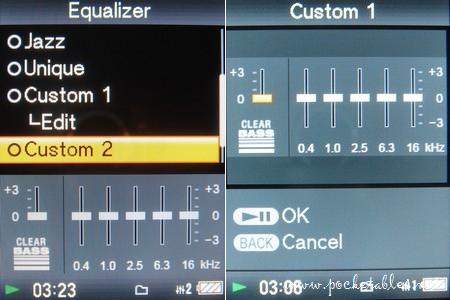 In addition to two custom EQs (five bands and Clear Bass values), the S610 has five preset sound settings: none, heavy, pop, jazz, and unique.
VPT (Surround)
There are also a handful of options that are supposed to make the sound more vibrant but that actually sometimes distort and add a considerable amount of echo to what is otherwise very nice audio quality (so say my ears, anyway). The seven options are none (off), studio, live, club, arena, matrix, and karaoke. The studio, live, club, and arena settings supposedly simulate the appropriate sound fields; the matrix setting replicates a rich sound field; and the karaoke option suppresses vocals.
The latter choice definitely works as advertised, but the rest are contestable.
Sound quality
I wouldn't say that Sony's preset EQs or proprietary VPT (Virtual Phone Technology) sound processing technology are rubbish, but they're not a perfect match for my ears and Sennheiser CX300S in-ear headphones. Consider the two customizable EQs and the ability to disable VPT, however, and it's a different story: sound can be incredibly rich, clear, and bright.
It can also get very loud with minimal distortion. There are 30 volume levels available and I keep mine set at between 8 and 10.
Video
The idea of viewing anything on a 1.8-inch display may not make your optometrist too happy, but the S610's great screen and super smooth video playback (up to 30 frames per second) make it not just possible, but actually enjoyable.
Seriously.

The preloaded Surf's Up trailer and a movie I transferred myself via drag-and-drop looked amazing on the S610. The device's play mode options (single file playback or continuous playback) and the fact that up to 1,000 video files can be displayed in the video library make it obvious that Sony doesn't suggest that you watch a 3-hour epic on the player's small screen, but I bet you wouldn't go blind either.
I say this (tongue-in-cheek, of course) not only because of the stellar video quality but also because of the zoom functions:
Auto: The video keeps its aspect ratio and is enlarged/reduced to fit the screen. The "long side" of widescreen (16:9) videos fully fit the screen.
Full: The video keeps its aspect ratio and is enlarged/reduced to fit the screen. The "short side" of widescreen videos fully fit the screen (left and right sides are cut off).
Off: The video appears at its original resolution. If it is too large, then all sides of the image are cut off.
Here's an illustration from the user's guide (the dotted frame represents the original image size):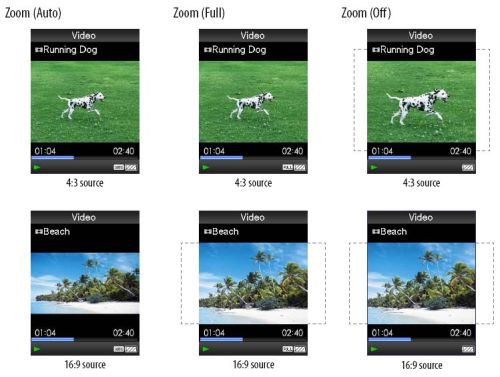 There's also an option that turns off the screen but continues to play the video's audio, which I suppose could be useful for "watching" concert footage or musicals.
Extras
The S610 Walkman is relatively light on the extras, including just a photo viewer and FM radio with the standard feature set.
Photo viewer
The photo library (like the video library and album list) can be viewed in three display formats: thumbnail only, title and thumbnail, and title only.
As shown in the "Display" section of this review above, photos look fantastic. Colors are accurate and well saturated, fine details are shown, and the images can be viewed in portrait and landscape orientations.
Slideshows can be played with music with vague "short," "normal," and "long" intervals between each picture. The transition between photos is a simple fade and slideshows can be played through once or set on repeat.
FM radio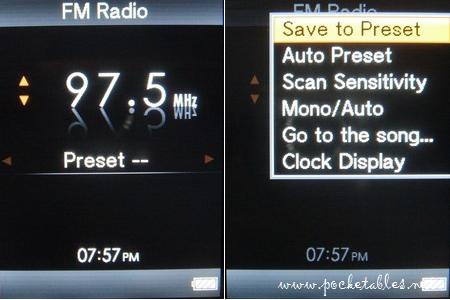 The features of the S610's FM radio is nothing out of the ordinary. It's got 30 presets, manual and automatic station scans, scan sensitivity, monaural/stereo reception, and a wordy "go to the song playback screen" option to return to the Now Playing screen and begin playback of whatever track was last played.
What the radio doesn't have (that many other players do) is FM recording.
Player in action
Here's a quick video demo of the S610 in action.
Battery life
Hold on to your jaws, folks. The S610 Walkman's non-removable battery has an estimated runtime of up to 33 hours for audio playback and up to 8 hours for video playback, depending on screen brightness and other variables.
The battery receives a full charge via USB in about 3 hours and an 80 percent charge in about 1.5 hours. An AC adapter
for presumably faster charging is available separately.
Conclusion
Competitively priced at $89.95 (2GB), $109.95 (4GB), and $159.95 (8GB), the Sony S610 Walkman digital media player offers excellent video playback, great audio quality, outstanding battery life, and (most significantly for a Sony product) freedom from SonicStage.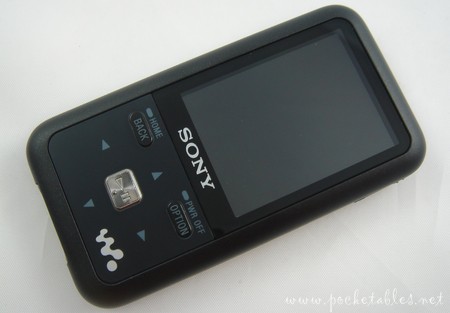 Its ease of use and simple user interface make it a nice choice for the younger crowd of MP3 enthusiasts that Sony is specifically targeting, but more advanced users and audiophiles may be unimpressed with the S610's "new" features (video playback and drag-and-drop), which have been included as standard on other companies' players for years.
The Sony S610 Walkman series is available at Sony Style,
Amazon
, and other retailers.