Review: Sony Vaio TZ carrying pouch (VGP-CP11)
The Sony Vaio VGP-CP11 carrying pouch is the only official case designed for the Vaio TZ ultraportable notebook not sold at Sony Style in the U.S.
It's a shame, really, because not only does the CP11 come with a coordinating mini pouch, but it also features a SofTone hook-and-loop closure, which is two-thirds quieter than traditional Velcro, and costs only about $40.
Read on for my full review.
Design
Although the VGP-CCTR/J is the one advertised as being fashioned out of neoprene, it's really the VGP-CP11 that features the same thick black neoprene Sony uses for its PSP and mylo cases.
Both pouches have full neoprene backs, trims, and tops (front flap for notebook pouch, decorative accent for mini pouch).
The rest of the exterior is made out of waterproof ribbed vinyl, which is rather unusual for a case. The dark gray vinyl and black neoprene contrast each other nicely and offer interesting texture variety.
Craftsmanship is flawless, with straight and even stitching, clean cuts, and smoothly rounded corners.
SofTone
Although it looks exactly like regular old Velcro to me, the VGP-CP11 pouch's closure is actually YKK Inc.'s trademarked SofTone.
The damping material (shown in red above) is responsible for SofTone's claim of producing only one-third the sound of similar fasteners when opened.
That awful ripping sound is what I hate most about Velcro, so even though I was skeptical about SofTone's claim when I ordered the case, it was actually what I was most looking forward to seeing/hearing in person.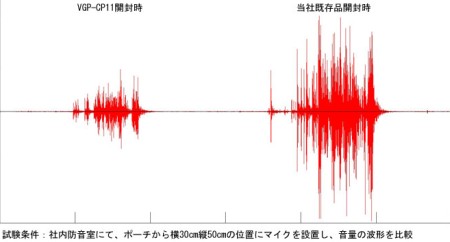 I don't have any professional audio instruments to compare SofTone with Velcro, but according to my ears, YKK Inc. is telling the absolute truth. The only way I can describe the muted sound produced by SofTone is by asking you to find someone to rip apart a piece of Velcro while you have your fingers stuck in your ears. That's what it sounds like to me.
Fit
The VGP-CP11 measures 12 x 9.3 x 0.9 inches, making it an easy fit for the Vaio TZ, Vaio TX, and most other subnotebooks with 11.1-inch or smaller displays.
The TZ slides in quickly and easily. The fit is secure without being too tight, as the material is slightly stretchy, so some loose papers or a magazine can slip in behind the notebook with little fuss.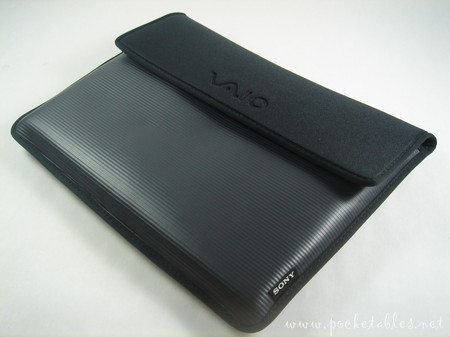 Mini pouch
Let's take a closer look at the mini pouch that accompanies the main case.
The removable strap makes the pouch easy to carry and ensures that it's kept upright, preventing everything inside it from accidentally falling out (there's no closure).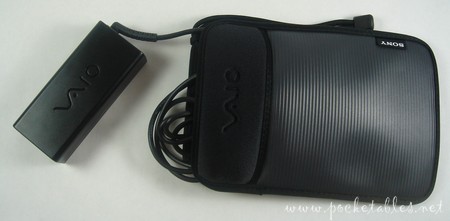 Comparison
Here are some comparison pictures of the CP11 next to the lovely CKTZ2 leather case I reviewed a few weeks ago.
Conclusion
The VGP-CP11 is the third Vaio TZ case I've bought in the past month and is currently my second favorite way to protect my Vaio TZ170N. If it had been included with the TZ as a standard accessory or if it had arrived before the CKTZ2 did, I'm sure it would've been my top choice, as it's durable, protective (without being too bulky), stylish, and incredibly affordable.
The SofTone closure makes the main pouch a viable option for business professionals, and the accompanying mini pouch is perfect for toting peripherals (e.g., AC adapter, mouse, thumb drives, cables) or even other gadgets (the OQO Model 02 actually fits perfectly!).
The VGP-CP11 is not available in the U.S. through Sony, so I got mine from eBay for $40. It can also be purchased from Sony Style Japan for 3980 yen (about $34).