Charge Carte quickly charges gadgets at airports
Until McCarran International Airport in Las Vegas gets its own set of mobile charging stations, travelers toting depleted gadgets must be content with free-standing Charge Carte kiosks. For just $3, they can connect a Treo, iPod, and various electronics to one of  Charge Carte's 12 charger cords and power up for their flight. Thanks to the system's "rapid charge technology," a compatible device can be charged up to 50% in 30 minutes.
I headed to the airport this morning with all of my gadgets topped off and ready for the trip back home to Hawaii, but if I needed to use the charging service, it looks like it would've been really easy. After connecting the device and putting it into the coiled cradle, all that needs to be done is to press the respective silver button and pay the fee with a credit or debit card. A timer counts down the remaining charge time, and the gadget can be disconnected at any time.
I've never seen the Charge Carte at any other airport so I don't know if the charging cords vary by location, but the product sheet (PDF) states that supported devices "are changed as new models are put into service." Today at McCarran, there were three connectors for iPods, two for LG, and one each for Nextel, Motorola, Blackberry, Treo, Samsung, Nokia, and Kyocera.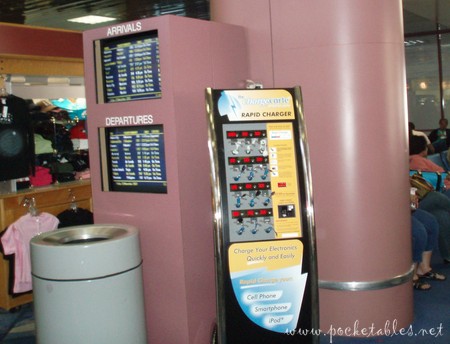 I didn't know about it before today, but the Charge Cart has apparently been around in select airports since early 2006. McCarran must have just installed this one because I was in Vegas twice last year . . .
Anyone used one before?