DataWind PocketSurfer2 tied to T-Mobile in U.S.
When the DataWind PocketSurfer2 sets sail for American shores, it may leave behind one of its most compelling features.
Instead of a full year's worth of free GPRS access that current users in the UK are able to use for 20 hours per month (supposedly "3 times the average usage of [the Internet on] a mobile phone"), the product description at MobilePlanet indicates that U.S. consumers must sign up for a $30/month data plan with T-Mobile for the PocketSurfer2 to function.
Although availability is unknown, MobilePlanet is accepting preorders of the 6.1-ounce clamshell for $310, a relatively decent price for a handheld device that sports "the industry's best thumb keyboard."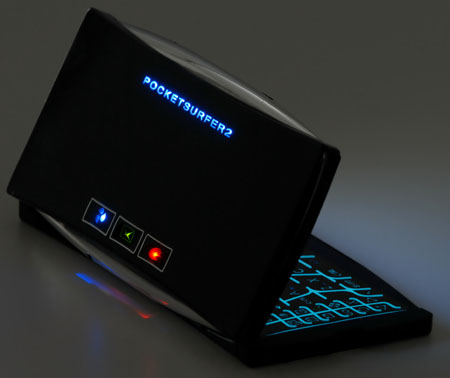 There is, of course, no sign of the PocketSurfer2 on T-Mobile's website at the moment, but bitsub.com (one of several UK retailers selling the product) notes that roaming outside the UK is now possible at a rate of £15/hour. The information doesn't exactly corroborate with MobilePlanet's T-Mobile mention, but it does make the PocketSurfer2's impending U.S. arrival seem more imminent.
Update 1.9.08: Hands-on with the DataWind PocketSurfer2.