Fujitsu LifeBook U810 size comparisons
Following up on my Fujitsu U810 unboxing from the other day, I've taken a bunch of pictures of the mini notebook alongside some of my other devices and a few common household items for a round of size comparisons. Even though it's easy to find out the U810's measurements (6.7" x 5.2-6.0" x 1.0-1.3"), seeing it next to something can usually give you a better idea of whether it'll fit into your gear bag.
I rounded up a few of my gadgets and chose ones that had either a similar form factor or function.
Shown above (clockwise from top left) are my Sony Vaio TZ notebook (11.1" screen), Fujitsu U810 (5.6" screen), Sony Vaio UX180P (4.5" screen), Nokia N800 (4.1" screen), iriver D26 (4.3" screen), Archos 704 WiFi (7" screen), and Pepper Pad 3 (7" screen). In the middle is my HTC Advantage X7501 (5" screen).
Since the only real UMPC of the lot is the UX, I'll start with that.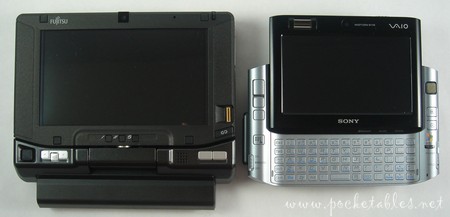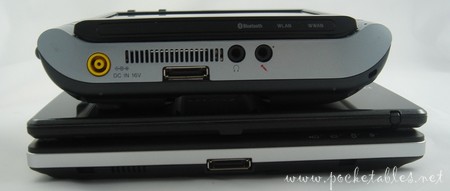 To get an idea of how the U810 would compare with other "small-screened" UMPCs, please take a look at the "Size" section in my OQO Model 02 and FlipStart 1.0 reviews (both show the units beside the UX).
Here's the U810 with the Advantage X7501:
And with both:
Given that the U810 has a larger screen than the UX and X7501, it should come as no surprise that it has a bigger footprint than the other two as well.
Now let's take a look at the devices that make it look small.

Although the U810 is significantly smaller than the Vaio TZ, it's actually just as thick.
And finally, here it is with some common items that most of you probably have at home.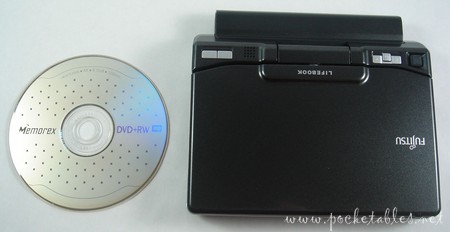 Update 11.05.07: At the request of readers kornel and bobm, here are some additional size comparisons.
Fujitsu U810 and Apple iPhone:
Fujitsu U810 and handheld game systems:
Clockwise from top left: Sony PSP, Gamepark Holdings GP2X, U810, Nintendo DS, Nintendo DS Lite.