Unboxing the Fujitsu LifeBook U810
FedEx just delivered my brand new Fujitsu LifeBook U810 mini notebook!
I had originally ordered it from Best Buy for Business last week, but after receiving an email about the unit being backordered with no firm availability date, I canceled and bought it directly from Fujitsu instead. Three days later, the U810 arrived at my door.
Take a peek at the unboxing and have a closer look at the device below.
Unboxing
Perhaps to keep costs down, Fujitsu opted to pack and ship the LifeBook U810 in a plain brown cardboard box.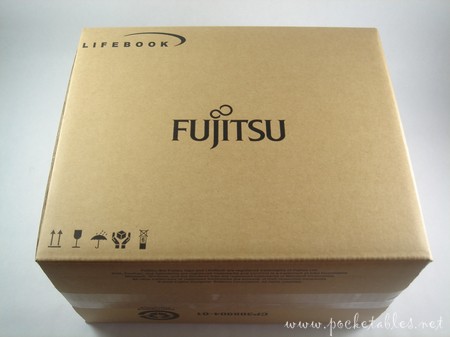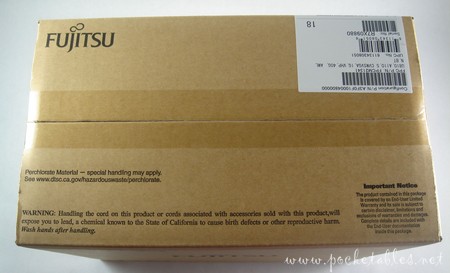 Pretty boring, if you ask me. Presentation isn't that important, especially since most packaging is cast aside and eventually thrown away, but I still think more companies should consider its impact on a consumer's first impressions. Unboxing a product is a buyer's first experience as a new owner, after all.
Box Contents
In the box are the AC adapter and power cord, spare mouse pointer cap, VGA/LAN adapter cable, and three CDs (Vista Home Premium Recovery and Utility, Drivers and Applications, and Microsoft Works 8.5).
Other configurations of the U810 include different CDs. The Vista Business model, for example, comes with both Vista and XP recovery discs.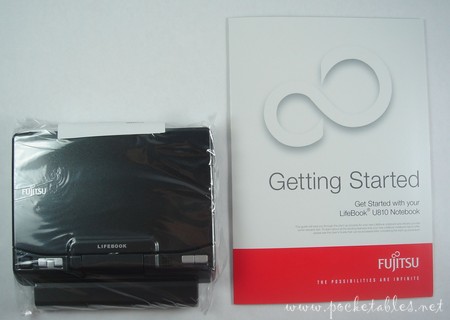 Also included in the box (aside from the unit itself) is a laminated Getting Started guide and some miscellaneous warranty pamphlets and paperwork. The stylus and li-ion battery are already "installed."
Closer Look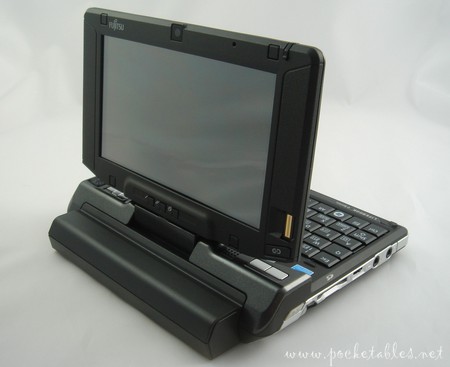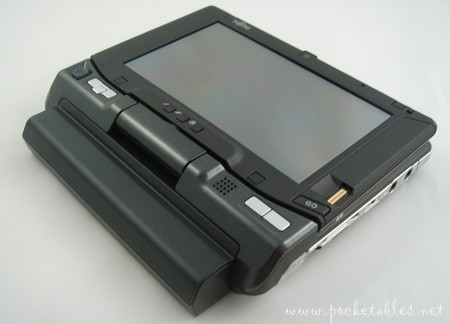 I mentioned in my "Another Fujitsu LifeBook U810 finds a home" article that one of the reasons I chose the U810 as my next UMPC was its 5.5-hour estimated battery life. The 4-cell battery sticking out so much does ruin the overall look of the device a bit, but it doesn't look quite as bad in person as I thought it would.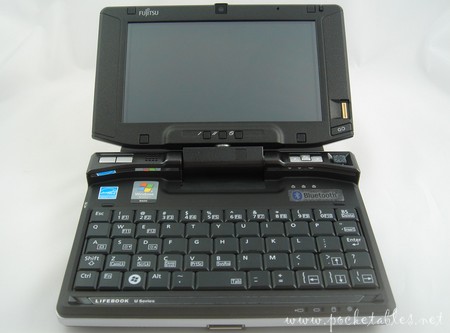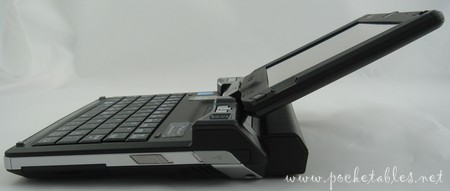 Unlike the Kohjinsha units, the Fujitsu U810 can't lean back more than about 45 degrees. Shown above is the display leaning back as far as it can go.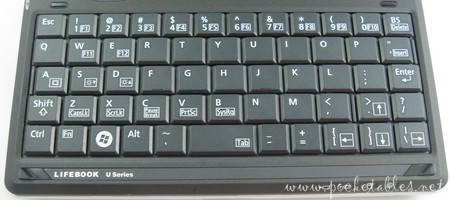 Since I haven't turned on the device yet (it's charging right now), I haven't had a chance to use the keyboard. For what it's worth, though, my "pretend-typing" sessions in both UMPC and laptop mode seem promising.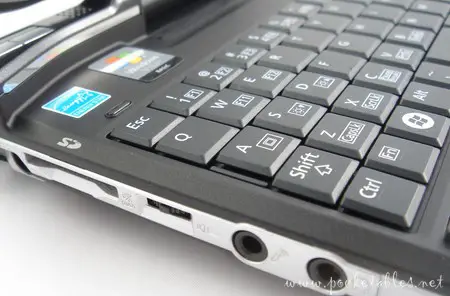 I suspect that I'll be able to type faster on this than on any other mobile device keyboard. I'll find out soon enough, but that's my prediction at the moment.
Here's a quick look at all the ports:

On the front is the port replicator connector.

The Compact Flash slot, power switch, and USB 2.0 port are on the right.

And on the left are the wi-fi/Bluetooth switch, power port, SD card slot, volume control, microphone jack, and headphone jack.
Size
I'll post some comparison pictures of the U810 next to some other devices in the next few days, but here are some in-hand shots to give you a general idea of its size.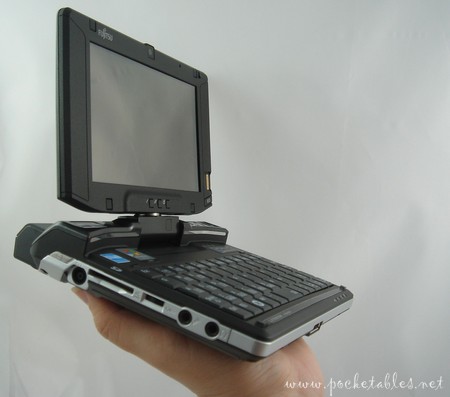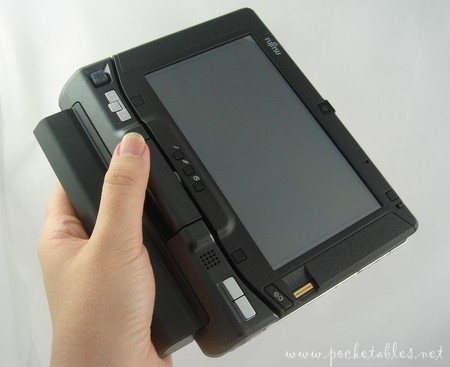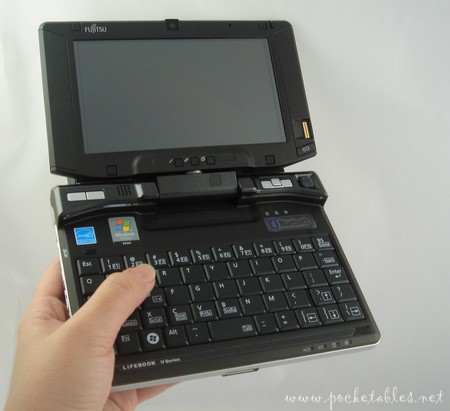 Stay tuned for more coverage and my full review.
Update 1.21.08: Fujitsu LifeBook U810 review now available!