Unboxing the Toshiba gigabeat T400
Toshiba's newest digital media player is the gigabeat T400, an affordable 4GB flash unit running an old Portable Media Center interface on a 2.4-inch QVGA display.
Three models currently comprise the gigabeat T-Series (MET400-BL, MET400-OR, MET400-PK), but they really only differ in their PlusPad and back frame accent colors. Take a peek as I unbox my blue gigabeat T400 ($100 on Amazon
) below and check back early next week for my full review.
Packaging
The gigabeat T400 is packaged neatly in a small box with the player's PlusPad navigational symbol front and center.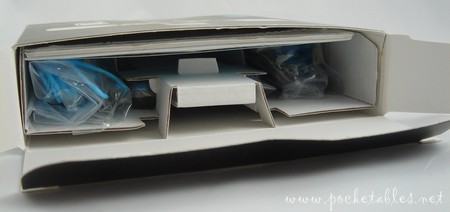 The presentation is more practical and boring than anything else, but I like that everything at least has its own space. I really can't stand when accessories are dumped into the bottom of a box with no packing materials to keep everything from sliding around.
Contents
Bundled with the T400 are the bare essentials: USB cable, software CD, matching earbuds, and requisite paperwork, including a free 30-day Napster subscription and 35 music downloads from eMusic.
Quick Look
The player is a lot nicer in person than I expected it to be. I wasn't too impressed when it was first announced two months ago, but I got my hands on one while in Las Vegas last week and had my order in at Amazon ($30 cheaper than the B&M store) a few hours later.
The supplied earbuds are horrid, but the matching cord is a nice touch.

Update 12.03.07: Toshiba gigabeat T400 review now available!