HTC Advantage X7501 and AT&T Tilt in harmony
One of the reasons I bought an AT&T Tilt (HTC TyTN II) is that I needed to downgrade my HTC Advantage X7501, which recently proved to be too big and unwieldy for primary cell phone use while traveling. As I explained in my first impressions piece, my search for a smaller yet still powerful mobile device ended with the Tilt.
Although I carry the Tilt with me more easily and frequently, it hasn't completely replaced the Advantage. In fact, while packing my carry-on for a flight to Los Angeles today, it was with no hesitation that I grabbed both devices and headed out the door.

At a glance and aside from their obvious difference in size, it's easy to think of the Advantage and Tilt as being rather redundant. Both run Windows Mobile 6 Professional and share a somewhat similar form factor, after all, so there's bound to be some definite overlap in functions.
While the devices do have much in common, they are also quite different.


HTC Advantage X7501
AT&T Tilt
OS:

Windows Mobile 6.0 Professional
Processor:

624MHz
Intel XScale PXA270
400MHz
Qualcomm MSM7200
Memory:
256MB ROM, 128MB RAM
Microdrive:

8GB
—
Expansion:

miniSD card slot
microSD card slot
Connectivity:
802.11b/g, Bluetooth 2.0, GPS
Network:
Tri-band UMTS/HSDPA
Quad-band GSM/GPRS/EDGE
Camera:
3 megapixels (with flash)
3 megapixels (no flash)
Display:
5.0" VGA touchscreen
(640 x 480, 65K colors)
2.8" QVGA touchscreen
(240 x 320, 65K colors)
Dimensions:
5.26" x 3.86" x 0.63"
(0.79" thick w/keyboard)
4.4" x 2.3" x 0.73"
Weight:

12.7 ounces
6.0 ounces
Battery:

2200mAh li-ion
up to 5.5 hours talk time
up to 12.5 days standby
1320mAh li-ion
up to 4 hours talk time
up to 8 days standby
In addition to the specs shown above, the Tilt and Advantage differ in some of their preinstalled software. For example, the Advantage comes with both Internet Explorer Mobile (IEM) and Opera Mobile; the Tilt ships with just IEM. Conversely, the Tilt has Sprite Backup and a pile of AT&T crapware while the Advantage does not.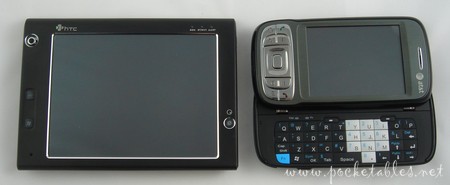 Complementary Usage
The cumulative strength in these differences is what allows me to use both devices not just separately, but together.
My only activated SIM is now devoted to the Tilt, so doing anything phone- or HSDPA-related on the Advantage is no longer possible. Because of its versatility and capabilities, though, the limited connectivity (wi-fi and Bluetooth are still available) actually doesn't negatively impact its usage scenarios.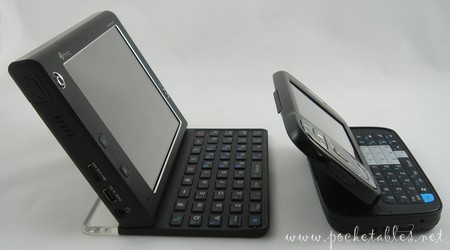 In fact, even with no connectivity, the two units still manage to complement each other nicely:
While I wrote this on the plane this afternoon, my husband partially recreated my previous mobile entertainment scenario with the Advantage after his PMP's battery died. Seeing him play some of my favorite Windows Mobile games made me put my Vaio TZ aside and play the same games on the Tilt. We were able to compare techniques and challenge each other without having to wirelessly connect (impossible to do on a plane, anyway).
Since the Advantage has a massive 8GB microdrive, I routinely use it as testing ground for applications and various utilities. Running out of space is never an issue, so I don't have to be picky about what to install. I can connect to my computer just once and come away with tons of new programs to try. Only the best ones make it to the Tilt.
Because the units have different processors, I'm able to determine whether a particular program runs slowly on its own or just because it needs more horsepower. If it's the latter, then I can still use it on the Advantage (rather than not use it at all). This minimizes the possibility of foolishly writing off what is actually an excellent app just because the Tilt can't handle it.
Similarly, some programs don't yet support VGA natively. Before buying the Tilt, I had to pass on a lot of great titles that either only supported QVGA resolutions or displayed VGA scaled (yuck!). Now it's like having the best of both worlds: power-hungry apps on the Advantage, QVGA-only apps on the Tilt.
The Advantage can both use and be used as a Bluetooth modem. This means that I could actually use the Tilt as a modem for the Advantage. Normally, I use the Advantage as a modem for my Vaio TZ, so being able to use the Tilt for the Advantage is kind of baffling. I haven't had any reason to test it out yet, but it's nice to know that it could be done. VGA browsing, while not ideal, is certainly much better than QVGA browsing.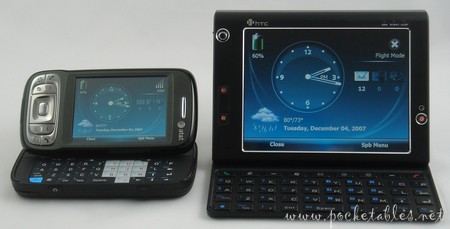 They're quite the pair, aren't they?