Review: Raon Digital Everun
The Everun is Raon Digital's second entrant into the UMPC market.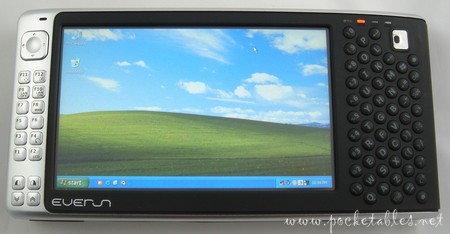 When the variously configured series was introduced earlier this year, many were intrigued by the hardware keyboard, optical mouse, and built-in accelerometer and pleased to learn that unlike the Vega, the company's first UMPC (and one that I did not like at all), the Everun had integrated wi-fi and Bluetooth and even an HSDPA option.
I was among those interested from the get-go and have just spent the past month with an Everun kindly supplied to me by Dynamism to find out just how many steps Raon Digital had taken away from the Vega. Read on for my full review.
System Specifications
The S66HS is the highest spec'd model of the series and the one I was sent to review. Here's a quick rundown of its specs.
| | |
| --- | --- |
| CPU: | 600MHz AMD Geode LX900 |
| RAM: | 512MB |
| OS: | Windows XP Home Edition |
| Storage: | 60GB HDD + 6GB SSD |
| Display: | 4.8" touchscreen (800 x 480, 16.7M colors) |
| Wireless: | 802.11b/g, Bluetooth 2.0, WWAN (HSDPA/WiBro) option |
| Size: | 6.69" x 3.27" x 0.98" |
| Weight: | 1.10 lbs. |
Other configurations of the Everun are also available.
Box Contents
The UMPC is packaged in a small box with "Everun" and "The 2nd Generation UMPC" printed on the top.
"Fill your life with much more fun and value" greets you when opening the box. It's a minor detail, I know, but little touches like that are kind of cute. The rest of the unboxing experience is rather boring, but everything is packaged separately and seems to have been put into the box deliberately.
In addition to a standard-capacity 2300mAh li-ion battery and the unit itself, inside the box are a drawstring carrying pouch, wrist strap, VGA cable, AC adapter and power cord, two stylus pens, user's manual, and Windows XP CD.
Design
You may remember from my review of the Everun's predecessor, the Raon Digital Vega, that I was incredibly turned off by its brick-like design and excess of hardware buttons.
Although both descriptions are applicable to the Everun (it is still shaped like a brick and there are still a mess of buttons on the front), my eyes are much less offended by the super smooth black casing (feels like plastic or metal sheathed in a thin layer of rubber), matte silver trim, and less bewildering set of buttons. I wouldn't go so far as to say that the Everun is attractive or particularly stylish, but it's not the eyesore its sibling was.
The unit is solidly built and feels good and sturdy in the hand. As one of the lightest UMPCs on the market right now (1.01 to 1.10 pounds, depending on configuration), it's a nice choice if you're looking for a tough grab-and-go device that can withstand being tossed into a bag. It shouldn't be abused, of course, but it also isn't something that needs to polished with a diaper or wrapped in cashmere.
Size
The Everun is about as compact as it can be without rendering the integrated keyboard completely useless (more on this later).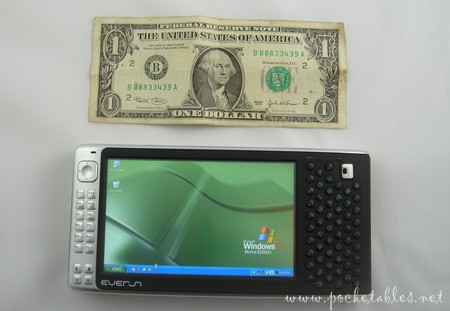 It isn't the thinnest or smallest device around, but it's still really portable. Although not universally pocket-friendly, it can fit into most bags with no problem.

Size is relative, though, so how the Everun's footprint is perceived really depends on what it's next to. For example, beside the Vaio TZ subnotebook and Vaio UX Micro PC, it looks quite small and thin.
Here it is next to the Fujitsu U810.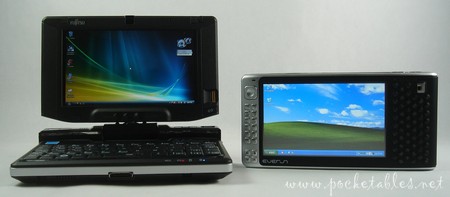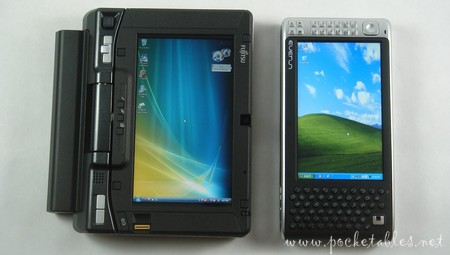 Display
While the Everun's 4.8-inch display is plenty bright and colorful (16.7M colors), clarity and crispness suffer a bit because of its resistive touchscreen. The screen is responsive to both finger and stylus taps, but it's at the expense of display clarity.
Against pure white and other light backgrounds, a "film" is so visible that I actually thought a low-quality screen protector had been applied to my review unit. The display isn't rendered unreadable or anything like that, but if its appearance were the result of a screen protector, I would have removed and trashed it on the spot.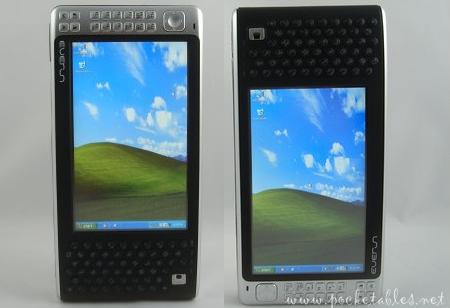 Two features I really like about the display are the automatic rotation and screen brightness adjustment. The Everun has a built-in accelerometer, which senses the unit's position and adjusts the screen orientation accordingly, and an ambient light sensor, which automatically brightens or dims the display according to current lighting conditions. Unlike other devices with these sensors (e.g., iPhone), these can be disabled and orientation/brightness can be controll ed manually. Why anyone would want to do this is beyond me, but at least the choice is there.
Controls
The Raon Digital Everun is chock full of navigational buttons and keys.
Let's start with the row of silver buttons on the left side of the display.
Note: The 56-key keyboard has its own dedicated section below, so it won't be discussed here.
At the top are a mono microphone and gamepad/arrow keys. The control is nicely sized and raised high enough above the casing to make using it in landscape mode easy and comfortable. Switching between gamepad and arrow-key mode is handled by the double-mapped function of the F11 and F12 keys.
Below the gamepad are two vertical rows of function keys (F1 to F12). Seven of them are double-mapped to serve as "hot keys" when used in conjunction with the Fn button on the side of the Everun.
At the bottom of the panel are left and right mouse buttons and scroll keys. Due to how frequently they're used, I think these controls should have been placed at the top, where the gamepad is. It feels more natural to hold the unit between both hands with your thumbs in easy reach of the top, so having to constantly readjust the position of your left hand or stretch your thumb downward to access the buttons is rather awkward.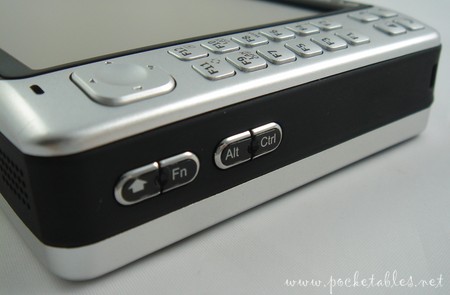 On the left side of the Everun are the first of two identical sets of Shift, Fn, Alt, and Ctrl buttons.
The other set is at the bottom of the unit, right below the keyboard. The duplication makes the keys equally accessible when using the device in portrait and landscape orientation. It's a unique, thoughtful, and functional design element.
Also on the bottom are a SIM card slot for WWAN connectivity and a 24-pin port (not shown) for connecting to an external monitor or optional docking station.
Located on the right side of the display, above the keyboard, is a highly responsive and innovative optical touch mouse. It's more accurate and easier to control than most track sticks or mouse pointers and can also be used to click, double-click, right-click (with Fn key), and scroll (with Fn key). It's so good that it should become a standard feature on all future UMPCs, MIDs, and similar machines.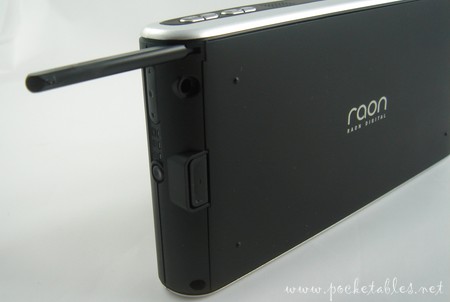 On the right side of the Everun are a stylus silo, volume/screen brightness controls, three LED indicators (LCD, hard disk, power), and a power button.

At the top, from left to right, are a stereo speaker, optional web camera, headphone jack, microphone jack, power port, USB mini port, USB host port, cooling vent, another stereo speaker, PS button (puts system into power-save mode), auto button (activates automatic power management mode), resolution switcher (640 x 480 to 1024 x 768), and mute button.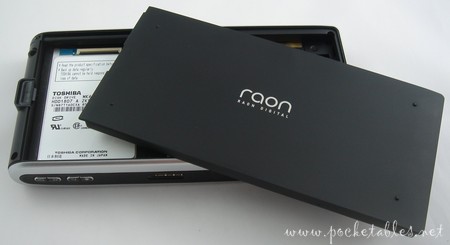 The rechargeable li-ion battery makes up the entire back of the Everun.
Keyboard
About a quarter of the Everun's face is dedicated to its keyboard. Each of the 56 chiclet-style keys is labeled at an angle to make identification easy whether the unit is in landscape or portrait mode. Every key, even the spacebar, has a diameter of 0.5 centimeters, making it closer it in size to the thumboard on a Treo than a UMPC.
In other words, the keys are quite small.
They offer a good amount of feedback, though, as each key press can be both felt and heard. This makes typing much easier than it looks, especially for those who haven't mastered the art of thumb-typing on a Treo.
Treo and most smartphone folk will have no trouble adapting to the Everun's keyboard when used in portrait mode. Landscape-mode typing is difficult for everyone because 1) it's not easy to thumb-type using just your right thumb and 2) the letters are vertically arranged (so you're looking at QAZ~> instead of QWERTY).
Typing Speed
Out of the box, typing on the Everun is tedious and even a little unpleasant because of the size of the keys and the placement of the spacebar and most of the punctuation keys. After becoming accustomed to the modified layout and with some practice, however, the typing experience does get better.
Here are my Everun typing test results after about a month of semi-regular practice alongside some of my previously published thumboard typing speeds.
UMPC/Handtop
Percentage of
touch-typing speed
DialKeys on Samsung Q1P
29% (25 wpm)
OQO Model 01+
34% (29 wpm)
Kohjinsha SA1F00A (UMPC mode)
36% (31 wpm)
Sony Vaio UX180P
37% (32 wpm)
FlipStart, high-capacity (UMPC mode)
40% (34 wpm)
FlipStart, both batteries (laptop mode)
41% (35 wpm)
FlipStart, slimline (UMPC mode)
43% (37 wpm)
Raon Digital Everun
45% (39 wpm)
Kohjinsha SA1F00A (laptop mode)
51% (44 wpm)
OQO Model 02
51% (44 wpm)
Pepper Pad 3
54% (46 wpm)
Although typing speeds are relatively decent for a thumboard, I find typing on the Everun to be uncomfortable because:
The unit is top-heavy in portrait mode, as both hands are positioned at or near the bottom to access the keyboard.
The keyboard is narrow so hands and thumbs tend to feel cramped.
Browsing the web is not enjoyable in 480 x 800 resolution. The automatic screen rotation is responsive enough to make switching orientations quick and easy, but it's cumbersome to browse in landscape mode, switch to portrait mode to type in a URL or login information, and then switch back to landscape. Some people may not find this troubling, but it's too many hand-position adjustments for me.
Long fingernails are always a problem when dealing with mobile thumboards, but in the Everun's case, nails that extend even a little above the fingertip are an issue. The keys are so small that hitting the wrong key is pretty inevitable.
Connectivity
Unlike the Vega, the Everun has built-in Bluetooth and wi-fi, as well as PCI Express Mini Card and SIM card slots for HSDPA connectivity. A new model with integrated WiBro (WiMAX's Korean counterpart), the S60H WiBro, has also just been announced.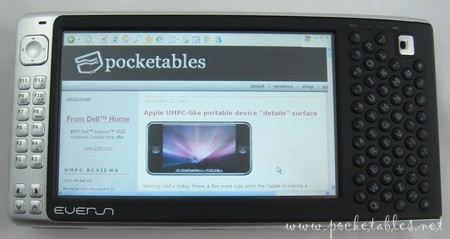 The Everun, then, has the potential to be quite the connected device. It's a shame that the HSDPA module doesn't come standard, but there are some nice solutions available.
The Internet experience on the Everun is as full and rich as you would expect on a Windows XP computer, with the caveat being the effect of the unit's 600MHz AMD Geode LX900 processor on video playback. The quality of YouTube and other online video playback is acceptable, though perhaps not always as smooth as a more powerful computer.
Performance
While the Everun's 600MHz processor (500MHz LX800 also available) may seem underpowered on paper, it actually performs quite well. Most applications launch quickly and run with no problems.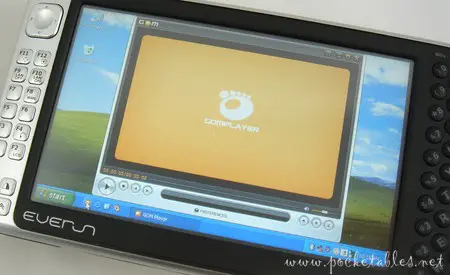 The device isn't a multitasking machine so doing too many things at once will slow down the system considerably. I, myself, am not much of a multitasker (even on my Core 2 Duo Vaio TZ170N notebook, I rarely have more than two programs open at the same time) so limiting how much I do on the Everun isn't a problem.
Most of you know that I'm not big on technical statistics, so here are the results of some timed tests that are more meaningful (not to mention easier to understand) to me than benchmarks.
Note: The tests were taken on a non-optimized factory-condition unit in which Windows and other programs are installed on the 6GB SSD.
Standby:

9 seconds
Hibernate:
30 seconds
Resume from Standby:
7 seconds
Wake from Hibernate:
31 seconds
Restart:
1 minute, 45 seconds
Shut Down:
27 seconds
Cold Boot:
1 minute, 2 seconds
Launch Firefox
(version 2.0.0.11):
6 seconds (first launch after restart)
3 seconds (subsequent launch)
Launch IE6:
5 seconds (first launch after restart)
3 seconds (subsequent launch)
Resume to Firefox Launch:
12 seconds
Resume to IE6 Launch:
10 seconds
Wake to Firefox Launch:
40 seconds
Wake to IE6 Launch:
35 seconds
Comfort
The smooth finish and contoured sides make the Everun comfortable to hold and use between both hands, especially because of the perfect placement of the optical mouse. As mentioned earlier, I would've liked the mouse buttons to be where the gamepad is, as easy access to the optical mouse with my right thumb and the mouse buttons with my left thumb would be a killer combination.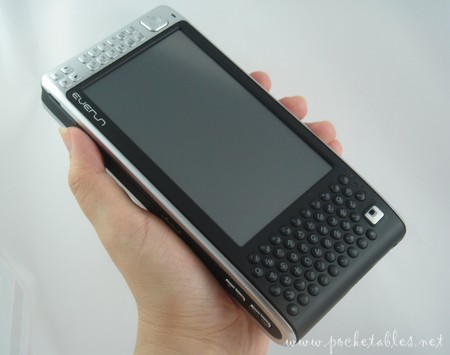 The unit's weight is evenly distributed when used in landscape mode but becomes top-heavy when used in portrait mode. If extensive use of the keyboard is not needed, however, the device fits comfortably in the palm and is lightweight enough not to tire the forearms and wrists.
Battery Life
A rechargeable 2300mAh li-ion battery with a runtime of up to 6 hours is included with the Everun. An extended capacity 4000mAh li-ion is also available and is estimated to power the UMPC for up to 11 hours.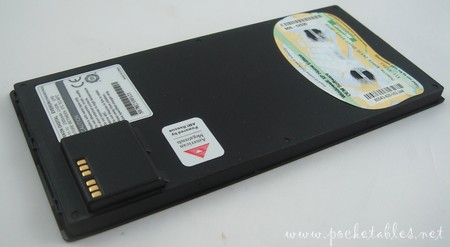 In real-world terms with wi-fi always on and the display set at mid-brightness, the Everun puts in a solid 4.5 to 5 hours before calling it a day. Very impressive.
Conclusion
The Raon Digital Everun is a tremendous improvement over its predecessor, the Vega. Intuitive hardware controls (gotta love that optical mouse!), integrated keyboard, built-in wireless connectivity, hybrid storage, and long battery life all wrapped inside an affordable, better-looking package make the Everun a front-runner for consumers wanting on-the-go access to the real Internet, a capable media player with up to 60GB of storage, and their favorite Windows applications.
Business users and mobile professionals may want to look elsewhere, as the Everun's processor is ill suited for multitasking or running resource-heavy applications and the usability of the keyboard beyond URLs, user names, and passwords is questionable.
The Raon Digital Everun is available now for between $700 and $1000, depending on configuration and retailer.
This article is part of the Quick Takes series. Quick Takes are based on short-term usage of various gadgets provided by Dynamism, the best place to find next-generation notebooks and consumer electronics from Japan and around the world.