Review: Samsung P2 (YP-P2)
Samsung's newest digital media player, the YP-P2, was recently awarded the sixth spot in TIME Magazine's list of the top 10 gadgets of 2007.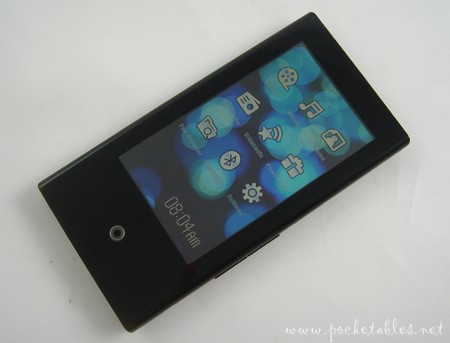 playe
Its touch-based interface, large widescreen display, and Bluetooth support certainly make it worthy of the honor on paper, but what about in practice? Read on to find out.
This review is based on the P2 running US firmware version 1.11. 
System Specifications
Capacities:

4GB, 8GB
Supported audio:

MP3, WMA, WMA-DRM, AAC (via firmware update)
Supported video:

SVI (MPEG4/MP3, 480 x 272)
WMV9 (WMV9/WMA9, 320 x 240 or 480 x 272)
Extras:

Bluetooth, photo viewer, FM radio, datacasts,
alarm, calendar, world clock, text viewer
Display:
3″ touchscreen (480 x 272, 262K colors)
Dimensions:
3.94″ x 2.05″ x 0.39″
Weight:
3.03 ounces
Colors:

Black, white, burgundy
Check out my P2 unboxing for a look at the player's packaging and included accessories. Update 1.2.08: Read the Noreve Samsung P2 leather case review.
Design
With its elongated PMMA and metal body, large touchscreen, and buttonless face, it's no wonder that "sleek" and "sexy" are two of the most common adjectives used to describe the player.
Unmistakable resemblance to the iPod touch aside, the Samsung P2's streamlined design is a definite head-turner. Its rounded back make it comfortable to hold, and it feels smooth and strong in the hand. Even though the device is quite thin (0.39 inches), it doesn't feel fragile or like it's going to snap in half if not handled with care.
Size
At just shy of 4 inches long, the P2 is right on the cusp of what I consider to be too big for a flash player.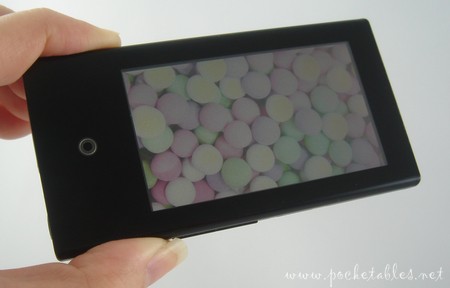 It is still extremely portable and easy to carry but displayed alongside the new iPod nano and iriver clix 2, it's quite big.
Shown above is the P2 with the first-generation Microsoft Zune, Samsung K3, original iPod nano, and Toshiba gigabeat T400. It isn't that much bigger than the K3, but it also isn't that much smaller than the Zune. In other words, the P2 is treading dangerously close to hard-drive-player size. Given that the unit maxes out at just 8GB, an argument could be made that for the amount of pocket space it requires (i.e., based on size alone), you'd be better off with a HDD-based Zune 80
(80GB) or iPod classic
(160GB).
Display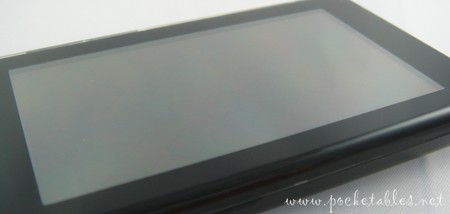 The most obvious benefit of the P2's size is that it can accommodate a 3-inch OLED display.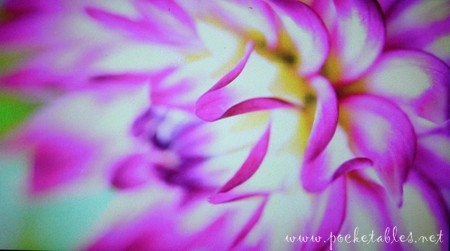 The screen is bright and colorful, crisp and clear. Samsung is behind the gorgeous AMOLED display used on the clix 2, though, so it's hard not be a little disappointed that a bigger version of the same screen wasn't used in the company's own device.
Controls
Navigation on the P2 is almost exclusively handled by the touchscreen, which is pretty well executed though not quite as responsive or fun to use as on the iPhone or iPod touch. Swiping, flicking, and tapping with the finger all come into play, as does an intuitive circular turn gesture.
I'll go into more detail on how the touchscreen is used in the "User interface" section below. First, let's take a tour around the device to see what kinds of hardware buttons and ports it has to offer.

Beneath the display is what looks like a home button but is actually just a power LED. It flashes blue when playing music with the screen off, blinks red when the player is turned on/off, glows red when the battery is charging, and turns green when fully charged.

On the bottom of the P2 is a microphone (for use when the player can be used to answer calls made to Bluetooth-enabled cell phones; this feature will be made available through a future firmware upgrade), proprietary USB connection port, and headphone jack.
The easy holder hook (see "Contents" section of P2 unboxing), which can also be used to attach a lanyard or wrist strap, is at the top.
On the right side are a hold switch and a button that turns the player on/off (press and hold) and controls the play/pause media function (quick press).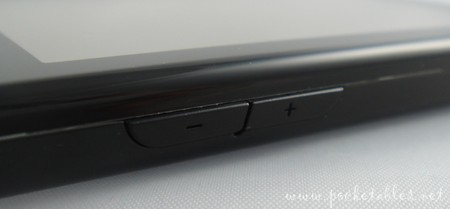 Dedicated volume buttons are on the left. The volume can also be controlled by sliding your finger or thumb up/down the touchscreen, starting from the middle right side, but I find its responsiveness to be a bit sketchy. It's faster and more accurate for me to use the hardware controls.
User Interface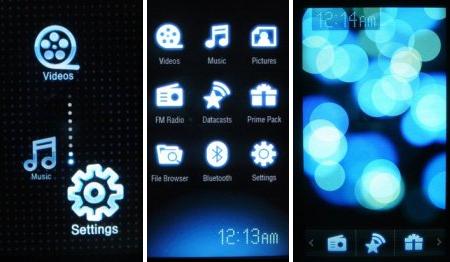 The Samsung P2 is preinstalled with three different menu systems that require the use of the touchscreen. All three present the same set of icons (videos, music, pictures, FM radio, datacasts, prime pack, file browser, Bluetooth, and setting) in different ways.
Cosmos (left) is the most visually appealing because of its cosmic "swirling" action, which is activated by either moving your thumb/finger in a circular motion or sliding it up/down. Three icons are displayed in varying sizes at any given time, creating an illusion of distance.
Matrix (middle) is probably the most boring menu system, but it's also the most accurate. Being able to view and select from all the options at the same time is much easier than having to cycle through sets of three.
My Skin (right) is the most customizable because the background can be changed to any image stored on the player. Three menu icons are displayed at the bottom and can be changed by swiping your thumb/finger across the screen.
Regardless of which menu style is used, the interface throughout the system is the same.
The P2 features a modified version of the kinetic scrolling everyone loves on the iPhone/iPod touch in that a finger flick scrolls through items only a page at a time. The scrollbar on the right provides much faster scrolling, but finding a particular song in a long list is still tricky because there are no alphabet cues to indicate where you are or to quickly jump to a desired letter.
The interface is well designed and easy enough for anyone to just pick up and use, but using the touchscreen can sometimes be a bit of a nuisance (and not just because it's a magnet for fingerprints and smudges). Responsiveness is the biggest issue for me, as there is often a slight delay between a finger tap and the system's action.
Another problem is that double-tapping is required where single-tapping should suffice. Each menu contains a list of items (Settings, for example, includes menu style, sound, display, language, time, and system), but tapping on any of them only highlights the item. A second tap is needed to actually select it. Just to find and play a single song, then, takes a total of five screen taps (one on the Music icon in the main menu, two on the "Songs" list within the music menu, and two on the individual song).
Transferring Content
The Samsung P2 is only compatible with modern Windows computers (XP Service Pack 2 or higher).
Content can be loaded onto the player via drag-and-drop with Windows Explorer (my preference) or through various music management software like Media Monkey, Windows Media Player, and Samsung's own Media Studio (included).
Audio
It was with some hesitation that I plugged in my earphones because even though the P2 utilizes the same DNSe audio technology as the K3 and has additional sound enhancements like a 7-band user EQ and "street mode" and "clarity" settings, I don't equate Samsung DAPs with great sound quality.
Fortunately, my ears and Sennheiser CX300S
IEMs tell me that my fears were mostly unwarranted. I'm still not blown away by the P2's sound quality, as its warmth and fullness are a bit lacking to me, but it's definitely good.
Don't forget that even with signal-to-noise ratio and other audio data in hand, sound quality is still largely subjective. Some consumers are perfectly happy with the way their music sounds through stock buds, while others demand nothing but lossless codecs, high bitrates, and high-end headphones. My personal standards are somewhere in between the two groups, though closer to the average user than to the audiophile (I only listen to 192kbps/256kbps MP3s with my CX300S).
There are a total of six music playback screens (clockwise from top left): Type 1, Type 2, Type 3, album art, album info (based on ID3 tag), and Type 4. The screen can be changed through the context menu or by tapping it while music is playing.
The on-screen controls are nicely optimized for the thumb/finger and the swiping gesture, which Samsung calls "horizontal stroke," can be configured to perform various fast-forward and rewind functions (skip an entire track, go back 5 seconds, go forward 1 minute, and so on).
Playlists
Five on-the-go playlists can be created directly on the P2 without the use of a computer. Each playlist can hold up to 200 songs, which can be deleted from the list both individually and all at once. Additionally, up to 400 playlists (each containing 400 songs) can be created and transferred using Samsung Media Studio and other programs.
Video
Movies, television episodes, and music videos are a joy to watch on the P2's large 3-inch display because playback is smooth, colorful, and easy on the eyes. All video content plays in landscape mode, bookmarking is supported, and screen size (actual, standard, full, zoom) and DNSe audio effects (normal, drama, action) can be set through the context menu.
A $10 credit to CinemaNow is included with the player to make getting content onto the P2 hassle-free. I redeemed the credit, downloaded five episodes of 30 Days (Morgan Spurlock's documentary-esque series), and transferred them using Samsung Media Studio in under 15 minutes.
The P2 is light enough to comfortably hold in one hand in just about any position, but the included easy holder will take care of anyone who prefers hands-free viewing.
Extras
When you tire of listening to music and watching videos, the Samsung P2 has all kinds of extra features to keep you entertained.
Bluetooth
At the time of this writing, the P2's Bluetooth capabilities have not yet reached their potential.
According to the official microsite, a future firmware upgrade (supposedly due out this month) will add wireless file transfer capabilities between various Bluetooth-enabled devices and cell phone integration to the player. At the moment, the P2 (US firmware version 1.11) can only connect to Bluetooth stereo headsets. This alone is great for any DAP to have, but knowing all the features that are on the way makes it difficult to appreciate what it can already do. Update 12.30.07: Bluewave firmware version 2.08 now available!
Photo viewer
The P2's photo viewer is pretty standard fare.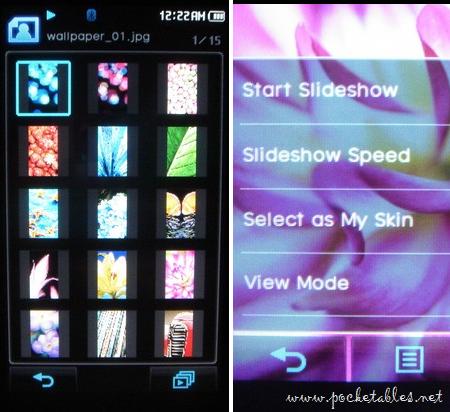 Images (baseline JPG only) can be viewed in a three-speed slideshow, zoomed in by dragging your finger on the photo (no iPhone/iPod touch pinching or spreading), set as wallpaper, and displayed in either landscape or portrait mode.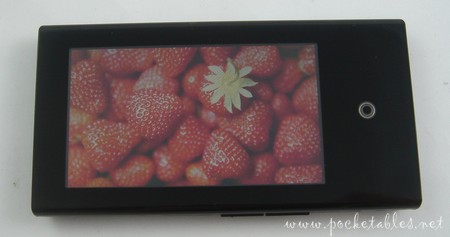 As with watching videos, viewing pictures on the P2's 3-inch display is a treat.
FM radio
Connected headphones act as the antenna for the player's built-in FM tuner, so Bluetooth headsets cannot be used when listening to the radio. Any other set of wired earphones will do the trick.
I don't know about other parts of the world, but in Hawaii, the P2's "Auto Preset" mode picked up nothing but garbage stations when "FM Sensitivity" was set to high. Even though this is actually a good indication of how strong the signal is, I set mine on low to pick up actual stations, not in-between static.
Reception will vary by location, but it's pretty good in Honolulu.
Datacasts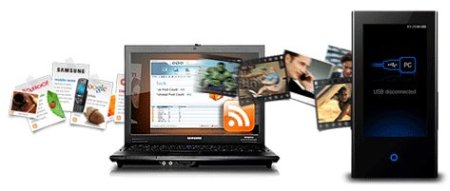 RSS feeds, which Samsung calls datacasts, can be transferred to the P2 as text files through the use of Samsung Media Studio.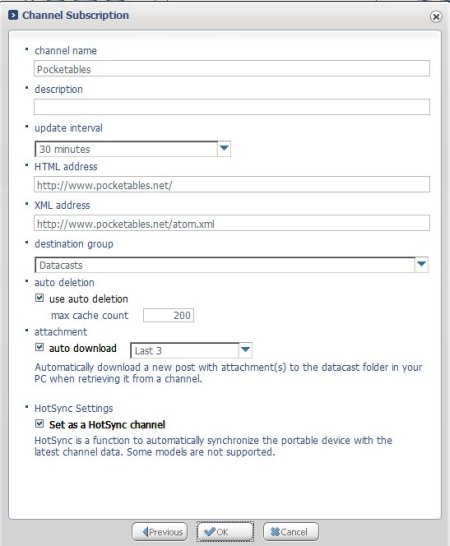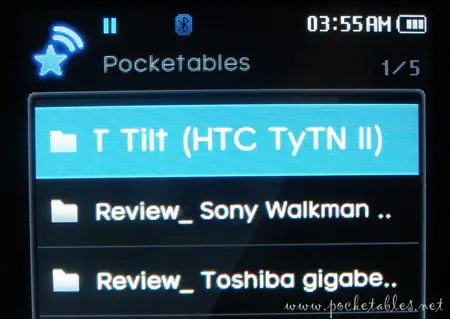 Content doesn't automatically update when the player is connected to a computer and each item has to be transferred manually, so anyone thinking that the P2 would make a great replacement for Google Reader would be mistaken.
Prime Pack
Rather than list extras like a calendar and world clock separately, Samsung groups them together under the Prime Pack icon on the main menu.
Additional features could probably be added in a firmware upgrade, but right now the Prime Pack includes an alarm, read-only calendar, world clock, and text viewer (TXT files only).
The text viewer can be accessed while listening to music and supports bookmarking, different font sizes, and various color schemes.
Player in Action
Battery Life
The P2's non-removable battery is rated at up to 35 hours for music (128kbps MP3 format) and 5 hours for video, depending on screen brightness and other settings.
Conclusion
The Samsung P2 is a slim and stylish digital media player with good sound quality, a large 3-inch widescreen display, a fun touchscreen interface, and an impressive assortment of sought-after extras like Bluetooth and a text viewer. But it's not for everyone, particularly those who put it next to its main rival: the iPod touch
.
The list price of the 8GB P2 ($279) is only slightly less than the MSRP of the similar-looking 8GB touch ($299), so comparisons are inevitable and warranted. But with its questionably responsive and smaller touchscreen (3 inches vs. 3.5 inches), limited storage capacity (8GB vs. 16GB), and not-yet-fleshed-out Bluetooth capability, the P2 doesn't make a very good showing.
Update 12.30.07: Bluewave firmware version 2.08 available
Update 02.01.08: Bluewave 2 firmware version 3.07 available
The Samsung YP-P2 comes in black, white, and burgundy and is available now for between $200 (4GB)
and $240 (8GB)
.</p >