Samsung mobile charging stations at LAX
Seven months after Samsung announced that it would be scattering mobile charging stations throughout New York's JFK International Airport, 51 of the 8.5-foot units providing free electricity for gadget-charging were installed in all terminals at LAX.
I was there at an ungodly hour this morning for my flight home and saw 3 of them between the security checkpoint and my gate about 100 steps away. I had never seen one in person before (let alone an image), so I thought I'd snap a few pictures in case you haven't either.
Each free-standing station contains four electrical outlets (2A max) placed on a cylindrical hub. My husband and I were at the airport for about two hours and saw not a single person use or even look at the unit, possibly because of where they're located. One is hidden in a corner, another is behind a kiosk at the end of the terminal, and the one shown here is right in front of the bathroom.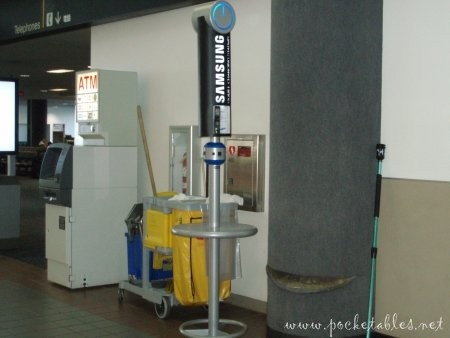 The charging stations are apparently so unpopular that they're even being used as markers for janitorial cart parking.
The small shelf and footrest may be useful if a traveler needs to plug in for only a few minutes for some reason, but anything more than that makes the design a bit impractical. While it's fantastic that the Samsung mobile charging stations offer free power (unlike the Charge Carte I saw in Vegas), a better solution would be to turn the shelf into a table, add a few seats, and transform the whole thing into a compact workspace. Oh, and move it away from the bathroom.