One of the season's most hotly anticipated portable media players is the flash-based Samsung P2 (YP-P2), a sleek device with a large 3-inch widescreen display, touch interface, Bluetooth connectivity options, and a bevy of extra features.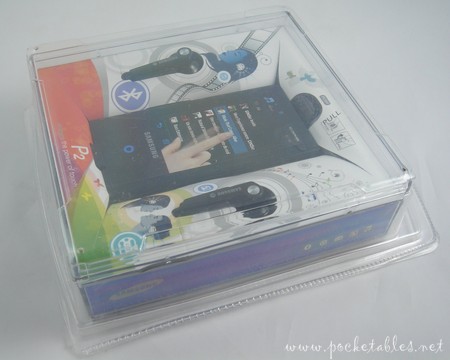 But before I can explore any of them and get started on my full review, I need to get everything out of the box. Please feel free to join me below.
Packaging
Inside the horrid blister pack is a very nice reusable gift box made of clear plastic. I expected the inner container to lose its shape once freed from the outer pack (like the Sony S610 Walkman), so the plastic box was a nice surprise.
The packaging is so colorful and vibrant that it kind of makes me cheerful.
The top layer inside the box is also made of plastic (unnecessarily extravagant, if you ask me) and holds the P2 and the supplied earphones in their own molded compartments. 
The rest of the accessories are thrown into the bottom of the box in exactly the way I mentioned I can't stand in my Toshiba gigabeat T400 unboxing the other day.
Contents
The Samsung P2 ships with a software CD containing Samsung Media Studio 5 and the user's guide, proprietary USB cable, earphones, a portable stand called an Easy Holder, and a screen protector (not shown above).
The Easy Holder is a thoughtful accessory that enables hands-free viewing of video content at two different angles. The plastic piece can be attached to the P2 through the lanyard loop and then released at will.
Another nicety included with the player is a screen protector, which will no doubt help to prevent the P2's button-less face from being scratched and make wiping off fingerprints and other smudges quick and easy.
Quick Look
The Samsung P2 is available in black, white, and burgundy and is more expensive than most other players in its class ($200 for 4GB
, $250 for 8GB
), but from the looks of it, I think it may be worth it.
Update 12.18.07: Samsung P2 review now available.