ETRI Mobile Convergence Communicator (MCC) powered by Linux
Korea-based Electronics and Telecommunications Research Institute (ETRI) has developed an HSDPA slider device running Qplus embedded Linux called the Mobile Device Communicator, or MCC. The unit was designed specifically for ETRI's Esto software solution but could be "modified to cope with application-specific consumer environments."
Photos, full specs, and Qplus/Esto info below.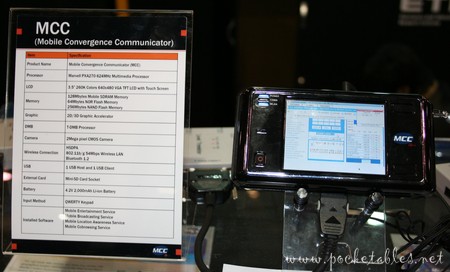 Processor:

624MHz Marvell PXA270
Memory:
128MB SDRAM, 64MB NOR Flash, 256MB NAND Flash
Expansion:
MiniSD card slot
System:
Qplus embedded Linux (Esto visual software development
environment)
Display:
3.5" TFT touchscreen (640 x 480, 260K colors)
Graphics:
2D/3D graphic accelerator (2700G5)
Wireless:
HSDPA, 802.11b/g wi-fi, Bluetooth 1.2, T-DMB
Camera:
2-megapixel CMOS
USB:
USB host (x1), USB client (x1)
Battery:
4.2V 2000mAh li-ion
Installed
Software:
Mobile entertainment service
Mobile broadcasting service
Mobile location awareness service
Mobile co-browsing service
Qplus/Esto
Here's some info from the fact sheet about Qplus and Esto (this is for all the Linux folk out there).
Qplus
Features:
Open-source embedded software solution (Linux 2.6.x-based kernel)
Real-time, low-power, optimization, and fast-boot related patches
Lightweight embedded GUI based on freedesktop and GTK
Embedded file system optimized for multimedia applications
Media player and web browser for embedded system
Fast configuration and deploy using Target Builder
Fine-grained setup for kernel and packages
Auto dependency check and size minimization
Target system image optimization and footprint estimation
Esto
Features:
Project-based source editing, cross-compilation, remote execution
Remote debugging for application and kernel module
Nonstop debugging
JTAG-based on-chip debugging
Monitoring various target resources
Power and performance analysis
East and fast GUI design