Hanbit Pad MID: Menlow-based Pepper Pad 3
Hanbit Electronics, the Korean company that manufactures the Pepper Pad 3, is readying the release of the unit under its own name (Hanbit America, actually) and has switched out most of the original Pepper internals and replaced them with the Silverthorne processor and Poulsbo chipset that make up Intel's Menlow platform.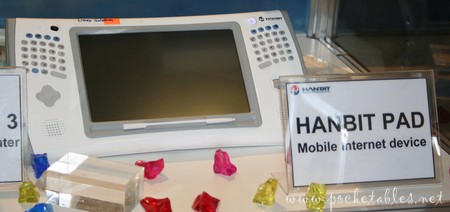 Scheduled for release in July 2008, the Hanbit Pad will be available with up to 1GB of RAM, 30GB/60GB 1.8-inch hard drive (4200rpm) or 2GB/4GB SSD, and all manners of wireless connectivity (standard: 802.11b/g and Bluetooth 2.0; optional: GPS, WiMAX/WiBro, HSDPA, EDGE, EVDO, DVB, T-DMB). The hardware will remain unchanged.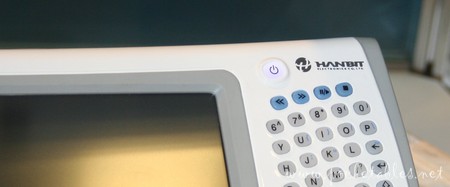 CPU &
Chipset:

Intel Silverthorne, L1 32KB-I/24KB-D L2 512KB
Intel Poulsbo SCH (System Control HUB)
Storage:
30GB to 60GB HDD (1.8" 4200rpm)
2GB to 4GB SSD
Memory:
Up to 1GB DDR2 SDRAM
OS:
Linux, Windows XP Home/Pro/Tablet/Embedded
Installed
Software:
Mozilla Firefox-based web browser
Open Office
Video library
Music library
Photo library
eBook/PDF reader
Instant messaging
Skype/VoIP
Remote control
Journal
Games
Mail
Audio recorder
Display:
7" LCD touchscreen (800 x 480)
Graphics:
Integrated 2D/3D graphics and high-definition
video decode capabilities
Wireless:
802.11b/g WEP/WPA, Bluetooth 2.0 EDR
Optional: GPS (SiRFStar III), WiMAX/WiBro,
HSDPA, GSM/GPRS, UMTS, EDGE, EVDO, DVB-H,
T-DMB, DAB-IP, DAB, DVB-T
Camera:
300K-pixel CMOS, optional 1.3-megapixel
Ports:

USB 2.0 (host), mini USB 2.0, stereo headphone,
mono microphone, optional analog RGD D-SUB
Battery:
7.4V 3800mAh lithium polymer
Up to 7 hours runtime
Size:
11.4" x 5.9" x 0.9"
2.2 pounds
Colors:
Black, pink, white
The Hanbit Pad can run Windows XP Home/Pro/Tablet and embedded Windows, but Linux is shown in the promotional materials.