Intel shows Toshiba, Clarion, Digifriends, Aigo, and USI MIDs at Digital Experience
That sneak peek I got of the Mobile Internet Device (MID) display this afternoon was definitely just a tiny taste of all the new Menlow-based MIDs that Intel will be serving up this week. At the Digital Experience media event tonight, the company showed off at least six engineering samples of new units that the spokesperson said would all be coming out this year.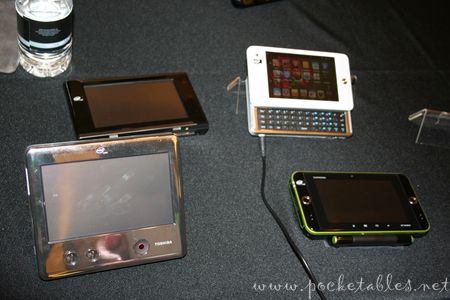 I say "at least six" because there were times when some of the devices disappeared for a bit as anxious hands grabbed them from the table. The Lenovo unit, for example, vanished shortly after we got close enough to touch everything.
I didn't get a chance to ask for full specs, but we did get some pictures. There really wasn't enough time at the table to check the quality of the photos before moving on; I'll try to get some better shots tomorrow, but here's what we have so far.
Toshiba MID
Even though the Intel woman said this Toshiba device was coming out this year, I really hope she was misinformed. I wonder how well received keyboard-less MIDs will be. Update: More photos and product video demo now available.
Clarion MID
This is what was sitting beside the Lenovo unit at the Intel booth. It looks like it should have a keyboard, but it doesn't. Or if it does, it's poorly designed and impossible to slide out. No one corrected me as I tried to push the screen up, so I'm assuming it doesn't do anything. Update: More details and photos now available.
Digifriends MID
I have no idea who Digifriends is, but their device and matching dock are pretty nice.
Update: More photos and full specs now available.
Aigo MID
Here's the N810-looking Aigo MID from earlier today in white. Update: Gigabyte MID only looks like Aigo.
It's my favorite so far.
USI MID
Personally, I think this slider from USI is one of the uglier MIDs of the bunch.
Curiously, there's still no sign of the BenQ device. Hmm. I'll head over to Intel sometime tomorrow for more info and more pictures. Follow my CES 2008 coverage.