Pocketables heads home from CES 2008
It was nine days ago that Pocketables packed up and headed to Las Vegas for the 2008 International Consumer Electronics Show, and today we're finally going home. The show ended on Thursday, so I've had a few days to reflect on my first experience there and think about what worked well in terms of my mobile gear setup and general coverage and also what I would do differently next time.
We were given press badges upon registration so except for the dedicated press events, we were basically treated like . . .
the plague.
Yes, the plague. We usually got yelled at for taking pictures until someone checked us out and saw that we were wearing the Scarlet Letter around our necks; then the booth folk kept their distance.
General Impressions
We were among our own kind over the weekend, which is for press and media anyway, but when the show began on Monday, we were on our own. Walking the floors at the Convention Center, the Sands, and the Hilton, we seriously saw about three people wearing press badges. Where were all of you? Everyone we saw was either an exhibitor, industry affiliate, or buyer; they were who the company representatives wanted. Not us. We were just annoyances, pests who took too many pictures and asked too many questions.

I expected a lot of things from CES, but I didn't expect that. Maybe it was just foolish optimism, but I thought one of the purposes of CES was for companies to gain exposure for their new products. And a surefire way to do that is to be nice to people wearing press badges!
Most of the reps weren't very friendly and an alarming amount of them didn't really know what they were talking about. It was clear that they were regurgitating the same memorized sentences to everyone that made eye contact with them. The worst booth experience we had was with the press relations desk at Sony. I don't want to host a pity party so I won't go into detail, but I will say that karma is a bitch . . . and so was the woman at the desk.
It wasn't difficult to look past the nonsense, though, as there was a good deal of new handhelds to be seen. And if anything can combat a foul mood, it's shiny gadgets.
They were easy to see too because contrary to my expectations, CES was not crowded. Even though many other attendees may say otherwise, I swear that "Where is everybody?" was our mantra during the week.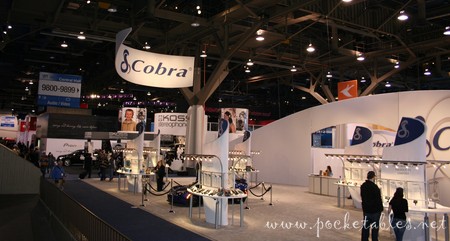 Perhaps it was our press plague that kept everyone in the exact opposite location of wherever we were because of the supposed 140K+ attendees at the show, we only saw about 10% of them (strong immune systems, I guess).
What Worked
Navigation
The benefit of being the only ones there (an exaggeration perhaps, but that's what it felt like) was that we were able to make our way through the showrooms quickly. Before we left for CES, I had highlighted all the booths of interest on the maps included in the pre-show planner, which had been mailed to us earlier. This kept aimless wandering and backtracking at a minimum, which made finding our way through the massive venues very easy. Knowing exactly where we wanted to go also made the size of the event less overwhelming and much more manageable than we had anticipated.
Mobile gear
I carried my Vaio TZ and AT&T Tilt with me at all times so I was able to work in the press rooms, Starbucks, hotel lounges, and anywhere I could sit down with little compromise to my normal setup at home. I work exclusively on the TZ at home, so the only difference was that instead of wi-fi, I tethered via Bluetooth or USB to the 3G Tilt. The notebook's optical drive, one of the deciding factors in buying it, came in handy when companies handed out their press kits on CDs.
There were times when I wished I had something a bit lighter (the TZ weighs 2.7 pounds) and smaller (my Fujitsu U810 came to mind a few times), but the fact that I didn't actually kept me on track. When planning my coverage of the show, I didn't want to post one liners that weren't complete sentences because although the immediacy is appealing, the information isn't particularly useful, especially in the long term. Had I actually had the U810 or similar device on hand, it would have been difficult to resist the temptation of publishing something of lower quality than I would normally put on the site.
Photos
CES marked the debut of the use of our new digital SLR camera. Given the often horrible lighting conditions at many booths, the excessive shadows, and the hustle and bustle of others, I think the camera performed quite well. Our pictures weren't always as good as I would have liked them to be, but considering what we had to work with, I'm pleased with the results.
What Didn't Work
Photos
The main drawback to using the DSLR was that uploading the photos wasn't fast. A part of the problem was also my neurosis, which prevented me from posting a picture without cropping, resizing, watermarking, and renaming it first. There's no way around this, unfortunately, as doing something fast at the expense of quality isn't an option for me.
Meetings
The next time Pocketables goes to CES, I am not scheduling booth tours and on-site meetings. They're not only a waste of time, as an appointment doesn't guarantee you anything different from a passerby, but they're also a source of stress. There's already the feeling that you won't be able to see everything you want to see as it is; having to check your watch to make sure you have enough time to get to an appointment just makes it worse. (Off-site meetings, like the one we had with Datawind, were definitely worthwhile.)
Internet access
Although there was free wi-fi at certain locations and I was able to use the 3G mobile broadband connection provided by my Tilt when there wasn't, a better solution would've been to have a device with integrated WWAN. My TZ actually has it through Sprint (EVDO), but it's exorbitantly priced and not worth it for me. My next notebook (or whatever I use as my primary computer) needs to have an unlocked SIM card slot.
Tunnel vision

One thing I need to work on is my time management. I was so focused on CES content during the week that I fell completely behind on my RSS feeds, emails, and reader comments (about 100 were left across the site this week). I haven't checked my feeds or kept up with correspondence since I left Hawaii nine days ago, so I have a ton of catching up to do.
Favorites
Everything may not have gone as smoothly as I wanted, but I still had a great time and got to see and touch a lot of cool stuff. My favorite device of the entire show, believe it or not, was actually the new Sony mylo. Part of the reason for my affection is that it's just about the only new gadget unveiled on the floor that actually has a price and release date ($300, early February). Everything else is either a concept or something that should be available sometime this year.
And I'm all about instant gratification.
Other highlights for me were the DataWind PocketSurfer2 (despite its VGA screen and less-than-ideal U.S. availability), iriver Wing, and all of the MIDs.
And that was CES 2008! If you missed any of the coverage, be sure to take a look at my CES page.