Pocketables packs up for CES 2008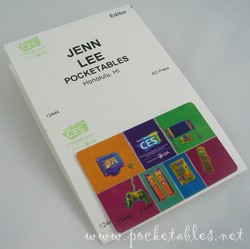 The first CES press events begin tomorrow, so we're packing up and heading out to Vegas. Pocketables will be attending a couple of media events (CES Unveiled and Digital Experience), press conferences (Sony, Samsung, and Panasonic), and an Asus party over the weekend and will hit the showroom floor as soon as the Convention Center doors open on Monday morning.
Since this will be my first time at CES, I'd like to share some of my preliminary plans, open up my gear bag, and run through what kind of coverage you can expect to find here over the next week. There will likely be some overflow into the following week as well because we're hanging around for a few days after the show.
But I'm getting way ahead of myself. We need to get on the plane first!
What I'm bringing
Along with my field photographer, who's in charge of a Canon digital SLR
and Flip Video Ultra, I'm taking several gadgets to keep me company and cover the show.
My main piece of equipment, and what I would be completely lost without, is my 11.1-inch Sony Vaio TZ170N ultraportable notebook. You might remember that CES 2008 was actually the reason I bought the TZ, so there are no surprises here. The 2.7-pound notebook isn't as small or light as a UMPC, but it requires no peripherals and has outstanding battery life. When not in use, the TZ will be sleeping in its leather carrying case.
For its 3G mobile Internet access, the AT&T Tilt (HTC TyTN II) is going to CES so it can be tethered to the TZ via Bluetooth or USB whenever wi-fi isn't available. It also holds all of my appointments and is my daily-use cell phone, so it's a must-have.
I'm bringing the Creative ZEN because I'm still working on its review and because I never board a plane without a DAP. I can fly for hours without watching a movie, but I need music as soon as possible. Everything else I'm taking has music playback abilities too, but I like to use a device's primary function because that's usually what it's best at.
The Nokia N810 is coming along because I'm working on its review too. I also think it'll be a nice TZ companion, as it can tether to the Tilt for very capable 3G browsing on its lovely 800 x 480 display. Not a bad back-up device if the TZ misbehaves. The N810 may also come in handy for size comparisons next to all of the MIDs that are expected to be at the show.
And the fact that all three devices can provide hours of entertainment certainly isn't a coincidence.
Aside from the AC adapter for the TZ, the only charger I'm packing is the Solio Classic Universal Hybrid. I don't think the sun will be out much, so I'm taking the Solio's AC charger along with the Nokia and mini-USB tips. The charger stores power for up to a year (!), so I'll top it off before I leave the hotel every morning and use it when/if needed throughout the day.
What I'm doing
CES 2008 is a massive show with nearly 3,000 exhibitors taking up more than 1.7 million square feet of space in the Las Vegas Convention Center, Las Vegas Hilton, and Venetian/Sands Expo. For Pocketables, it will be a mixture of scheduled meetings and events, loosely planned booth visits, and walking around until something catches our eye.
In addition to going to the weekend events and hitting all the major mobile gadget company booths during the week, we have private meetings and/or booth tours and demos scheduled with Sony, iriver, Panasonic, Palm, DataWind (the PocketSurfer2 people), WildCharge, PlanOn, and the Korea Electronics Association. We'll also be going to a Sony press event that used to be called "The Technology of Tiny Things" but now doesn't seem to have a name.
I'll be writing, sharing pictures, and uploading videos whenever I can throughout the day but will do the bulk of my posting at night. For quicker page loading and to make sure you don't miss anything, be sure to bookmark the CES category page.
What I'm not doing
Although I won't know until I get there what my posting schedule will really be like, I do know for sure what I won't be doing at CES and what you won't see here.
Live blogging. While I understand the appeal, I don't like live blogging and always wait until an event is over to read all the coverage at once. Refreshing a page every few seconds to read that Mr. X took the stage at 1:31, coughed at 1:32, and tripped on a wire at 1:35 isn't interesting to me.
Following other CES coverage. Everyone will be up to their eyebrows in their own content to keep up with others' posts, so this one probably goes without saying. I do plan to keep an eye on my RSS feeds to make sure I don't miss something vital, but in general, Pocketables will only be updated with information we find ourselves.
Writing about anything other than CES. If you have zero interest in what's going on at CES, you may want to take a break from the site and come back when the show is over.
What else you should know
Pocketables is based in Honolulu, Hawaii, so the time/date stamp reflects HST (Hawaii-Aleutian Standard Time), which is currently two hours behind CES time. I mention this because certain items that are under embargo until midnight on January 7 (PST) will appear here at 10 p.m. on January 6. So what looks like a violation of the NDA is just a difference in timezone.
I do not write like the wind. My editorial background has crippled my ability to write quickly because I am constantly rewriting as I go along (this post, for example, took several hours to write). So while some sites may be able to publish several posts during their lunch break, there's a good chance that I'll only be half-done with one.
I've never owned a pair of comfortable walking shoes. If you'll be at the show, I'll be the one either limping in heels or readjusting the band-aids on my feet. Please feel free to say hello (or piggyback me to the next booth).
CES 2008, here we come!