Shenzhen shows Windows CE "UMPCs" at CES
Chinese company Shenzhen CDT ignored us as we perused their booth at the Hilton to check out the K-S600 and K-S800 devices that came up when I combed the CES exhibitor list for new UMPCs. The buyer placing a bulk order received both exhibitors' full attention the entire time we were there, so we just took some photos, grabbed a product catalog, and left. I don't know where the buyer is from, but I feel sorry for his customers: the build quality of both Windows CE devices that Shenzhen calls UMPCs is very poor.
K-S600
The K-S600, or "Mini-UMPC," has a 4.3-inch 16:9 touchscreen and runs Windows CE 5.0 on a 266MHz ARM 926EJ processor and 128MB SDRAM.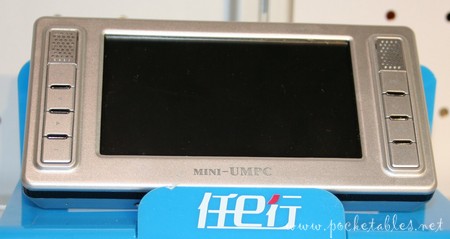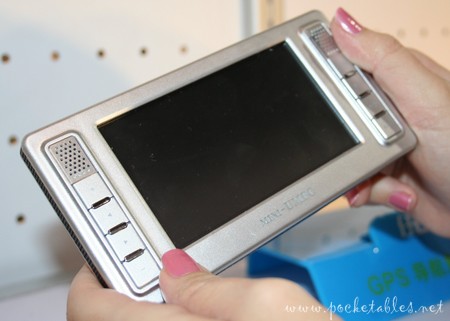 Companies that purchase up to 500 units can get the device for $128 apiece, which is actually quite an attractive price for a portable gadget with built-in 802.11b/g wi-fi connectivity, an SD card slot, between a 20GB and 120GB hard drive, and Skype support. Shenzhen will negotiate the cost with anyone buying between 501 and 1000 units.
The K-S600 also features an integrated 1.3-megapixel camera.
If it weren't for the cheap plastic, the device wouldn't be too bad as a PMP or low-end PDA.
K-S800
The K-S800 is Shenzhen's flagship "UMPC," boasting an 8-inch 800 x 600 touchscreen, GPS, DVB-T television receiver and DVR functions, and 40GB hard drive (up to 120GB available). A 400MHz AMD AU1200 processor keeps WinCE NET 5.0 humming along and provides enough power to watch DivX, XviD, and WMV videos.
Due to its "premium" features, the K-S800 is more than twice the cost of the K-S600. Anyone interested in ordering several hundred pieces can expect to pay $310 for each.
Is it rude to say craptastic?