Toshiba gigabeat and DMFC prototypes
Toshiba, makers of the very fine gigabeat T400, showed off a couple of nice portable media player prototypes in the Technology Demos area of its booth at CES. The svelte OLED gigabeat above was outfitted with a 3.2-inch WQVGA panel with a 240 x 427 RGB resolution, while the chunkier device in its own glass display beside it (see below) was running off a refillable direct methanol fuel cell (DMFC).
The OLED gigabeat is something I'd be happy to see Toshiba actually release, as it's quite attractive, but it was actually the other device that was more interesting.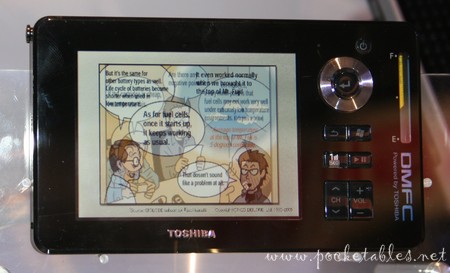 I'm not particularly fond of the look of the DMFC media player, as it was called, but the idea of using refillable methanol cartridges to power mobile devices is intriguing.
The main benefits of the micro cells are:
Unlimited power (just add more fuel when needed; this is similar to, say, adding lighter fluid to a lighter)
Instant "charging" (devices can be used immediately after and even while more fuel is being added)
Wireless (no AC adapters or USB cables needed)
Convenient (one common DMFC cartridge can be used with multiple devices)
Each refill could provide up to 10 hours of operation time.
I didn't see any on display, but there was some also some information on refillable DMFC mobile battery chargers. Depending on what it was charging (the image showed it connected to a gigabeat T400), the charger would be able to fully charge a device two to three times per single refill.