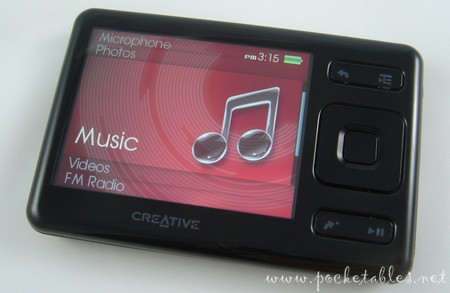 Although it wasn't what many originally had in mind as a replacement for the Zen Vision:M, the applauded HDD-based DAP that debuted in 2006, the Creative ZEN has still been regarded positively for its wide array of features, brilliant 2.5-inch display, bar-setting internal flash storage capacities (32GB as of today), and memory card expansion slot.
Introduced in August 2007, Creative's flagship device is a capable digital media player in its own right, but is it a worthy successor to the Vision:M? Read my full ZEN review below to find out.
This review is based on the Creative ZEN running firmware version 1.20.02 (released December 2007).
System Specifications
Capacities:

2GB, 4GB, 8GB, 16GB, 32GB
Expansion:

SD card slot (compatible with microSD, miniSD,
SD, and SDHC)
Supported audio:

MP3, WMA, WMA-DRM, WAV, AAC, Audible
Supported video:

MPEG4-SP, WMV9, DivX, XviD, MJPEG
Extras:

Photo viewer, FM radio, voice recorder,
organizer (contacts, calendar, tasks), alarm
Display:
2.5" TFT (320 x 240, 16.7M colors)
Dimensions:
3.26" x 2.16" x 0.44"
Weight:
2.1 ounces
Colors:

Black
Take a look at my Creative ZEN unboxing for photos of the player's packaging and accessory bundle.
Design
The ZEN is composed of two plastic pieces that vary in texture (smooth and glossy on the front, textured and matte on the back) but are both generally resistant to cosmetic scratches and everyday wear and tear.
The all-black player's rounded edges and clean lines give it an understated look worthy of the minimalist's approval, while the sturdy construction and overall build quality make it an appealing choice for the user looking for something both stylish and strong.
Size

Since its late-summer launch, Creative has been comparing the ZEN to a credit card to give consumers an immediate idea of its compact size.
Here are some additional photos of the device beside other common objects: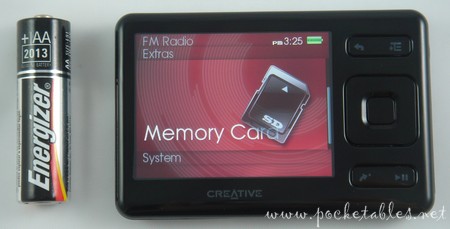 Measuring 3.26 x 2.16 x 0.44 inches and weighing a scant 2.1 ounces, the player is an easy fit for pockets and a comfortable size for the hand.

Although Creative could still release another HDD-based player in the future, the ZEN is generally understood to be the flash-based replacement of the Zen Vision:M (left). Reactions continue to be mixed, but with the ZEN maintaining the Vision:M's 2.5-inch screen and now being available with 32GB of built-in flash (and having an SD card slot), I don't have any complaints.
Shown alongside the Vision:M and ZEN in the photo above are some of the other members of Creative's portable media player family: MuVo Slim, MuVo N200, Zen V, and Zen Stone Plus.
Compared to other companies' flash players, the ZEN is mid-sized and uneventfully thick. From left to right (above) and bottom to top (below) are the Samsung P2, Sony A810 Walkman, Toshiba gigabeat T400, Creative ZEN, iriver clix 2, and 3G Apple iPod nano.
Display
The majority of the ZEN's face is devoted to its glorious 2.5-inch display, which keeps the Vision:M's 320 x 240 resolution but increases its color-reproducing capabilities to a stunning 16.7 million (versus 262K).
The screen is so colorful and bright that not only did I keep all 94 images that came preloaded on the player, but I actually still look at them every few days as well (as of today, I've had my ZEN for about 2 months). Photos are simply gorgeous.
How long you're able to comfortably look at a screen of this size depends on your eyesight, but 2.5 inches is a real sweet spot for me. I actually think it's an ideal size for a portable device whose primary function is not video playback (and that doesn't have a touchscreen).
And even though there really isn't a need for it, I should still mention that the display orientation cannot be switched to portrait mode. Since most portrait players can be rotated into landscape mode, anyone who expects the reverse to be true should know that the ZEN is a landscape-only device.
Controls
Creative left behind the vertical touchpad of the Vision:M and opted instead for strictly tactile hardware controls.
Even though the controls are a bit too flush for my liking and look a bit like they've been stamped out with cookie cutters and are still waiting for the "cookies" to be removed, they make an extremely pronounced "click" sound when pressed and are easy to use.

The rocker-style button at the top contains the back/menu (press to return to previous screen, press and hold to go to the main menu) and options (press to bring up context menus within other menus) controls.
The square control in the middle is the four-way directional pad and OK button used to navigate through the ZEN's system.
Below the square is another rocker-style button. The right side takes care of media playback, while the left is a user-assigned control called My Shortcut. Also found on the Vision:M, the My Shortcut button can be used to access one of seven commonly used functions.
Volume is probably one of the most popular functions because the ZEN doesn't have any hardware buttons dedicated to volume control.
What it has instead are a mini-USB port (for charging and connecting to a PC), power/hold switch, and headphone jack on the right side; a reset hole on the bottom; and a microphone and SD card slot on the top.
SD card slot
The memory card slot supports microSD and miniSD (with SD adapters), SD, and SDHC cards. Cards are treated as removable storage by a computer, so content can be transferred through simple drag-and-drop using Windows Explorer.
As others have noted, media transferred to a memory card is not integrated with media stored on the player itself. Separate libraries aren't an issue for me because I keep music on the ZEN and movies on an SD card, but I understand how frustrating the separation can be. For example, if you kept 200 songs on the ZEN and another 200 on a card, you'd need to search in two different locations (Main Menu -> Music -> All Tracks and Main Menu -> Memory Card -> Browse) just to find what you want.
User Interface
The patented user interface (UI) found on other Creative players has been cosmetically enhanced for the ZEN and features oversized glass-like icons and submenu overlays.
Beneath the makeover lies the same well organized, straightforward, and easy-to-use UI that Creative fans have come to know and love (and that Apple paid $100 million to continue using on iPods), so navigation is a breeze. Paired with the self-explanatory tactile controls, the UI has virtually no learning curve.
One of the nice things about the interface is that the main menu can be configured to each user's personal liking. If a particular feature has no value to you, just remove it from the menu. The menu doesn't wrap around itself (i.e., once you reach the bottom, it doesn't continue from the top), so one less menu item to scroll through can be a welcomed omission.
It actually doesn't make sense for the main menu not to wrap because the submenus, context menus, and media lists all do.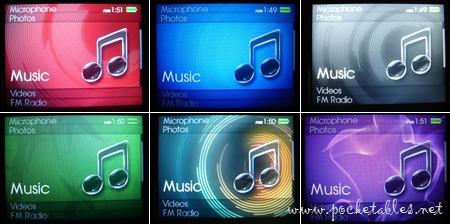 In addition to being able to set any photo, including zoomed-in portions, as wallpaper with various effects applied and brightness levels adjusted, the ZEN can be personalized with a set of six themes: (clockwise from top left) velvet red, marine blue, sable black, royal purple, neon orange, and forest green.
Transferring Content
The ZEN is an MTP-based media player and is compatible with Windows XP SP2 and Vista computers. Apart from loading media to a memory card or finding a hack (if it exists) to make it work with OS X, Mac users should probably skip the Creative aisle when shopping for a new DAP.
Windows users, on the other hand, have a nice array of music management software and other options to choose from. My first choice is also good ole' drag-and-drop using Windows Explorer, but those who want to manage playlists, transfer AAC files, or convert video will need to use a program like the included Creative Media Explorer or Sync Manager, Windows Media Player, Media Monkey, Winamp, and so on.
Once content is transferred, it can be deleted directly from the player without the use of a computer.
Transferring video
Unlike the Vision:M, the ZEN will only play 320 x 240 video resolutions and is very finicky about codecs. So just because XviD and DivX are both listed as supported video formats doesn't mean that the player will catch everything you throw at it. The ZEN isn't DivX-certified so it may not play all DivX 4 and 5 files (MPEG1 and MPEG2, for example, may need to be transcoded); XviDs should play if they're encoded as MPEG4-SP or MPEG-4 ASP without GMC and QPEL support.
My favorite DVD-ripping program, and the one I use for every portable device that comes into my hands, is CloneDVD mobile by SlySoft. Using the generic DivX setting, a bitrate below 1500kbps to keep the file size manageable, and an output resolution of 320 x 240, I've encountered absolutely no problems with getting video on the ZEN.
This is the only method I use and the only one I've tried, so if you're having trouble loading videos and don't want to download CloneDVD mobile (a 21-day free trial is available), be sure to visit the epiZENter forums for help.
Audio
Though your ears and headphones may tell you different, I consider Creative to be among the best-sounding DAP brands around. It may not be the best, but it's definitely above average and should make most listeners very happy. Sound quality is warm, bright, clear, and balanced.
Scrolling through long lists of items is quick and easy thanks to the alphabet bar on the right-side of selected menus. While music is playing, the track can be rated for use with the DJ function (more on this below), album art can be viewed in full screen, and similar songs can be searched for using the "Lookup Artist" option in the context menu.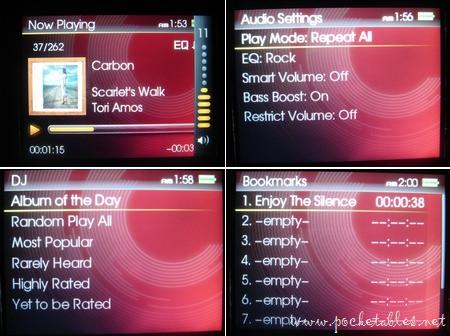 The ZEN has 25 volume levels, 6 play modes (normal, repeat track, repeat all, shuffle, shuffle repeat, track once), 5-band custom EQ, 8 preset EQs (acoustic, classical, disco, jazz, new age, pop, rock, vocal), and the ability to set up to 10 bookmark s within audio tracks.
DJ
One of the most unique components of the ZEN's audio feature set is the DJ function, which selects songs based on your previous listening habits. You can see the options in the image above and they're all self-explanatory, but here they are again with a corresponding description thrown in from the user's guide for good measure:
Album of the Day: Plays any album.
Random Play All: Plays all tracks, including your recorded tracks, in random order.
Most Popular: Plays frequently played tracks.
Rarely Heard: Plays rarely heard tracks.
Highly Rated: Plays tracks that you have rated highly.
Yet to be Rated: Plays tracks you have yet to rate.
Video
As mentioned in the "Display" section above, the ZEN's 2.5-inch screen (320 x 240, 16.7M colors) is vibrant and colorful, making videos an absolute pleasure to watch.
Videos cannot be bookmarked, but they can be fast-forwarded, rewound, and adjusted to fit or fill the screen. Video folders can also be protected; whether protected folders are shown or hidden can be set through Main Menu -> System -> Player Settings -> Protected Content: Show or Hide. Gee, I wonder what you could be watching that you wouldn't want others to know about.
Regardless of what you choose to watch on a 2.5-inch display, video runs smoothly and looks fantastic on the ZEN.
Extras
Like a lot of players these days, the Creative ZEN can do a lot more than just play music and video.
Photo viewer
Again because of its brilliant display, the player is well suited for viewing photos.
JPG files can be rotated, zoomed in, rated, deleted, set as wallpaper with various photo effects (original, warm, cool, gray, sepia) applied, and viewed as part of a slideshow (with or without transitions) while listening to music.
Like video folders, photo folders can also be hidden from the prying eyes of your spouse, parents, children, and whoever else you don't want seeing whatever it is that you're looking at.
FM radio
The FM radio is on par with most tuners found on others players on the market. Reception is good (in Honolulu, anyway), and stations can be automatically or manually scanned and saved as one of 32 presets.
Unlike other DAPs, the ZEN does not have an FM recording feature.
Voice recorder
It does have a voice recorder, though.
Using the built-in microphone located at the top of the player, you can record personal notes and other audio in WAV format, split long sessions into separate files, and delete recordings at will.
Organizer
The ZEN also has a few read-only PIM functions.
Microsoft Outlook users can sync their calendar events, contacts, and task lists using Creative's Sync Manager or Media Explorer. Non-Outlook folk can click on the Manage Organizer Data option in Media Explorer to add and edit PIM information.
Alarm
If you keep the ZEN hooked up to a set of external speakers overnight, you can use the player as an alarm clock. Settings are accessed through Main Menu -> Extras -> Data & Time -> Options button -> Set alarm or Main Manu -> System -> Clock Settings ->  Set Alarm.
Both paths lead to the same place and allow you to set a daily or one-time alarm with a random track or FM radio used as the alarm sound.
Battery Life
The ZEN's non-removable lithium ion has a rated battery life of up to 30 hours for audio and 5 hours video for video playback, but actual runtime will vary according to brightness settings, bitrate, and other variables.
Conclusion
Creative did a lot of things right with the ZEN. It kept the screen size of its predecessor but dramatically increased the number of supported colors, updated the patented user interface without messing with what made it successful in the first place, opted for all tactile controls, and added an SD card slot for memory expansion. The ZEN also maintains the excellent sound quality and general performance many expect from Creative and offers some new features not seen on any of the company's previous players.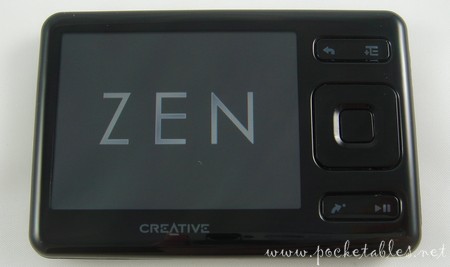 While there are still areas in need of improvement (e.g., SD card content integration), what the ZEN is able to do now, it already does well. Coupled with the fact that it's well priced and available in capacities up to 32GB, the Creative ZEN fills the shoes left behind by the Vision:M with no problem. Though it may not be the successor most fans had in mind, it's certainly worthy of the title.
The Creative ZEN can be purchased from a variety of online retailers throughout the world. Storage capacity and pricing vary by location, but Amazon generally has the best prices. Check out current prices, which typically range between $93 (4GB) and $195 (16GB), of the ZEN at Amazon
.