Sony mylo 2 (COM-2) vs. Nokia N810
Although not intended to appeal to the same market, the Sony mylo 2 (COM-2) personal communicator and Nokia N810 Internet Tablet still share enough similarities to warrant head-to-head battles and other comparisons.
I've already finished my Nokia N810 review and a full mylo 2 review is in the works, so I've decided not to pit one device's features and functions against the other's to ultimately conclude which is better. Instead, what I've done is something that I hope will help you declare your own winner. All that matters when choosing a portable device is what's best for you, after all. 
Side-by-Side Specs
Sony mylo 2
Nokia N810
Launch Price

$299.99
$479.99
Current Price

$299.99
About $400
Colors
Black, white
Silver
Storage

1GB internal
Memory Stick Duo slot
    
2GB internal
MiniSD card slot
128MB RAM, 256MB Flash
Dimensions

  5.1" x 2.5" x 0.8"
  5.04" x 2.83" x 0.55"
Weight

6.8 ounces
7.97 ounces
Display

3.5" touchscreen
(800 x 480)
4.13" touchscreen
(800 x 480)
OS
Qtopia Linux (closed*)
Maemo Linux (open)
Connectivity

802.11b/g
    
    
802.11b/g
Bluetooth 2.0+EDR
GPS
Browser

NetFront
(with Flash Lite 3)
Mozilla MicroB
(with Flash 9)
Camera
1.3 megapixels w/macro
0.3 megapixels (VGA)
I/O Ports

Speakers, microphone,
mini USB,
proprietary headset
Speakers, microphone,
micro USB,
standard 3.5mm headset
Keyboard
45 keys, backlit
40 keys, backlit
Stand
No
Yes
Audio

MP3, WMA, WMA-DRM,
ATRAC, AAC
 
AAC, AMR, M4A,
MP2, MP3, WAV, WMA
other supported codecs optional
Video

MPEG4-SP, AVC Baseline
(30 fps, 384/768kbps)
 
3GP, AVI, H.263, H.264,
MPEG-4, RV, ASF, WMV9
other supported codecs optional
Photo

JPG, PNG, BMP

 

BMP, GIF, ICO, JPG, PNG,
SVG Tiny, TIFF, WBMP
other supported codecs optional
Battery
Removable li-ion
(3.7V 1200mAh)
Removable li-polymer
(3.7V 1500mAh)
Estimated
Runtime

Audio: up to 20 hours
Video: up to 7 hours
Web: up to 6 hours
VoIP: up to 6 hours
Audio: up to 10 hours
Continuous: up to 4 hours
Always online: up to 5 days
Standby: up to 14 days
* Users who register with Sony as developers are given an SDK to create mylo widgets.
Comparison Photos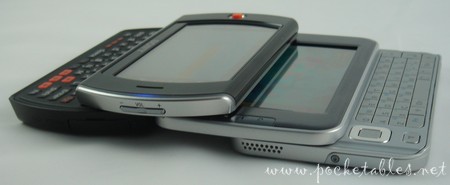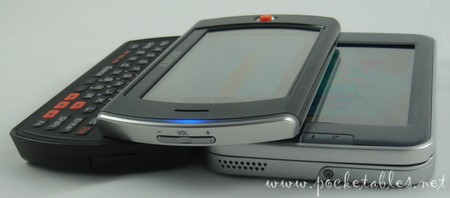 Website Load Times
Browser speeds and load times on mobile devices (including the Nokia N810) are a frequent topic around here, so my informal testing parameters are the same as always:
Each browser's cache was cleared before testing began.
Load times were measured in one sitting from the same location (my living room in Honolulu this morning) from the click of the enter key to the complete page load according to the progress bar or loading icon.
Both devices were connected to an 802.11g home network and maintained maximum signal strength throughout the testing period.
Times are in minute:second format.
| | | |
| --- | --- | --- |
| | Sony mylo 2 | Nokia N810 |
| Amazon | 0:23 | 0:19 |
| CNET | 0:37 | 0:38 |
| Digg | 0:18 | 0:16 |
| Engadget | 0:26 | 0:39 |
| Google News | 0:15 | 0:18 |
| Micro PC Talk | 0:32 | 0:11 |
| MySpace | 0:11 | 0:10 |
| NY Times | 0:28 | 0:30 |
| Pocketables | 0:29 | 0:26 |
| YouTube | 0:18 | 0:17 |
Note: Load times vary by several factors ( e.g., location, time of day, ad servers, page content, etc.), so your own results will not be identical to mine. Fluctuation and inconsistency of load times are particularly evident when comparing the times above with those from my previous tests.

Which one is right for you?