Unboxing the pink Asus Eee PC 2G Surf
After I sold my Samsung Q1P last fall and bought the Sony Vaio TZ notebook instead of a new UMPC, I vowed to never add another 7-inch device to my gadget collection again.
So imagine my surprise when I heard myself say "pink Eee PC" after my husband asked me what I wanted for Valentine's Day.
There's no rhyme or reason behind my gadget preferences sometimes, so I've decided to blame my momentary lapse on the day's festivities and move on. An Asus Eee PC 2G Surf may not be the technological equivalent of roses and chocolate, but at least it's part of the traditional color spectrum, right?
Before I get on with the unboxing, I should explain why I chose the 2G Surf over the other models.
As most of you know, the 2G Surf is the least upgradeable, least powerful, and least expensive model in the entire Eee PC series. It's also the only one that was available in pink when my husband placed the order last month. I'm aware of this configuration's limitations (soldered RAM, fewer preinstalled applications, underclocked processor) and know that the other models offer more bang for the buck, but I don't intend to tinker with, hack into, or even use the Eee as anything other than an occasional coach-surfing device.
I just wanted a pink gadget for Valentine's Day!
Packaging
Contents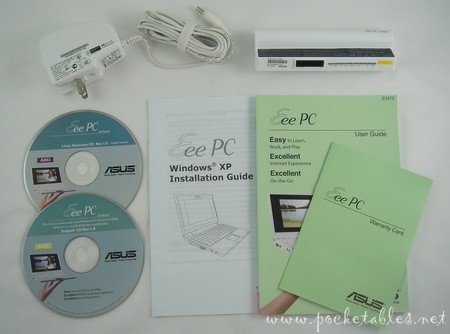 Included with the 2G Surf are an AC adapter, 4400mAh battery, recovery and support CDs, Windows XP installation guide, user manual, and warranty card.
Quick Look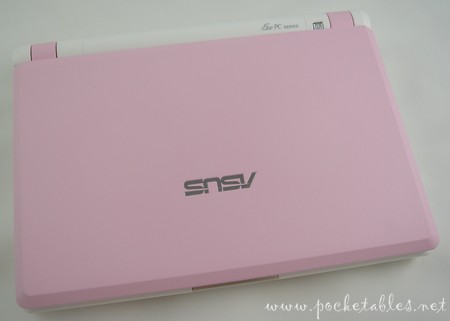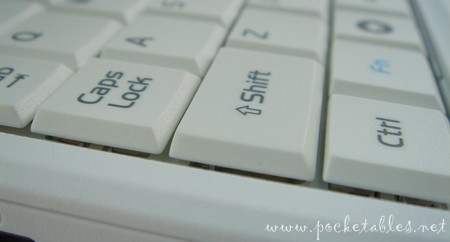 Size Comparisons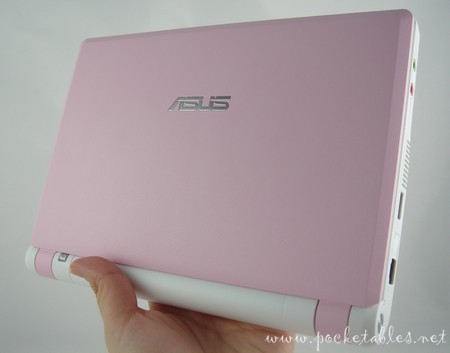 The Asus Eee PC measures 8.9 x 6.5 x 1.4 inches (at its thickest point) and looks much smaller in person than it does in pictures.
Here it is between my 11.1-inch Sony Vaio TZ and 5.6-inch Fujitsu LifeBook U810: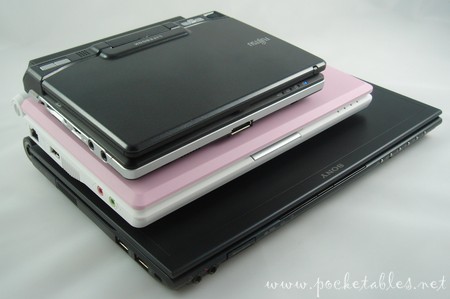 How Pink Is It?
Because all pink gadgets are not created equal, my biggest concern about getting the Blush Pink Eee PC was actually the color. It may not be a question most people ask, but "how pink is it?" is something I always consider before giving in to my stereotypical attraction to anything pink.
Since in-the-wild and sometimes even press shots can be misleading (how a particular shade looks on a computer screen is often quite different from how it looks in person), I gathered my pink gadgets to put the Eee PC into some context.
Not bad. Although I'd prefer a pearlier shade similar to my Nintendo DS, I'm actually pretty happy with the softness of the pink Eee.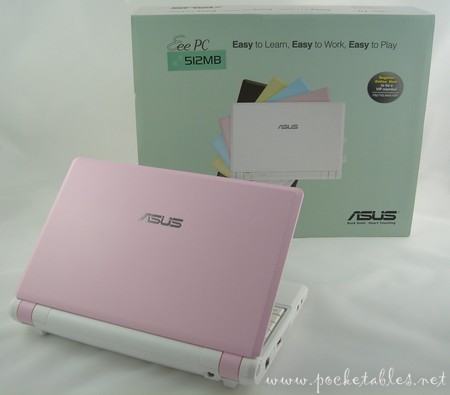 Happy Valentine's Day!