Review: Apple iPod shuffle
With last month's announcement of the 2GB Apple iPod shuffle came a hefty price reduction for the 1GB shuffle that has retailed for $79 since its September 2006 launch.
Now just $49, the vibrantly colored flash player is still a bit overpriced when compared to other devices in its class, but it's a solid choice for beginners and Apple-ites in need of a gym companion or trendy accessory. Read on for my full review.
This review is based on the iPod shuffle running firmware version 1.0.4.
System Specifications
Capacities:

1GB, 2GB
Supported audio:

AAC (8 to 320kbps), protected AAC (iTunes Store),
MP3 (8 to 320kbps), MP3, Audible, WAV, AIFF
Dimensions:
1.62" x 1.07" x 0.41"
Weight:
0.55 ounces
Colors:

Silver, blue, purple, green, red
Packaging
Contents
Like most digital audio players these days, the shuffle ships with little more than the essentials.
Inside the plastic box are a quick start guide, earphones, charging/syncing dock, at-a-glance operation card, and warranty information. Also included is a pair of Apple logo stickers, which is a cute (and smart) touch.
Design
Although some identify the new palette of colors introduced in September 2007 as the dawn of the third-generation shuffle, this is still the second generation. (Apple calls it the "2nd generation Early 2008," but let's not split hairs.)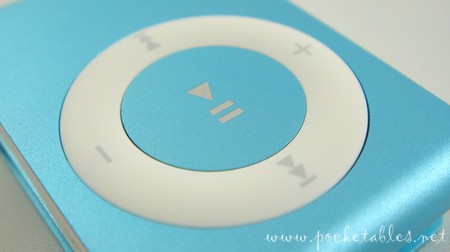 Like the 2006 second-gen shuffle, then, this one is encased in anodized metal. Build quality is in keeping with Apple's usual standards and the design is over two years old, so there isn't much to say about it now.
The player is durable and able to withstand more than your average wear-and-tear with little consequence. Perhaps this is part of the reason that whenever I see a kid (under 10) wearing a set of headphones, the other end is often plugged into a shuffle.
Size
In addition to its sturdiness (and the fact that it's an iPod, which is its own selling point), another part of the shuffle's appeal is its size.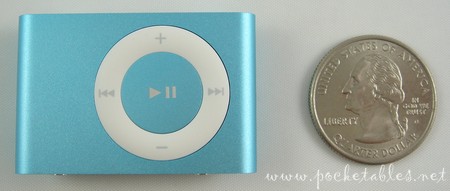 It was considered to be unbelievably small two years ago and few players have matched its tiny footprint since.

As you can see above, it's about the same size as the iriver S7 and S10 that also debuted in 2006 and is considerably smaller than the following year's Sansa Clip and Creative Zen Stone Plus.
Controls
Despite its diminutive form factor, the shuffle is simple to use because of the size and placement of its controls.
Nothing but a self-explanatory 5-way navigation pad sits on the face of the player, so there's no fumbling involved or precision required when controlling the device. Surrounding the play/pause button that also doubles as a hold switch (press and hold for three seconds to toggle on and off) in the center are volume and previous/next track controls.
The controls are straightforward and adequate for a device without a display or user interface.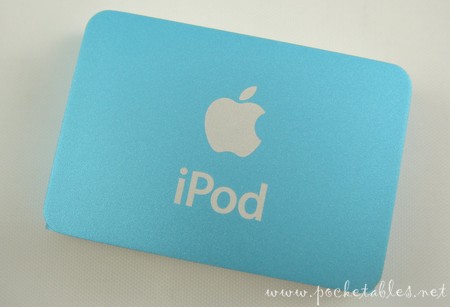 On the back of the shuffle is a non-removable clip that explains those early "most wearable iPod ever" advertisements. I'd be more inclined to keep the shuffle in my pocket or purse than attach it to my clothing, but I like the clip idea more than I would've liked a lanyard.
At the top of the shuffle are a standard headphone jack, which is also used for connecting to the included dock, and one of two LED status indicators that blink red, orange, and green depending on what the player is doing.
The other indicator, which mimics everything the top one does, is at the bottom of the player alongside the power and shuffle switches.
Despite its name, the iPod shuffle is capable of playing back songs in order. Just slide the shuffle switch to the right and hit the play/pause button three times quickly to return to the first song in the playlist. Hitting the button three times quickly when the switch is set to shuffle (left) will reshuffle the tracks.
Transferring Content
Since the shuffle is an iPod and the iPod is made by Apple, there's no escaping iTunes to connect to and sync with a PC or Mac (not without unapproved hacking, that is).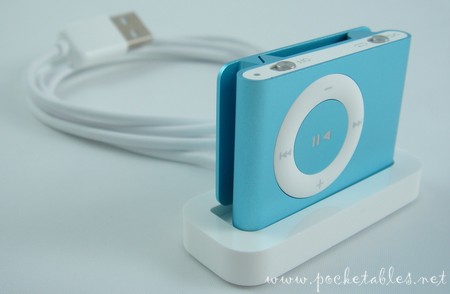 Just place the shuffle into its little dock, connect the USB cable to your computer, and follow the on-screen instructions. The process is seamless and non-threatening to new users of MP3 players.
There are very few options to choose from, so getting the player up and running is a breeze. One of the easiest ways to load the shuffle with music is to use the "Autofill" option, which automatically fills the player with tracks according to your preferences. To get the "true" shuffle experience, check the "choose items randomly" box and let the player do the choosing for you.
Audio
Since Apple is generally more about form than function, it would be pretty easy to forgive any shortcomings in the shuffle's sound quality and marvel instead at its size and design.
I must admit that when I plugged in my Ultimate Ears super.fi 5 Pro
in-ear monitors, I wasn't expecting the warm sound I actually heard. Other than the slight hiss that is detectable when the shuffle is on and nothing is playing, sound quality is actually pretty good. It's richer and more balanced than I thought it would be and perfectly acceptable for casual listening (especially with the included earbuds). Discerning ears may not be overly pleased, but true audiophiles probably wouldn't opt for the player, anyway.
Battery Life
The shuffle's non-removable lithium polymer battery receives a full charge (via USB) in about 4 hours and has an estimated playback time of up to 12 hours.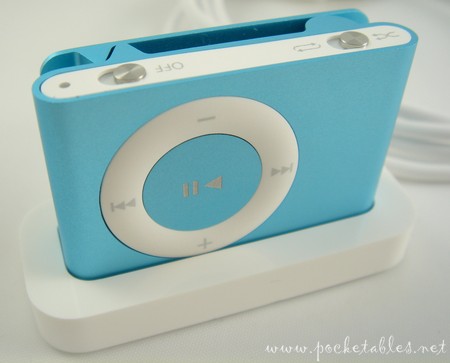 This isn't particularly impressive by today's standards, but it's sufficient for a week's worth of gym workouts, daily commutes, and a round-trip flight across the country.
Conclusion
With a new starting price of $49, the second-generation iPod shuffle
is an affordable and easy-to-use player ideal for beginners, fashion-conscious teens, Apple devotees, and anyone looking for something small and basic to take to the gym. It's also a good choice for door prizes at company parties, stocking (or Easter basket) stuffers, and filler gifts.
The shuffle lacks a screen, an FM radio, and some of its competitors' other features, but for the right user, it still looks and sounds great. Only you can decide whether that user is you.