Asus Eee PC 4G sold at UK Toys R Us
This is probably ancient news to anyone in the UK, but my American self had no idea that the Asus Eee PC 4G could be purchased through Toys R Us there (when not out of stock, of course).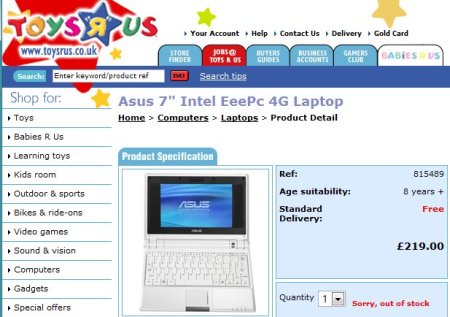 Since laptops at Toys R Us here are generally of the Barbie variety, I didn't take mention of the toy store in an Observer article about the Eee PC seriously. The story was titled "Turns out the mini-laptop revolution was just child's play," so I thought the opening paragraph about "shifty-looking middle-aged men" crying out "Yeehaw!!!" when walking out of the store with the 7-inch mini notebook was meant as a joke. A humorous exaggeration. But when the reference was carried throughout the entire piece, I headed to toysrus.co.uk and stopped laughing.