HTC Shift interpolated 1024 x 600 resolution
A common complaint about the HTC Shift is that its 7-inch touchscreen is only 800 x 480, a native resolution generally associated with first-generation UMPCs. To compensate, the Shift (like most mobile computers) offers a handful of interpolated resolutions, including the very desirable and second-gen standard 1024 x 600.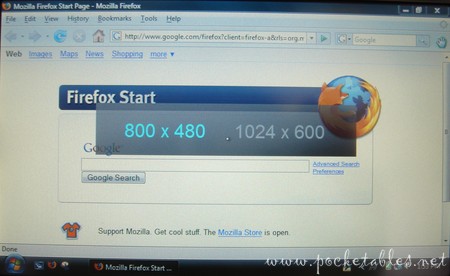 Reports of the scaled resolution's usability have varied, with some calling it "the best interpolated 1024 x 600 mode [ever] seen" and others deeming it  "fuzzy and not good for text entry or viewing."
So which is it really? See for yourself below.
Oh, but first, let's take a quick look at how to switch between resolutions.
Provided that 800 x 480 and 1024 x 600 are sufficient for your needs (they are for mine), the hardware button on the right side of the display (between the microPad and Control Center button) is one that will get a lot of use. Pressing it launches the overlay shown in the first photo above and toggles between the two resolutions in a few seconds.
Other resolutions (800 x 600, 1024 x 768, 1152 x 864) are available in the Graphics Properties dialog box and can be accessed manually.
Now that that's out of the way, have a look at the following screenshots to see the difference between the Shift's native (800 x 480, first) and interpolated (1024 x 600, second) resolution modes.
Click on an image to view it in full size.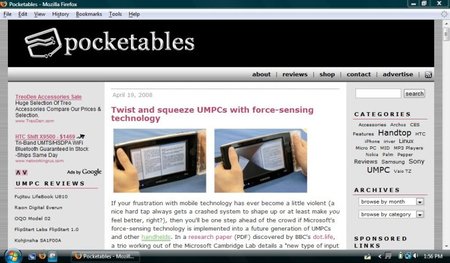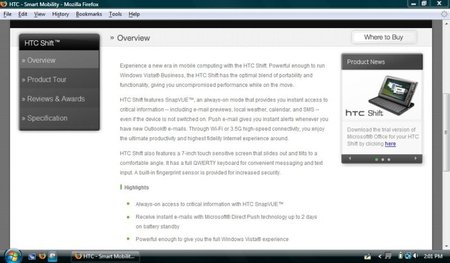 Only you can determine whether the interpolated mode is good enough for the comfort of your eyes, but for mine, it's incredibly comfortable and the best I've ever seen/used. It's obviously less crisp and clear than 800 x 480, but it's usable enough for me to leave it interpolated almost all the time.
I'm definitely impressed.