3G HSUPA Fujitsu LifeBook U810 now available
Originally slated for release in March, the 3G Fujitsu LifeBook U810 shown at CES 2008 is now available for purchase from the Fujitsu Direct Store for $1299 (Vista Home Premium) and $1399 (Vista Business).
In addition to integrated 3G connectivity through AT&T's BroadbandConnect HSPA network (photos of SIM card slot below), the winged unit further distinguishes itself from the original U810 mini notebook in storage capacity (60GB vs. 40GB), width (7.3" vs. 6.73"), and weight (1.61 lbs vs. 1.56 lbs).
The SIM card slot is tucked inside the battery compartment: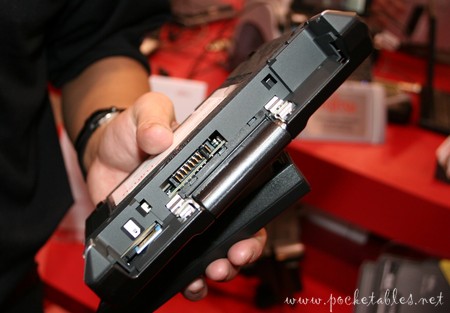 A product manager at CES told me that the SIM would be specific to the unit and therefore unable to accept a card from a cell phone. He said the voice plan would be the main issue, but in a comment left on my original post about the 3G U810, Nurhisham Hussein of Pocket PC Thoughts said otherwise:
Most likely what's going to happen is that the Fujitsu will be SIM-locked in the US to a specific cell provider ala the iPhone. What matters here is not so much that it is technically difficult to switch SIMs (it's not), but that the Fujitsu not be usable with any other SIM except the one supplied to you – until it's unlocked that is. Once that happens, you can switch SIMs as much as you like, provided you're in conformity with your carrier's terms of service, which knowing AT&T you probably won't be.

From a technical perspective, there's nothing to prevent a 'phone' SIM from working in a data-only modem or vice versa, provided they both have dataplans attached to them. I actually do this pretty frequently, switching SIMs between my phone and a data card. Both work, for the specific services attached to each.
[
Press release
(thanks, PHL)
|
Product page
via
jkkmobile
]