How to get AT&T unlimited 3G data for $20/month without contract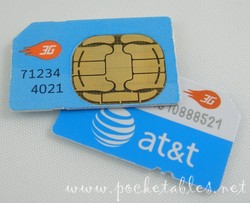 UPDATE 11.13.08: AT&T has discontinued the unlimited data plan described below.
Ever since getting my iPhone last summer, I've been popping its 3G SIM card into and out of any GSM device that would accept it. I've considered signing up for a data-only plan with AT&T to get an extra SIM in the past, but have always found the recurring costs and usage limits too prohibitive. So lately I've been swapping the card between five devices: the iPhone, AT&T Tilt, unlocked HTC Advantage X7501, unlocked HTC Shift X9500, and an old Treo. Removing and inserting the SIM isn't difficult (and it's always nice to share), but come on. A better solution was obviously needed.
And thanks to ever-resourceful and helpful Pocketables reader orbitalcomp, I found one in AT&T's newly announced unlimited MEdia Net 3G data service for the "Pay As You Go" GoPhone plan. All AT&T phones come with 3G SIMs (cards also sold separately) that can be used in other devices, and many GoPhones include airtime credits that cover the cost of the phone.
What this means is that an extra SIM with contract-free 3G data service and a new phone costs just $19.99 per month. Find out how it works (and how to get it for yourself) below.
1. Buy a GoPhone.
Since all you really want is the SIM card, just choose the cheapest phone from AT&T, Amazon
, or wherever else GoPhones are sold. I chose a $50 Motorola something-or-other that came with $35 of free airtime, which brought the actual price of the phone down to $15, but you can often find deals that get you the phone for free.
2. Activate your GoPhone.
Pop the SIM card into the GoPhone and activate it online at att.com/activations. Select the "Pay As You Go Unlimited Talk" plan, which includes unlimited mobile-to-mobile minutes, a $1 daily access fee that only applies when you make a voice call (which you won't be doing), and a $0.10/minute rate, and add at least $20 to your account.
3. Dial 611 on your activated GoPhone (or call 1-800-901-9878 from a landline phone). You'll be connected to an automated customer service system. Say "Buy Features" to be taken to the GoPhone Mall, then say "Media Net" and "Unlimited" followed by "Buy it."
4. Remove the SIM from the GoPhone and put it in another 3G-enabled GSM device.
And you're done.
Now you can keep your current SIM card in your phone where it belongs and put the GoPhone SIM in whatever you have that can use it. I keep mine in my HTC Shift so that it's never without an HSDPA connection and it works perfectly. Update: It also works with 3G ExpressCards, LaptopConnect, and other aircards.
The service is contract-free, so you're under no obligation to renew before it expires. Your account is canceled 60 days after expiration, so as long you don't need to use it after that, you won't have to deal with it again (reactivating an expired account involves a service fee and a new wireless number). If you do want to renew, then you can do so at anytime online, by phone, or in person. Easy!
Huge thanks to orbitalcomp for the great tip!