MSI Wind release delayed again
Why on earth did I choose to give away the MSI Wind? Had I known when I let you guys pick the prize a few weeks ago that the original June 16th release date would only apply to the 3-cell version, be pushed back to the 27th (today), and then get delayed again, I would have chosen something else!
Engadget is reporting that industry-wide battery shortages are the reason MSI is now expecting the first shipment of 3-cell netbooks during the week of July 7th, while Amazon's product page indicates that anyone buying the 10-inch Atom-based mini notebook should plan to wait for "3 to 5 weeks" for the package to arrive. Grr!
So, where does the 6-cell MSI Wind fit into all of this, and more importantly to those participating in the Pocketables Forum Giveway, how does this affect the contest?
The last word on the availability of the 6-cell version was that it would be released in July. When in July was always anyone's guess, but now that the 3-cells will supposedly begin shipping during that time instead, I can't help but wonder how much longer we'll have to wait for the 6-cell.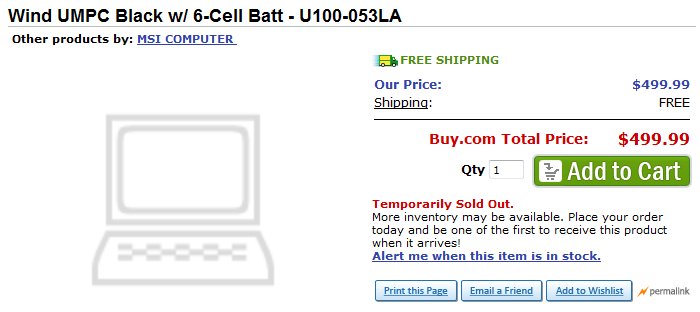 Buy.com actually has a 6-cell product page up right now, but their stock is understandably listed as "temporarily sold out" (although how something can be sold out when it was never sold to begin with is puzzling).
What does this mean for the Pocketables Forum Giveaway?
Nothing, really. The official rules haven't changed at all. I'm still giving away a 6-cell MSI Wind netbook . . . when it comes out. There's word going around that the 6-cell battery may eventually be sold separately, so what I think I might do is offer the contest winner a choice: either take the 3-cell Wind now and wait to see if the battery becomes available later (I'll purchase and send it to him/her if it does) OR just wait for the 6-cell version.
Remind me when I plan another giveaway to choose a prize that's already started shipping!