The latest digital media player to be released by iriver in the US is the super compact Lplayer. Boasting OGG, FLAC, and XviD support, the flash player packs a 2-inch TFT display, D-Click navigational system, FM radio, and other extra features into a glossy casing that could be sitting in your hand today for just $82 (2GB), $101 (4GB), or $141 (8GB) from Warehouse123.com.
Read my full review below to find out if the Lplayer is right for you.
This review is based on the iriver Lplayer running firmware version 1.02.
System Specifications
Capacities:

2GB, 4GB, 8GB
Supported audio:

MP3, WMA, ASF, OGG, FLAC
Supported video:

MPEG4-SP, WMV9, XviD
Extras:

Photo viewer, FM radio and recorder,
voice recorder, text viewer
Display:
2.0" TFT (320 x 240, 262K colors)
Dimensions:
2.36" x 1.69" x 0.51"
Weight:
1.45 ounces
Colors:

Black, pink, chocolate, white
Contents
Contrary to what the astronaut-inspired silver package may suggest, the iriver Lplayer is not bundled with a futuristic set of accessories. What sits inside the pouch instead is the same set of basics supplied with the company's other players.
More specifically, the device comes with earphones, USB 2.0 cable, mini software CD, warranty pamphlet, and quick start guide.
Design
The pint-sized player has the same clean, minimalist design of the original iriver clix and clix 2. Though "clix thoughts" are inevitable due to the Lplayer's glossy black edges, rounded corners, and all-screen face, the comparisons actually do a bit of a disservice to the unit.
Because despite its appearance, the Lplayer is not a mini clix or clix 2.5. Far from it, really, as the device doesn't feel quite as solidly built and (as you'll find out below) its feature set is rather ordinary. Without clix-influenced expectations, however, the unit will please consumers with its small footprint, smooth feel, and stylish curves.
Size
At just 2.36 x 1.69 x 0.51 inches, the Lplayer can easily be cupped in the palm and slipped into pockets with plenty of room to spare.
It's smaller than most of the other iPod nano competitors and more similar in size to DAPs like the SanDisk Sansa Clip.
Display
Taking up most of the player's face is a 2-inch 320 x 240 TFT display that reproduces 262K colors with accuracy and a nice balance of saturation and brightness.
Even on a screen of this size, watching video clips and photo slideshows is pretty enjoyable. The screen won't really impress anyone (especially clix 2 users), but it's undoubtedly good and perfectly suitable for casual use.
Controls
Like many of its other players, the Lplayer uses iriver's popular D-Click system for navigation.
Hidden beneath the thin display piece are four buttons that make the edges of the screen clickable, essentially turning the display into a large directional pad. Users unfamiliar with the three-year-old system (D-Click was introduced with the original clix back in 2005) may find it awkward to use at first, but it quickly becomes second nature due in part to the audible and tactile feedback accompanying each click.
In addition to the D-Click controls, the Lplayer is equipped with a couple of hardware buttons and a few ports.
At the bottom are a power button, volume rocker, and internal mic.
A covered mini USB 2.0 port, lanyard loop holes, and standard 3.5mm headphone jack are located on the left.
A reset pinhole (not shown) can be found at the top, while a dedicated hold switch is built into the back.
User Interface
The D-Click navigational system lends itself well to the Lplayer's user interface (UI), which is straightforward and easy to use.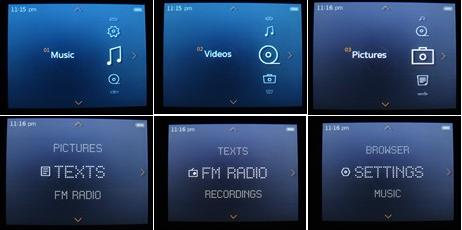 The no-frills UI can be viewed in two ways: Theme 1 (bottom) and Theme 2 (top). The dark color scheme and background "image" are not customizable, so if you'd like something cheerier or more colorful, you'll just have to cross your fingers that additional themes are added through future firmware updates.
Interface responsiveness isn't as snappy as its simple text-based UI should allow it to be, and several clicks are occasionally needed for the system to register and perform the desired action.
Media is searchable by both ID3 tag and folder structure (Dir List), making library management easy for all kinds of users.
Transferring Content
The iriver Lplayer is a MSC/UMS and MTP device, so it is compatible with all platforms and supports drag-and-drop through Windows Explorer (MTP) and standard removable disk storage (MSC/UMS). Mac users must use the MSC/UMS setting, as MTP is only for use with Windows. Iriver's own application, iriver plus 3, requires MSC/UMS mode. Regardless of the connection setting, software is required for more advanced media management such as creating playlists and syncing with a computer.
Switching between connection modes can be done through Settings -> Advanced -> Connection Type.
Audio
While iriver DAPs may not be the first choice of audiophiles, the players still produce good, clean sound (the E100 notwithstanding). Based on a purely subjective test using a pair of Ultimate Ears super.fi 5 Pro, I would put the Lplayer's sound quality right up there with the clix 2, which means my ears are pretty pleased.
And how can they not be? With a 5-band user equalizer, a handful of preset EQs (normal, rock, pop, classic, soft, jazz, DBB), and SRS WOW HD audio enhancements, the Lplayer offers enough customizable sound options to suit most consumers' tastes.
On-the-go playlists cannot be created on the player, but tracks can be rated and then played according to their ratings. If used creatively, the 5-star rating system can be a decent substitute for OTG playlists. Other functions include A-B repeat (including repeat times and repeat intervals), play modes (normal, repeat, repeat one, shuffle, shuffle repeat), scan speed, lyric display, bookmarks, and direct file deletions.
Video
Staring at a 2-inch screen for an extended period may lead to some eyestrain, but for as long as you can do so comfortably, the experience is pleasant. The Lplayer supports MPEG4-SP, WMV9, XviD video files at QVGA resolution up to 30 frames per second.
Fine details are understandably difficult to make out, but quick clips and TV show episodes are enjoyable to watch. Playback (depending on bitrate) is smooth, bookmarks are supported, and files can be deleted directly from the player. Users can also adjust the scan speed and play videos in sequential order, which is especially useful when viewing short clips and music videos.
Extras
The Lplayer's extra feature set, while relatively full, is considered standard fare these days and doesn't offer anything unique or particularly exciting.
Photo viewer
Images in JPG, BMP, PNG, and GIF format can be loaded onto and viewed on the player.
Photos can be zoomed in, rotated, played in slide shows, and removed from the device without the use of a computer.
FM radio and recorder
The FM tuner and recording functions are exactly as you'd expect them to be: frequency scanning, 20 preset stations, broadcast recording in WMA format, etc.
Voice recorder
Likewise, there's nothing special going on with the Lplayer's voice recording function.
Recordings are saved in WMA format and accessible through both Browser -> Recordings -> Voice and Music -> Saved Recordings -> Voice Recordings.
Text viewer
Text files (TXT) under 10MB can be copied to the Lplayer. As you can see above, text doesn't wrap nicely, but font sizes and automatic scrolling speeds are adjustable, files can be deleted on the fly, various percentages of text can be skipped, and bookmarks can be set.
Battery Life
The Lplayer's 4.5V li-polymer battery has an iriver-estimated runtime of up to 4 hours for video and a rather pathetic 12 hours for audio playback. Actual runtime will vary according to screen brightness, bitrate, and other factors, but I've found iriver's audio estimate to be overly conservative. I managed to get more than 15 hours of 192kbps MP3 playback with very light usage of the display.
Conclusion
The iriver Lplayer has a lot to offer in a compact, attractive, and affordably priced package. It sounds great, has more extra features than many of its competitors, and is easy and fun to use. The player is a good choice for consumers looking for an ultra-pocketable entertainment device and a definite improvement over the E100 in terms of sound and build quality, but its frequent comparisons to the superb clix family are unfounded (it isn't the first non-clix to make use of the D-Click system, after all).
While I'm happy that iriver is trying to build a stronger presence in the US with competitively priced products, it's going to take a lot more than the Lplayer (SPINN or P10, anyone?) to really make a dent on the iPod-dominated mainstream market. To be fair, the Lplayer isn't meant to be iriver's flagship device. But if its efforts this year are to be judged on its 2008 releases so far (officially: E100 and Lplayer; unofficially: those plus the W7 and T7), then it's clear that iriver still has a long way to go.
Carrying an MSRP of $110 (4GB) and $160 (8GB) and available in four colors, the iriver Lplayer can be purchased for less from Warehouse123.com, who also carries a 2GB model.