Review: iriver T7 (Volcano/Stix)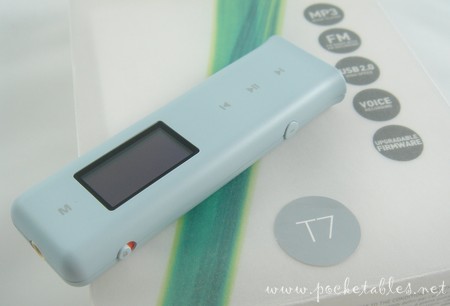 Although iriver is best known for its innovative and sleekly designed digital audio players, one of the company's latest CES-unveiled DAPs to hit the market is the rather ordinary-looking USB stick device known in various regions as the T7, the T7 Volcano, or the Stix.
The 1GB, 2GB, and 4GB players are due for release in the US soon but can already be ordered from Warehouse123.com. The T7 may not win anyone over with its uninspiring design, but with OGG and FLAC support, FM tuner, and prices starting at under $50, it's certainly worth a look. 
This review is based on the iriver T7 running firmware version 1.01.
System Specifications
| | |
| --- | --- |
| Capacities: | 1GB, 2GB, 4GB |
| Supported audio: | MP3, WMA, ASF, OGG, FLAC |
| Extras: | FM radio, FM recorder, voice recorder |
| Display: | 1.0" mono OLED (64 x 128) |
| Dimensions: | 3.3" x 1.0" x 0.4" |
| Weight: | 0.93 ounces |
| Colors: | White, black, pink, blue, chocolate |
Contents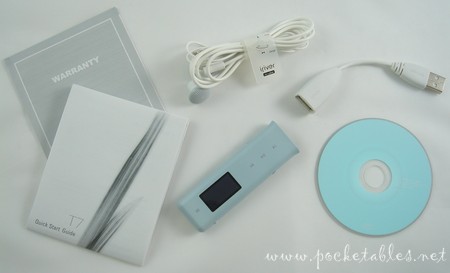 Included with the player are a USB cable, earphones, mini software CD, Quick Start Guide, and warranty information.
Design
The iriver T7 is made of smooth matte plastic and is actually much larger in person than the items it is most often compared to (stick of gum and USB flash drive).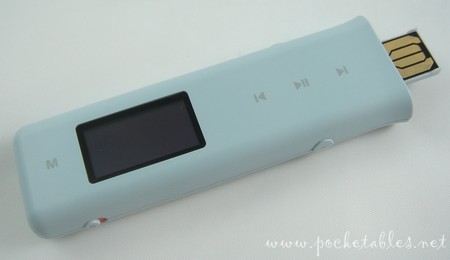 The player weighs less than an ounce and feels slightly toy-like despite its decent build quality. If it weren't associated with iriver, it could probably blend in quite easily with a pile of cheap Chinese knock-offs. Given the affordable price point and low-end target user, however, most consumers will likely feel that they got what they paid for.
Size
As mentioned above, the T7 is bigger in person than it appears in photos.
Since it looks very much like a standard thumb drive, many will be very surprised by the unit's size. Here it is alongside a trio of USB drives (4GB PNY, 2GB SanDisk, 1GB Kingston):
And here it is with some other DAPs:
Though the T7 is thinner (in width) than other players, you can see in the photo above that it's just about the same height as the Sony A810 Walkman and second-generation iPod nano. Considering the device's limited feature set, its size is definitely not a compelling reason for consumers to want/buy one.
Display
The T7's 1-inch display is also not one of its selling points.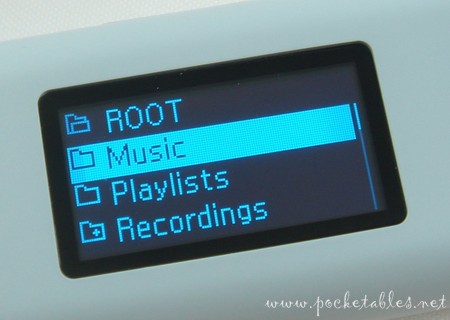 Unlike the iriver T50 and T60, which are both equipped with identically sized 65K-color screens, the T7 uses a mono OLED. It's easy to read and functional, to be sure, but that's about it. Oh, and you're out of luck if you don't like Indiglo blue. The interface isn't user-customizable beyond backlight and brightness settings, so the photos you see in this review are the extent of the system.
Any sort of screen is better than no screen at all, of course, but a little color and some wallpaper options wouldn't have hurt.
Controls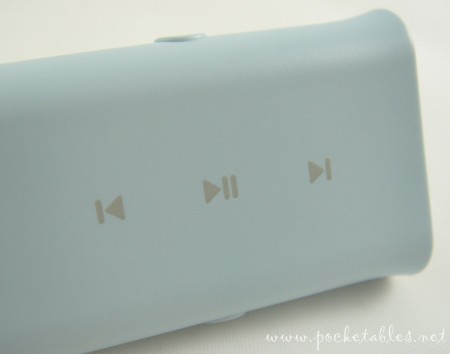 Although iriver doesn't advertise it as such, the T7's playback controls are very similar to the D-Click system used on the clix 2 and Lplayer. The controls look completely touch-based, but they're actually sitting atop very clickable buttons. So not only do they offer tactile feedback, but they provide audible feedback in the form of a quiet click as well.
To the left of the display is the Mode button, which shares the same "properties" as the playback controls and is used to return to the main menu (press and hold) or display recorded voice and FM radio files (quick press).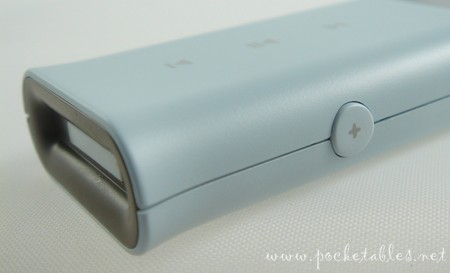 At the top of the device are a volume + button, reset pinhole, and power button.
A hold switch and volume – button are on the bottom of the player, while a standard 3.5mm headphone jack is located on the left. The USB jack, discussed in more detail below, is on the right side of the unit.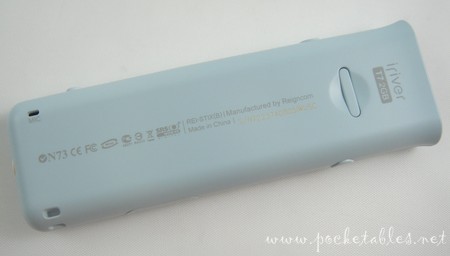 On the back of the T7 are a mic hole, lanyard loop, and what iriver calls the USB jack lever (more on this below).
Transferring Content
One of the main benefit of an unoriginal USB stick design is that it features a built-in USB jack, making connecting to a computer (PC or Mac) and transferring content to the player convenient and easy.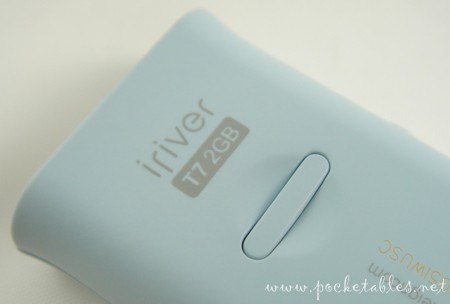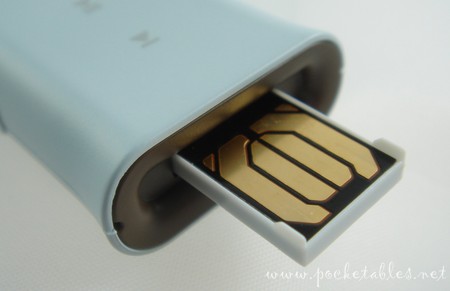 A quick press of the long button located on the back of the T7 ejects the USB 2.0 jack, which can be plugged into a computer or USB-to-AC adapter (not supplied) with no further action.
There's really no reason for the built-in jack not to fit properly into a USB port, but iriver provides a short cable in case you run into problems.
The iriver T7 is both MSC- and MTP-compliant, so it will work across all platforms.
Selecting the MTP connection type (Settings -> Advanced -> Connection Type) requires the use of Windows Media Player or other software to transfer music, so choose MSC if you use a Mac, prefer standard drag-and-drop, and/or want to use the included iriver plus 3 application to manage your music.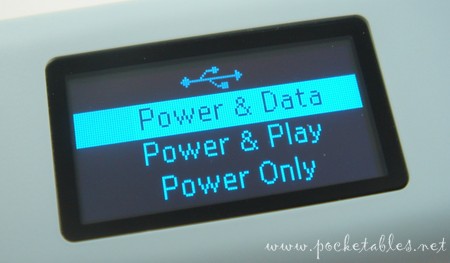 Plugging the T7 into a USB port brings up three options: Power & Data, Power & Play, and Power Only. Select Power & Data for the computer to recognize the device and allow you to load music onto it.
A folder structure already exists on the player, so MSC users can just drag-and-drop audio files into the Music folder.
Audio
In spite of its lackluster design and display, the T7 puts on an acceptable performance in terms of sound quality. It is by no means the best-sounding player on the market (the Sansa Clip, for example, has nothing to worry about), but it's on par with most of iriver's previous players, which are typically held in high regard (the E100 notwithstanding).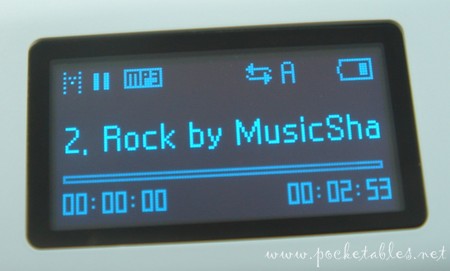 The music playback screen lacks polish, but it serves its purpose of displaying important information like the file name, play mode (normal, repeat, repeat one, shuffle, and shuffle/repeat), battery information, and elapsed time.
Hardcore audiophiles with high-end equipment would be unimpressed by the T7's sound quality, but my ears and Ultimate Ears super.fi 5 Pro IEMs are satisfied, especially when considering the player's preset equalizers (normal, rock, pop, classic, soft, jazz), 5-band custom EQ, and SRS WOW HD audio enhancement options.
Other notable features include AB repeat, bookmarks, ratings, and adjustable scan speeds. Missing from the T7 is the ability to create on-the-go playlists. Playlists are supported by the player, but they must be created, managed, and transferred through the use of music management software.
While casual listeners and DAP newbies will be pleased with the iriver T7's sound quality through the included earphones or some other pair of stock buds, more advanced/discerning listeners may long for something cleaner, fuller, and more dynamic.
Extras
Given the size and type of display used on the T7, the device's extra features are understandably limited.
FM radio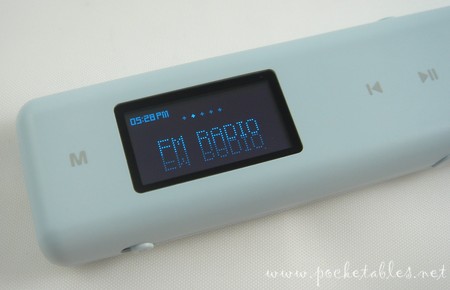 The "best" extra is the built-in FM radio, which includes 20 preset slots, automatic and manual scanning, tuner regions, and FM recording (discussed below). Reception will vary by location, but it's strong and clear here in Honolulu, Hawaii.
FM recorder
The T7's FM recording function allows on-the-fly recording from the radio in low, medium, and high quality WMA format. Recorded files are stored in the FM radio section of the player and accessible when listening to the radio by pressing the Mode button on the left side of the display.
Voice recorder
The integrated voice recorder is useful for personal reminders and note-taking but not well suited for recording class lectures or live events. Voice files are in WMA format (low, medium, high quality) and stored in the Recording section of the main menu.
Battery Life
The T7 is powered by a non-removable, rechargeable lithium-polymer battery that receives a full charge in about 2 hours via USB and has an estimated runtime of approximately 10 hours. A 10-hour battery life is subpar by today's standards, even for a DAP of this kind, but it's enough for a full day at work and possibly a roundtrip commute and after-work visit to the gym.
Conclusion
The iriver T7 (Volcano/Stix) is an unconventional offering from a company renowned for its sleek and stylish players, but it's nice to see iriver broadening its product line to include affordable low-end devices aimed at consumers looking for a DAP to keep in their gym bag or at the office. The T7 is unlikely to be anyone's primary media device, but with its convenient built-in USB jack, FM radio, and acceptable audio quality (including native FLAC and OGG support), it could easily be a secondary one.
Not yet officially available in the US, the T7 is available now from Warehouse123.com in 1GB ($48), 2GB ($57), and 4GB ($75) capacities and five colors (black, white, blue, pink, and chocolate).