Protect your iPhone 3G with an invisibleSHIELD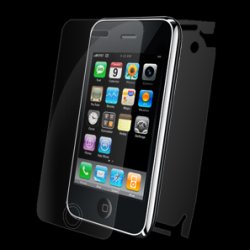 Since installing the full body invisibleSHIELD on my HTC Shift X9500 a few months ago, I've been on the lookout for new shields to buy for some of my looks-better-naked gadgets. As much as I love cases, some portable devices just look better in their unboxing suits. My new iPhone 3G, despite what I did to it, is one such gadget; covering it up with a frosty silicone skin or leather case is just not an option.
Fortunately, I received an email this afternoon reminding me that the invisibleSHIELD for the iPhone 3G that was available for preorder last month is now in stock and shipping. Well, it's actually already been out for a couple of weeks now, so I should say it's still in stock and shipping for $14.95 (front only), $18.95 (back only), and $24.95 (full body).
I'm really pleased with the military-grade film's "performance" on my Shift (it's so scratch-resistant that I took the SHIELD-ed Shift to the beach with no hesitation) and my husband has no complaints about it on his iPod touch, so I expect the iPhone 3G invisibleSHIELD to be just as good.
If you decide to buy one, don't forget to bring along one of these coupon codes (most are good for 20% off).