Review: Creative Zen X-Fi
Creative's newest flagship product is the Zen X-Fi, a high-capacity flash-based digital media player that adds Xtreme Fidelity (X-Fi) sound technology, a built-in speaker, a few wireless functions, and a whole lot of extra buttons to the company's original ZEN device.
Do these new features take what was already a solid device to new heights of excellence? Read my full review to find out.
This review is based on the Creative Zen X-Fi running firmware version 1.02.01.
System Specifications
Capacities:

8GB, 16GB, 32GB
Expansion:

SD card slot
Supported audio:

MP3, WMA, AAC4, WAV (ADPCM), Audible
Supported video:

MPEG-4, WMV, DivX, XviD, MJPEG
Extras:

Wi-Fi (16GB/32GB only), photo viewer,
FM radio, organizer, voice recorder
Display:
2.5" TFT (320 x 240, 16.7M colors)
Dimensions:
3.3" x 2.2" x 0.5"
Weight:
2.4 ounces
Colors:

Black
Box Contents
Included in the reusable plastic container are the Zen X-Fi, short USB 2.0 cable, mini software CD, quick start guides and other paperwork, and Creative EP-830 noise-isolating IEMs with three sizes of silicone tips. Additional accessories, such as an armband, leather case, and TravelSound speakers, are available separately.
Design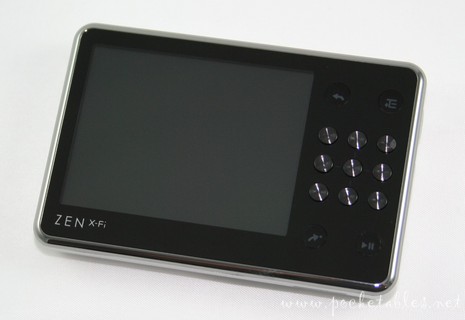 A sleek blend of glossy black and both matte and shiny silver makes the Zen X-Fi one of the best- and most sophisticated-looking players Creative has ever made. Although the casing is made of plastic materials and the entire face is covered by a hard glass-like plastic that is anything but smudge-proof, build quality is excellent.
The company's build quality has always been good, but it's exceptionally good here. It's 0.3 ounces heavier than the first ZEN, but the added weight makes the player feel more expensive and better in the hand.
Size
Like its predecessor, the Zen X-Fi is about the same size as a credit card.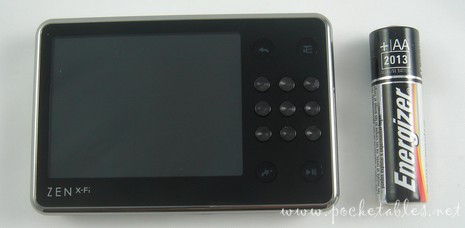 It looks rather big in the promo ads and marketing materials (without reading the specs, you'd almost think it was a full-size PMP like the Zen Vision W or something from Archos), but as you can see above, it's actually quite small and compact.
Here it is beside the original Creative ZEN:


And hanging out with some other players:
Clockwise from top left: SanDisk Sansa View, Samsung P2, Toshiba gigabeat T400, Creative ZEN, Creative Zen X-Fi, and iriver clix 2.
Display
The Zen X-Fi is equipped with the same 2.5-inch 16.7M-color QVGA display as the ZEN, so everything looks fantastic on it.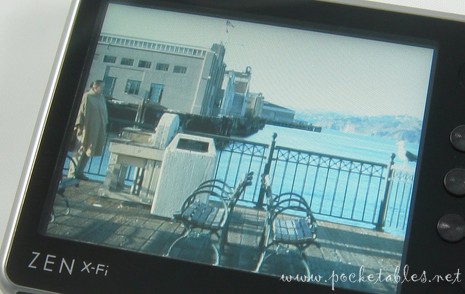 The rich, accurate, and bright colors make viewing photo slideshows, watching videos, and doing anything else that requires looking at the screen an absolute pleasure. The entire face of the player is a tad too reflective for my tastes, but it doesn't affect visibility too badly and is easy enough to look past.
Controls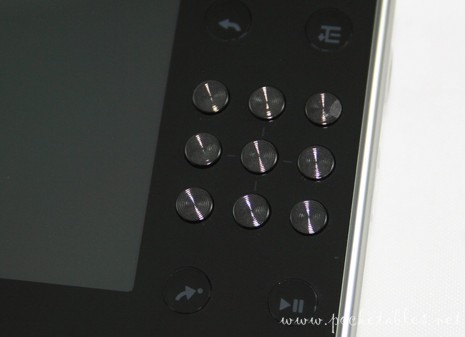 The back/menu (top left), option (top right), My Shortcut (bottom left) and play/pause (bottom right) controls from previous Creative players make a reappearance on the Zen X-Fi, but they are greatly overshadowed by the raised set of round metal buttons between them.
Used to adjust volume, move through menus, and select items, the nine buttons add such little value to navigation that the reasoning behind implementing them over an analog stick or standard directional pad is, at the very least, questionable. The buttons are easy to press, provide good feedback, and are spaced out enough to prevent mis-presses, but I don't understand their value. They literally do nothing that can't be done with a more traditional control.
While the X-Fi's controls may not be what anyone is accustomed to seeing on a media player these days, the unit's ports and other buttons/switches are very commonplace.
First up are the reset button, USB 2.0 port, 3.5mm standard headphone jack, and LED power/charging indicator on the right side.
Below all of that, on the back of the player, is a sliding power/hold switch.
SD Card
At the top of the X-Fi, next to the microphone at the corner, is an uncovered, spring-loaded SD card slot.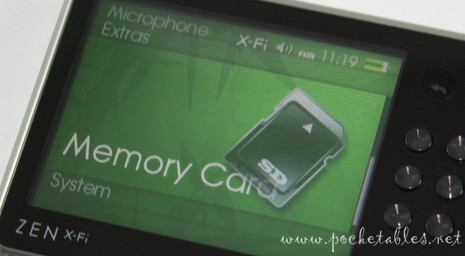 As with the first ZEN, content stored on an SD card is only accessible through its own menu item and not integrated with media on the internal memory. This was one of the biggest complaints voiced by original ZEN owners, so it's sad to see that Creative hasn't done anything about it.
Speaker
At the bottom of the Zen X-Fi is a built-in speaker that can be turned on/off through the My Shortcut button or context menu.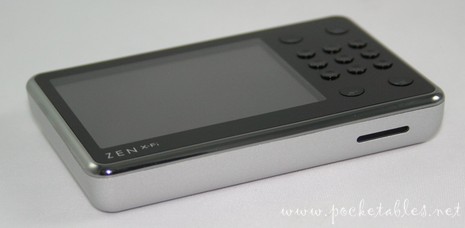 Sound quality through the speaker is better than expected and more than adequate for personal listening. Maxing out the volume (there are 25 increments) doesn't result in very loud sound (the Samsung S5's speakers are louder), but it doesn't distort playback either.
User Interface
With the exception of two new menu items (X-Fi and Online), the Zen X-Fi's patented user interface is identical to the one used on the ZEN.
So indistinguishable are the two UIs, in fact, that I'm just going to direct you to the "User Interface" section of my Creative ZEN review and call it a day.
If you don't feel like clicking over, here's the copy-and-pasted version:
The patented user interface (UI) found on other Creative players has been cosmetically enhanced for the ZEN and features oversized glass-like icons and submenu overlays.
Beneath the makeover lies the same well organized, straightforward, and easy-to-use UI that Creative fans have come to know and love (and that Apple paid $100 million to continue using on iPods), so navigation is a breeze. Paired with the self-explanatory tactile controls, the UI has virtually no learning curve.

One of the nice things about the interface is that the main menu can be configured to each user's personal liking. If a particular feature has no value to you, just remove it from the menu. The menu doesn't wrap around itself (i.e., once you reach the bottom, it doesn't continue from the top), so one less menu item to scroll through can be a welcomed omission. It actually doesn't make sense for the main menu not to wrap because the submenus, context menus, and media lists all do.

In addition to being able to set any photo, including zoomed-in portions, as wallpaper with various effects applied and brightness levels adjusted, the ZEN can be personalized with a set of six themes: (clockwise from top left) velvet red, marine blue, sable black, royal purple, neon orange, and forest green.
Transferring Content
The Zen X-Fi, like the ZEN, is an MTP-based player that only supports Windows computers. The official system requirements list only XP SP2, XP 64-bit, and Vista, but other operating systems and platforms could probably be coaxed into working as well.
XP and Vista machines will support standard drag-and-drop through Windows Explorer with no problem out of the box, but those looking for more advanced options like CD burning, video conversion, and syncing will need to use the newly supplied Creative Centrale (screenshot below) or third-party software like Windows Media Player, Media Monkey, or Winamp.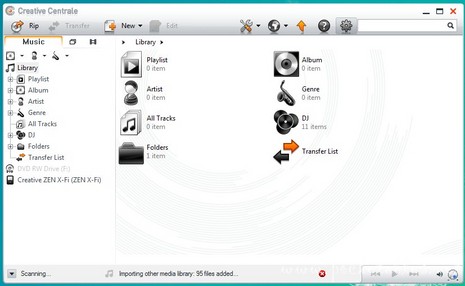 Audio
I've never been disappointed by the sound quality of Creative DAPs and after listening to the Zen X-Fi with my Ultimate Ears super.fi 5 Pro earphones, I have no reason to amend that statement. In fact, my ears tell me that the Zen X-Fi is the best sounding Creative to date . . . but only without X-Fi enabled and the EQ set to Off.
With the supplied EP-830 earphones, the first "premium" pair to ever be included with a Creative player, sound quality (regardless of the settings) is very good.
Users who have only used stock buds in the past will be incredibly impressed with the clear, rich, and loud sound delivered straight to their brains via the EP-830.
More discriminating listeners and/or those who've invested a few hundred dollars in a better pair of earphones (my super.fi 5 Pro launched at $250) and have extensively used more than several dozen DAPs will be less impressed with the unnatural sound created by the preset EQs and X-Fi but still pleased with the overall quality and extraordinary loudness. With my super.fi 5 Pro, for example, I keep the Zen X-Fi's volume set at 4 (of 25, mind you!).
Hardcore audiophiles with serious audio equipment will be . . . annoyed that I'm speaking for them. So I won't!
Xtreme Fidelity (X-Fi)
Creative X-Fi sound technology, according to the company's own What is X-Fi website, is designed to make music and movies sound "way better" because it "restores detail and expands the music to surround sound." In other words, X-Fi on the player is an audio enhancement similar to the SRS WOW HD sound effects found on other devices. The technology is different, but the general purpose (i.e., to improve sound quality) is the same.
On the Zen X-Fi, X-Fi has its own spot on the main menu. X-Fi Crystalizer, which remasters compression-compromised audio elements, and X-Fi Expand, which repositions the sound to the front, can be toggled on/off through the menu or My Shortcut button assignment.
Whether X-Fi actually improves the sound of your music is not for me to decide, but my music (192-256kbps MP3s) sounds better without it. Crystalizer seems to intensify everything but the vocals, which I don't like, while Expand just sounds muffled to me.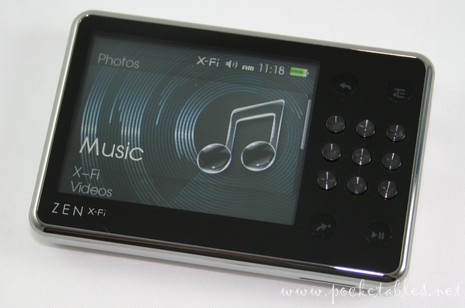 Other playback features include on-the-go playlists, play modes (normal, repeat track, repeat all, shuffle, shuffle repeat, track once), custom and preset EQs, Lookup Artist (searches for other songs by the artist being played), bookmarking, rating, and a DJ function (album of the day, random play all, most popular, rarely heard, highly rated, yet to be rated).
Video
Unlike the Creative Zen Vision:M and exactly like the Creative ZEN, the Zen X-Fi is very picky about the video formats it likes. Sure, the player supports DivX 4/5 and XviD files, but only if they are in 320 x 240 resolution and encoded as standard MPEG-4 SP or ASP without GMC support. Whereas the Vision:M was a free spirit that could play just about anything you asked it to (including odd resolutions), the Zen X-Fi is a stickler that refuses to bend, or even lean on, the rules.
When you do happen to load something the Zen X-Fi likes (or you use Creative Centrale to convert the file first), watching videos on the awesome 16.7M-color display is a treat: smooth playback, vibrant colors, the works.
Wireless Features
This section applies only to 16GB and 32GB Zen X-Fi models. The 8GB model is not equipped with wireless LAN.
The Zen X-Fi is Creative's first player ever to have built-in wireless features (802.11b/g with WEP, WPA-PSK, or WPA2-PSK security). The capabilities are rudimentary compared to other wireless-enabled DAPs with web browsers, but it's nice for streaming and downloading content from the Creative media server (Creative MediaBox) or one you have at home.
Zen X-Fi Chat
The player can also use its wireless radio for instant messaging.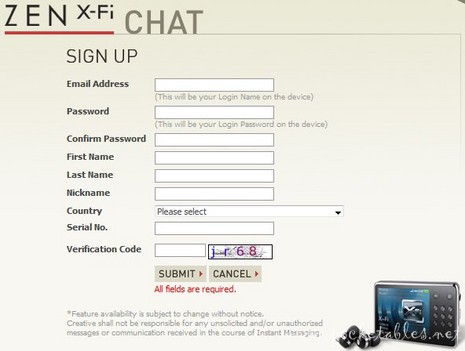 Official documentation mentions compatibility with Yahoo Messenger and Windows Live Messenger, but at the moment it seems that only Creative's own chat app is supported. [Update: Creative's app can actually serve as a gateway for Yahoo Messenger and Windows Live Messenger. Check out a video demo here. Thanks, Michael!]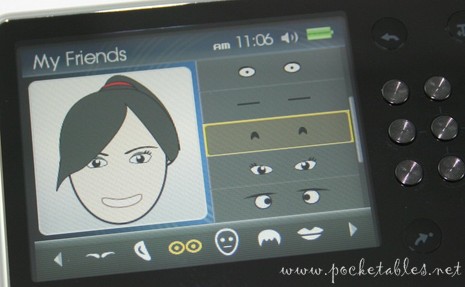 Though you can create an avatar as well as search for, invite, and add friends, instant messaging on the Zen X-Fi is unimpressive and nearly unusable because of the way the onscreen keypad and hardware controls interact with each other.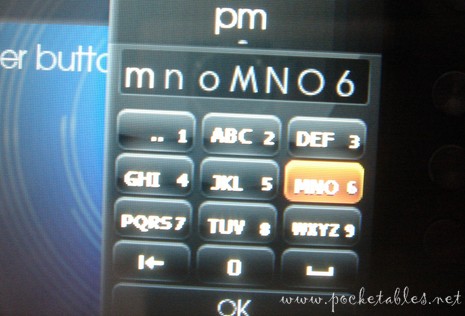 As stated in the "Controls" section of this review, the nine buttons do nothing that a regular joystick or directional pad couldn't do. Rather than correspond to a cell phone keypad, the eight outside buttons are used to navigate the onscreen keypad (each key is just as accessible without the four corner buttons) and the center button is used to select the desired letter. For example, to type the word "Sky," you must:
Use the outside buttons to highlight the PQRS7 key and press the center button eight times for "S"
Use the outside buttons to highlight the JKL5 key and press the center button two times for "k"
Use the outside buttons to highlight the WXYZ9 key and press the center button three times for "y"
This is about as far away as you can possibly go from T9 texting! There's also a "circular" keyboard that borders the screen, but the learning curve is steeper than the onscreen keypad because the keys are laid out alphabetically (rather than QWERTY-ly).
Extras
The Zen X-Fi's extra features are identical to those found on the ZEN, so I won't rehash them individually here.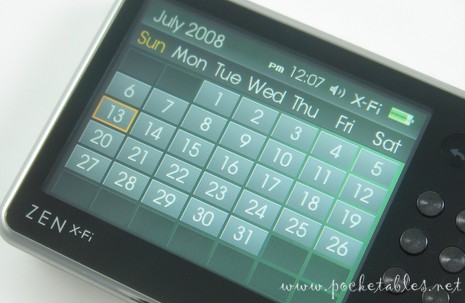 In brief, there's a photo viewer, FM radio, read-only organizer functions (calendar, task lists, contacts), and voice recorder. Standard fare for a Creative device.
Battery Life
The Zen X-Fi's non-removable lithium ion has the following estimated battery runtimes:
Up to 36 hours for audio playback through headphones
Up to 13 hours for audio playback through built-in speaker
Up to 20 hours of FM radio playback
Up to 5 hours for video playback through headphones
Up to 4 hours for video playback through built-in speaker
As usual, actual runtimes will vary according to brightness settings, file formats and bitrates, and other factors.
Conclusion
Creative is marketing its new Zen X-Fi digital media player as "the sound of perfection," which unfortunately is a bit of an overstatement. It is the company's best-sounding player to date and it does sound undeniably great, but really only when X-Fi, its most lauded feature, is disabled. Most of the other features unique to the Zen X-Fi are gimmicky at best, and the new controls do nothing but clutter an otherwise attractive player.
Creative newcomers will find it difficult to resist the compact player's great price point ($150 to $280), generous internal memory with the option to expand, gorgeous 16.7M-color display, built-in speaker, wireless streaming capabilities, and stylish good looks. Owners of the first ZEN, however, will be hard pressed to find reason to upgrade.
The Creative Zen X-Fi is available now in 8GB (no WLAN), 16GB, and 32GB capacities and carry respective MSRPs of $149.99, $199.99, and $279.99.