The Kohjinsha SC3 series is the company's newest 7-inch mini notebook line and one of the first Menlow-based ultraportables to begin shipping in the world. Announced in Japan last month and launched on July 11th, the series includes built-in GPS, a swiveling widescreen touch panel, ExpressCard/34 and 3-in-1 memory card slots, upgradeable RAM, a redesigned casing that's more compact than ever before, and of course the long-awaited Intel Silverthorne (now Atom) processor and Poulsbo chipset pairing.
My new friends at Conics.net were kind enough to send me a best-in-class SC3 for review, and I put it under scrutiny immediately. Let me show you everything, and I do mean everything, I found below.
System Specifications
Several configurations comprise the Kohjinsha SC3 series. My review unit from Conics is the top-of-the-line model (SC3WP06GA), which includes a 2GB memory upgrade (+$73) and has the following specs:
| | |
| --- | --- |
| CPU: | 1.33GHz Intel Atom Z520 (Silverthorne) |
| Chipset: | Intel SCH US15W (Poulsbo) |
| RAM: | 2GB DDR2-533 (1GB standard, upgradeable) |
| OS: | Windows Vista Home Premium |
| Storage: | 60GB HDD |
| Display: | 7" swiveling touchscreen (1024 x 600) |
| Wireless: | 802.11b/g, Bluetooth 2.0+EDR, GPS, 1seg tuner |
| Size: | 7.44" x 6.10" x 1.00"-1.30" |
| Weight: | 1.76 lbs. |
| Colors: | Black or white |
Box Contents
Included in the box with the SC3 is a full set of accessories.
In addition to a standard-capacity battery (not shown), the unit ships with a cushioned slipcase (Velcro closure), white leather strap, AC adapter and power cord, GPS antenna, and 1seg TV antenna.
Japanese manuals/paperwork, Vista Home Premium quick start guide, and GrandMap PC Navi CD (Japanese map software for use with GPS) are also supplied.
Design
Though the Kohjinsha mini notebooks have not undergone drastic cosmetic changes from one generation to another, the SC3 series is by far the most sophisticated and stylish.
Its silvery white casing and silver accents have a light shimmer on them that make the device look much sleeker than previous models. Likewise, build quality is absolutely superb; everything feels really solid and expensive.
Someone I showed it to even asked if it was a new UMPC from Sony. I don't know how Kohjinsha would feel about that, but I took it as high praise for them, as Sony is renowned for its beautiful designs and top-notch hardware quality.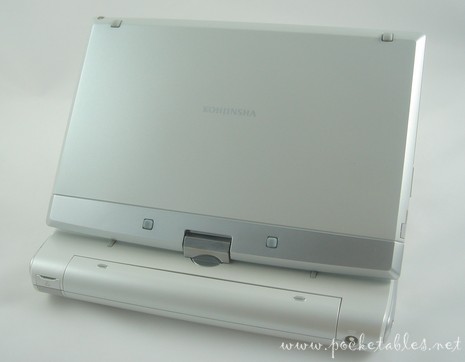 I don't care for the rubber nubbins on the top of the unit, but they allow the lid to rest softly on the keyboard when the display is rotated for tablet use.
Size
Even more striking than the SC3's design, however, is its ultra compact size. For a unit with a 7-inch screen, it's tiny. I seriously couldn't believe how small it was when I took it out of the box. It's significantly smaller than the Asus Eee PC, HTC Shift, Samsung Q1 Ultra, older Kohjinsha devices, and any other 7-inch UMPC/handtop out there.
It's so small, in fact, that you can carry it around like a handbag!
For a less girly reference, here are some comparison photos of the SC3 with the other UMPCs I have at home.
Kohjinsha SC3 vs. Fujitsu LifeBook U810 (5.6" screen)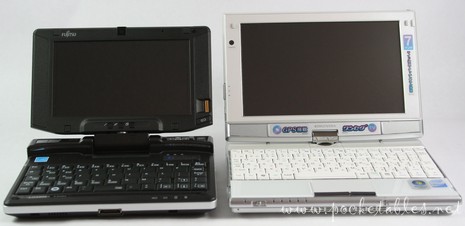 Kohjinsha SC3 vs. HTC Shift (7" screen)
Kohjinsha SC3 vs. Sony Vaio UX (4.5" screen)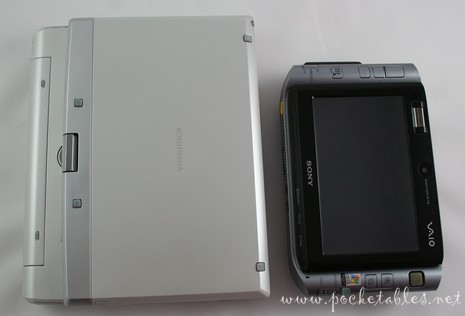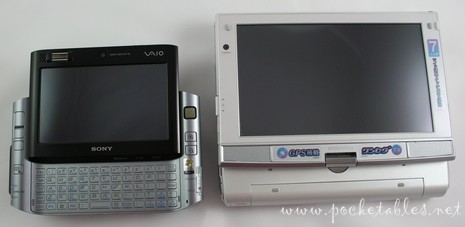 Display
One of the most noticeable design improvements of the SC3 over its predecessors is the reduced size of the screen bezel. Previous 7-inch-screened Kohjinsha models had thick bezels, which were useful for versatile hardware-control placement but generally detracted from the units' appearance.
The thinner bezel helps the LED-backlit display seem quite large and makes the design look well thought out. Wider bezels often lead consumers to complain about wasted space and question why a bigger screen wasn't used instead, so the SC3 has already nipped those gripes in the bud.
As with previous models, the SC3's 7-inch display swivels and rotates on a sturdy metal base that could actually benefit from being loosened. Consistent with the overall build quality of the device, the hinge is incredibly solid and secure (nothing flimsy or fragile) and feels immune to accidental damage.
The display is rotatable and can lay completely flat either above (for thumb typing) or on top of (for tablet use) the keyboard.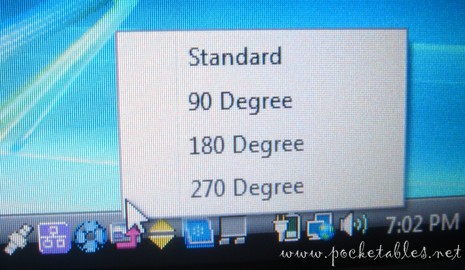 Screen rotation is adjustable through a software setting. Regardless of its orientation, the display is bright, crisp, and easy to read. 1024 x 600 resolution on a 7-inch screen is a great match.
Controls
A consequence of the smaller screen bezel is less space for hardware controls. While earlier Kohjinsha models had mouse buttons and a pointer flanking their displays, making slate and two-handed use easy, the SC3 must rely on its touchscreen when the keyboard is not exposed.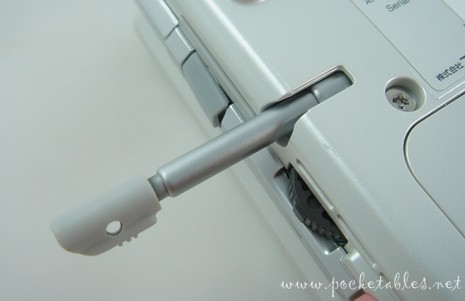 The screen responds to fingernails just fine but because Vista is not optimized for finger use, the included stylus (or any other stylus you have on hand) is a better choice. The SC3's touch panel is nicely responsive and doesn't require additional taps or unnecessary force to perform the desired action.
Although there aren't any navigational controls surrounding the display, the bezel isn't completely devoid of anything useful.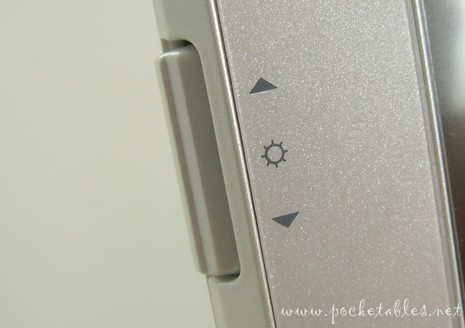 On the left side of the screen are a 1.3-megapixel web camera and multifunction button that can be set to adjust brightness levels, page up/down, control volume, or zoom in/out. Toggling between these functions is done using the Fn+F9 keyboard shortcut.
Beneath the multifunction button is a port for the 1Seg TV antenna, which is only useful in Japan and works in conjunction with the telescoping antenna built into the top right corner of the display.
At the top of the bezel is a set of indicators that illuminate when the Bluetooth or Wi-Fi is enabled and when the SC3 is plugged into an AC outlet.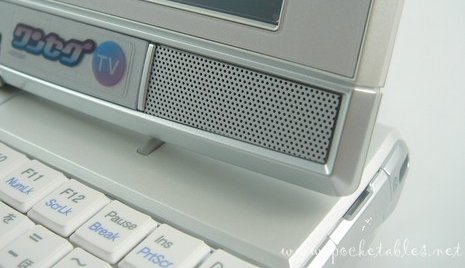 Completing the tour around the SC3's display are two speakers located at the bottom of the panel. The speaker volume, though low, is suitable for personal listening.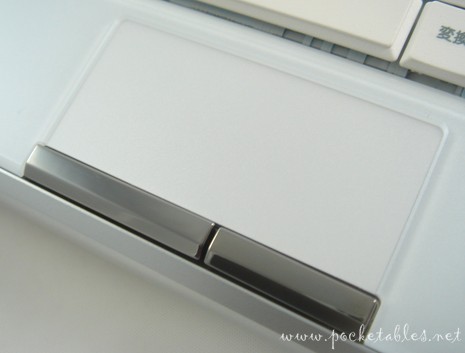 Other than the keyboard, which is discussed in its own section below, the only navigational control is the touch pad and mouse buttons below it. The touch pad is 2 inches long, which makes it about 80% the size of the touch pad on my 11.1-inch Sony Vaio TZ notebook. Although it's smaller than most are accustomed to, it's still usable and responsive. The left and right mouse buttons below it are easy to press and provide good tactile and soft audible feedback.
And that about does it for the Kohjinsha SC3 controls.
Now let's take a look at the rest of the I/O ports and interfaces on the unit.

On the back are a covered RJ-45/Ethernet port, battery compartment, and power port.
One of two Kensington locks, USB 2.0 port, VGA port, headphone and microphone jacks, volume rocker, stylus slot, and an external GPS antenna port can be found on the SC3's left side.
An air vent, 3-in-1 memory card reader, ExpressCard/34 slot, covered USB 2.0 port, and the second Kensington lock are located on the right side of the unit.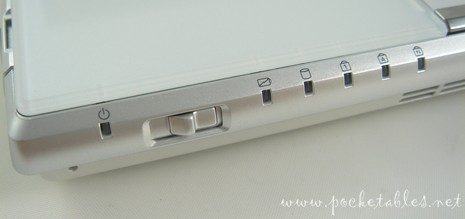 On the front are a microphone, various LED indicators, power switch, air vents, and wireless radio on/off switch.
Compared to other UMPCs, all that the Kohjinsha SC3 is really missing are a biometric fingerprint scanner, some user-defined buttons, and maybe an optical mouse for better slate-mode navigation.
Keyboard
The biggest benefit of the SC3's mini notebook form factor is, undoubtedly, the keyboard. Clamshell designs allow a QWERTY keyboard to be almost the same size as the device itself, whereas slider-style UMPCs generally have thumboards about half the size of a gadget's height and slates either have no keyboard or split keypads.
The size advantage makes data input faster because those with small hands can probably touch-type and others can hunt-and-peck with relative ease. After only a short bit of practice, I was able to type at 63% of my normal touch-typing speed on the SC3 using two or three fingers on each hand. UPDATE: Watch me take a one-minute typing test.
You can see in my mobile device keyboard typing speed chart that this puts the SC3 right between the HTC Shift a nd Fujitsu LifeBook U810.
The 84-key Japanese/English keyboard has a mostly standard US layout that is easy to get used to. Some of the punctuation keys are rearranged, but it doesn't take long to memorize where they are.
I don't know the pitch (distance between keys) or stroke (distance a key moves when pressed) of the SC3 keyboard, but neither is problematic. Typing for extended periods becomes uncomfortable, but light to moderate input sessions can be done with little to no ill effect on the fingers, hands, wrists, and/or forearms.
Connectivity
The Kohjinsha SC3 lacks integrated 3G connectivity, but it has 802.11b/g Wi-Fi, Bluetooth 2.0+EDR, and GPS. Note that the base configurations (SC3KP06A and SC3WP06A) do not have Bluetooth or GPS.
Wi-Fi signal strength is great, allowing me to connect with ease to my home network from a room that other mobile devices sometimes have trouble seeing the router in. The SC3 uses a Bluetooth chip from Cambridge Silicon Radio (CSR) that has successfully paired with every single Bluetooth-enabled device I've thrown at it (mobile phones, headsets, computer peripherals, MP3 players, etc.).
Since the SC3 is only available in the US through importers like Conics, it does not come with English map software to use with its internal GPS. Instead, the device ships with GrandMap PC Navi (Japanese software), which isn't useful outside of Japan.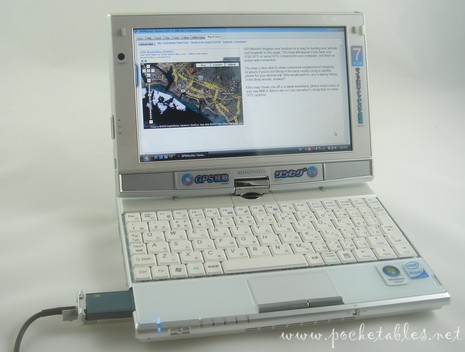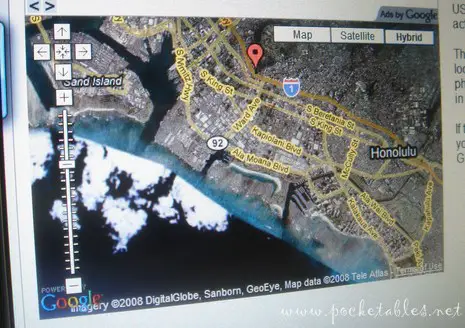 Free and paid GPS software is plentiful online, so I downloaded Infix Technologies' GPSMonitor to give the SC3's GPS a try from my high-rise condo. I put the antenna (that square thing in one of the photos) near a window, plugged the other end into the extending port, and launched GPSMonitor. I was found within minutes (eep!).
I haven't tried using the SC3 in the car, but I suspect that it would perform flawlessly with the right software (GPSMonitor isn't a turn-by-turn app). My Garmin GPS unit can't even find me when I'm inside!
Performance
Since the Kohjinsha SC3 series is one of the first Menlow-based devices to become available, many are anxious to see how the previously codenamed Silverthorne CPU and Poulsbo chipset perform under the weight of Windows Vista.
Keeping in mind that my review unit has 2GB of memory installed, Vista Home Premium SP1 runs extremely well on the 1.33GHz Atom processor. I'd even go so far as to say that it's downright zippy and on par with what I'm used to (which isn't much). I've experienced no disk thrashing, lagging, or slow-loading menu items and icons. Anyone expecting Vista to perform on the Atom the way it did on the A110 will be pleasantly surprised.
The SC3 gets unbearably warm when running on AC power and when in use for about an hour or so. Even when the system is being taxed, though, the unit runs so quietly that I've actually had to put my ear next to the air vents to check if the fans were working.
Benchmarks
These don't mean anything to me personally, but since I know how much you guys love benchmark results, here they are.
Windows Experience Index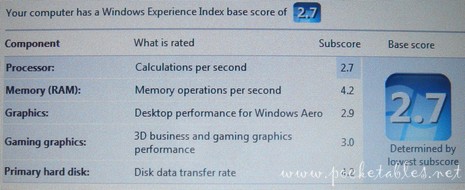 CrystalMark 2004R3
The SC3's 60GB hard drive is partitioned (C: 31.4GB, D: 24.4GB) so I ran CrystalMark 2004R3 on both.
3DMark03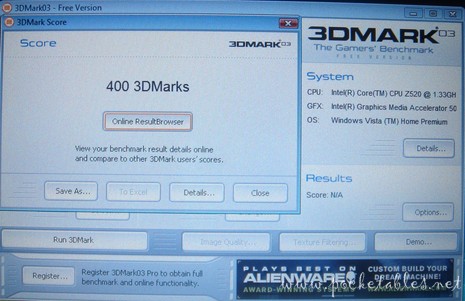 For more CPU and GPU test results, take a look at this updated Kohjinsha SC3 review thread in the new Pocketables Forum.
Video Playback

I don't watch too many online videos, but I'd be remiss if I didn't discuss how Menlow gets along with Flash video sites like YouTube, Hulu, Veoh, and Vimeo. Better yet, I'll show you. Please excuse the excessive background noise (my Handycam's mic is overly sensitive).
I realize that demonstrating video quality using a video of a video is problematic, but it's the next best thing to seeing it in person.
UPDATE 8.5.08: QuickTime HD playback video demo now available.
Battery Life
Kohjinsha has given the SC3's standard li-ion battery (7.4V, 2600mAh) a runtime estimate of 3.2 hours, but my usage (Wi-Fi and Bluetooth on, GPS off, screen at mid-brightness, web browsing with Firefox 3) returns about 2.5 hours. Unimpressive.
A high-capacity battery (7.4V, 5200mAh) with a runtime of 6.4 hours is available separately. Like with the Fujitsu U810, however, this extended battery will stick out of the back of the SC3 and add some weight to the device. Aesthetics versus function, I guess.
Conclusion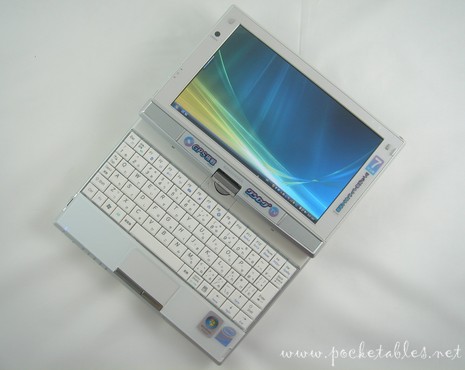 The Kohjinsha SC3 has come such a long way from the original SA1 series from 2006 that it's hard to believe they're actually related. Everything the SA1 did wrong, the SC3 does right . . . and then some! It looks fantastic, is more compact than any other 7-inch UMPC around, has an excellent keyboard and a good selection of ports/features, and performs well under Vista. Battery life is a bit lacking and the unit gets very warm after a bit of use, but all things considered, there is very little to complain about.
If this is what we can expect from all Menlow-based devices, then there's definitely a lot to look forward to.
The Kohjinsha SC3 can be purchased now from Conics for between $900 (SC3KP06A/SC3WP06A – no Bluetooth or GPS) and $1000 (SC3KP06GA/SC3WP06GA). A 2GB memory upgrade (+$73), other configuration options, and accessories are also available.
UPDATE 7.28.08: I've decided to buy the SC3 so if you have any questions or requests, let me know in the comments or in the new forum.