Upgrade first-gen iPhone firmware before activating iPhone 3G (unless you need a paperweight)
If you've been wondering whether a deactivated first-gen iPhone's firmware can be upgraded to the newly released (and unreliably available) version 2.0, then wonder no more: it can't. UPDATE: Now it can! See comments for details.
Two weeks ago, when AT&T first announced that deactivated devices could be used as glorified iPod touches, AppleInsider recommended that users upgrade their old iPhones before getting the new phone because "it's unclear whether upgrades to non-active handsets will be possible" (reminder: activating the new iPhone automatically deactivates the old one). Though the advice was sound, it could obviously only be followed if the 2.0 software update was available before people left their houses to stand in line on launch day. And it wasn't.
Right before my husband and I left the house that afternoon, I connected my iPhone to iTunes, checked for the update, and was told that version 1.1.4 was the most current. It was already 1 p.m. HST (7 p.m. EST), five hours after the phone went on sale, so I figured that Apple/AT&T knew that people would buy the iPhone 3G before 2.0 was officially out and handle the situation accordingly.
In other words, I assumed that I could activate my iPhone 3G at the store and then go home and update my newly deactivated first-gen iPhone when 2.0 showed up in iTunes. I mean, why else wouldn't 2.0 be available before 8 a.m. on July 11th? Apple wouldn't expect new iPhone 3G owners not to want their old iPhones to run the most current firmware, right?
I don't know. But after putting together the best uncommon uses for iPhone 3G, I connected my first-gen iPhone to iTunes, saw that 2.0 was available, downloaded/installed the massive 200MB+ file with what appeared to be no problem, and then stared at the "slide for emergency" screen.
The iPhone, iTunes said, needed to be activated to complete the upgrade/restore.
Fine, I thought. I popped out the SIM card from my iPhone 3G, inserted it into the old iPhone, and watched as AT&T verified the activation. Success . . . if I wanted to sign up with the original $20 data plan. Now, considering that I just signed up with the iPhone 3G's $70/month plan, I had no intention of being locked into an additional $20/month fee.
Using the new iPhone 3G SIM was obviously not the right way to complete the firmware upgrade.
So I removed the SIM and was presented with the message you see above. I didn't have an unlocked SIM, but I did have a valid GoPhone one. No deal. AT&T "verified" the account and found it to be ineligible.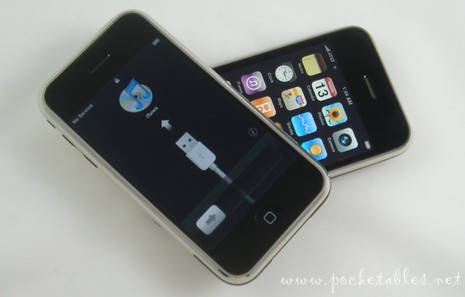 So now I have a fully functional iPhone 3G and a completely unusable deactivated first-gen iPhone that wants nothing but the ability to run the 2.0 software. Apart from waiting for the jailbreak (which should work since iTunes is able to recognize the deactivated unit with no problem), what am I supposed to do?
The fact that I don't need the old phone for anything is beside the point, as it wasn't my shortsightedness that caused the problem. It's unreasonable for iTuple&T (iTunes + Apple + AT&T) to expect soon-to-be iPhone 3G customers to wait for 2.0 to become available for their first-gen devices before heading to the Apple Store or AT&T. If activation is a required part of the upgrade process, then either get the new software out on time or don't allow iTunes to download, extract, prepare, verify, restore, and install it.
It's ridiculous to let the phone pass through every single gate if the last one is locked.