Willcom D4 (Sharp WS016SH) extended battery promotion
To celebrate tomorrow's release of the Willcom D4 (Sharp WS016SH) Atom-based UMPC in Japan, the carrier is running a promotion until the end of the month that gives newly contracted customers the $140 high-capacity battery (CE-BL58) for free. The 7.4V/2880mAh li-ion battery, which adds 0.4 inches and 4 ounces to the D4, will ship to eligible customers beginning in August and has a stated operating time of 4.5 hours.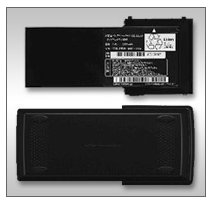 According to Willcom (and Babelfish):
Approximately 3 times (4.5 hours) actualizing drive time by utilizing the WILLCOM D4 private bulk battery, by comparison with the time of substance bundled standard battery utilization! Compared to Mobile data communication of long haul becomes possible.
Or in non-computer-generated translation terms, the CE-BL58 extended battery's runtime is three times longer than that of the CE-BL57 standard battery. Direct From Japan (via UMPCPortal) reports that the figures listed on Willcom's product page actually apply only to WWAN usage, so wi-fi browsing and basic computing runtimes are expected to be longer. I was hoping to be able to test this out for myself in the next few days, but I just heard from Conics.net, who I'm buying the D4 from via special order, that the first round of UMPCs is sold out. Willcom's next shipment is expected at an "unknown date," but there may be other retailers that Conics will be able to secure a unit from. I'm beyond anxious to call this Vista-running slider my own, so please send out "in stock" thoughts and wishes into the universe for me!
Battery comparison photos and other info below: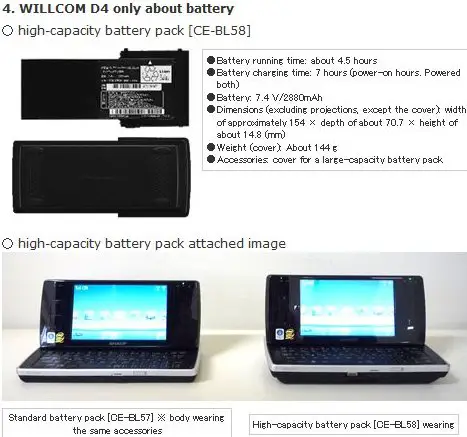 [
Press release
(translated)]