Willcom D4 (Sharp WS016SH) size comparisons
Measuring 7.4 x 3.3 x 1.0 inches, the Willcom D4 sounds quite large for a UMPC with a 5-inch display. But in person, the Menlow-based slider is much more compact than it seems on paper. I actually expected it to be bigger when I unboxed it yesterday. To illustrate this, I've rounded up my UMPCs, a few gadgets that were requested by readers, and some more universally known objects around the house for a size-comparison photo shoot. Have a look below.
UMPC Comparisons
The D4 looks very long alongside the HTC Shift, Kohjinsha SC3, Fujitsu LifeBook U810, and Sony Vaio UX180P.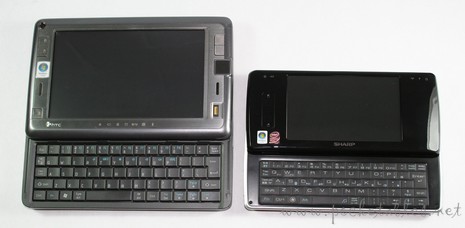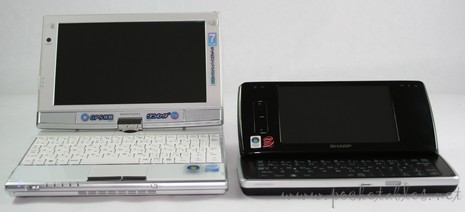 But it's also much more narrow, making it considerably "shorter" when sitting next to UMPCs that share a similar laptop-style form factor.
Compared to pure sliders like the UX, however, it's back to looking long again.
Other Gadget Comparisons
Since the D4 is a "real" UMPC that runs a full-blown Windows operating system on an x86 platform, comparing it to devices that do not share these attributes isn't really fair. I promised a few readers to do it anyway, though, so here are the photos.
Nokia Internet Tablets (N800 and N810)
HTC Advantage and Sony mylo 2
Sony PSP
Sony Vaio TZ Comparisons
Since my primary PC is the Vaio TZ subnotebook and I'm working on it right now, I figured I might as well put it under the lens too.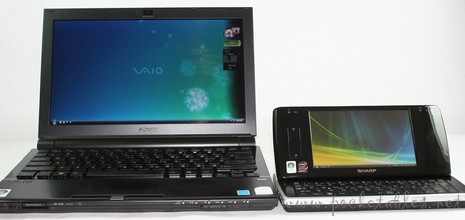 Common Object Comparisons
And finally, here's the Willcom D4 with some relatively common items that many of you probably have at home.