30GB Nurian Avatar F1 runs Windows CE 5.0 Core
It's impossible to look at this little slate, trifold leather case, and keyboard combo and not think of the Samsung Q1 organizer pack. But if what you're expecting of the 5.8" x 3.0" x 1.0" device is a new IDF-revealed UMPC or MID running Vista or Linux on an Intel Atom processor, then please avert your eyes while I explain that the 12-ounce you see here is actually a cross between a PMP, an e-dictionary, and a PDA. It's called the Nurian Avatar F1 (or F1 Avatar) and despite the disappointment to UMPC/MID fans, it's got some decent specs.
Housed inside the black and silver casing are a 30GB hard drive, 600MHz Alchemy Au1250 processor, Windows CE 5.0 Core, and a removable 2500mAh li-ion battery. The Avatar also features TV-Out, USB 2.0 host and device ports, DMB, voice recorder, and support for XviD, DivX, and OGG, as well as the "standard" array of codecs. Its 4.3" touchscreen has a resolution of 480 x 272, which would really only be unacceptable if it had a web browser and wi-fi (like its Z1 sibling). But since it doesn't, the screen seems perfectly suitable for video playback.
The Nurian Avatar may not be a real x86-based UMPC, but there's no mistaking the use of the "UMPC" term in the Korean description above.
Here are some additional pictures: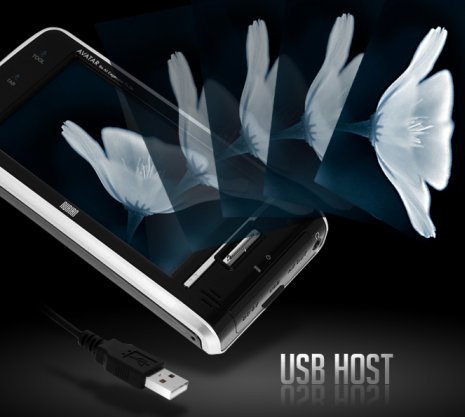 If you don't mind that the questionably translated phrase "Be All Eagerness To Do" is printed on the device, the Nurian Avatar F1 is available in Korea now for about $450.
[
Product page
]