Fujitsu Lifebook U2010: With or without GPS?
Does the Fujitsu LifeBook U2010 UMPC have built-in GPS or doesn't it?
According to official specs, including those of its regional counterparts, the answer is no. But recall the Vietnamese forum that published the mini convertible's first real details, which included GPS, and the answer is yes.
Since neither the press release nor the product pages mention anything about the functionality (not even as an optional add-on), I've taken sides with the No GPS group. But today, an article detailing the main differences between the U2010 and its predecessor has me questioning my allegiance. The piece has been picked up by several major Chinese tech sites and based on its word-for-word replication appears to come directly from Fujitsu.
One of the "eight major reasons" the U2010 is unlike the U1010 is "built-in GPS satellite positioning and other functions." The photo you see above, which shows the U2010 mounted in a Fujitsu-branded car providing directions on its 5.6-inch display, accompanies the info.
Now if the U2010 had already been announced in China and its product pages confirmed GPS inclusion, then this discussion would already be over. But since the GPS-less UMPC has actually only been launched in Singapore and Hong Kong, I feel the need to collect evidence.
So far, we've got the press release, Singapore product pages, Hong Kong product pages, LOOX U/B50N (Japan's version of the U2010) product pages, U820 (USA's version) FCC docs, and various importers confirming that the tiny Vista computer does not have GPS.
And on the other side, we have the Vietnamese forum and today's new article saying otherwise. But that's not all! After some googling, I learned that the Hong Kong Polytechnic University, who I mentioned was selling the U2010 at discounted prices for students last month, has updated their promotion page to include the item you see circled in blue below: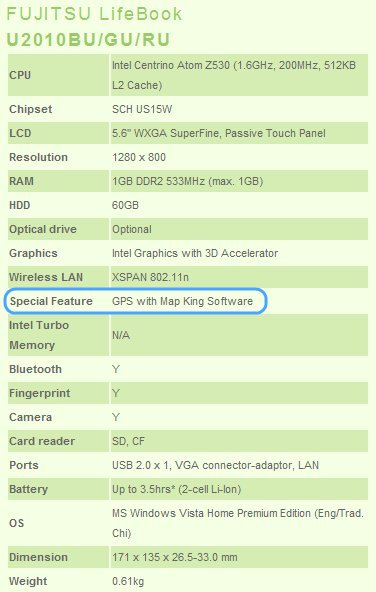 Compare this with last month's specs and you'll see that "GPS with Map King Software" is new info. Okay, so maybe only the Hong Kong version of the U2010 comes with integrated GPS, right? Well, no. Not according to the official Hong Kong specs list, anyway.
While I was on the Fujitsu China site, though, I came across a press release from last month about some kind of upgraded U1010 (the current LifeBook U there) that comes with SkyWalker GPS.
It's next to impossible to make out, but if you look closely at the portion circled in yellow above, you can see the word "GPS" and something that could be a GPS USB dongle. I have no idea what the pink and white box next to it is.
This doesn't really have anything to do with the U2010, I know, but it's worth pointing out because if Fujitsu is doing something GPS-related with the U1010, then it's entirely feasible that they'd do something similar with the U2010.
So there you go. Everything I could find about whether or not the Fujitsu LifeBook U2010 has built-in GPS.
Here's the final breakdown:
No GPS
Press release
Singapore product pages
Hong Kong product pages
LOOX U/B50N product pages
LifeBook U820 FCC documents
Importers
GPS
Vietnamese forum
"Eight major reasons" article
Hong Kong Polytechnic University
U1010/SkyWalker (sort of)
What do you think?
Update: Fujitsu U2010 launches in Korea with GPS