Kohjinsha SC3 gets HSDPA the easy way
The Kohjinsha SC3 mini convertible may not have 3G mobile broadband connectivity built in, but the UMPC's ExpressCard/34 slot makes getting it incredibly easy. With an AT&T Laptop Connect card, which in my case is last year's Option GT Max 3.6 Express, and a 3G data plan, which can be had for as little as $20 per month, the SC3 enjoys HSDPA speeds anywhere it can find a signal in mere seconds.
Note 1: Tethering to a Bluetooth-enabled cell phone is just as fast, of course, but let's just pretend that everyone uses a non-tetherable iPhone 3G or Bluetooth-less handset and wants to make use of the card slot.
Note 2: 3G ExpressCards like the Option GT Max can be used with any computer (Macs require some software fiddling) equipped with an ExpressCard/34 slot, so what follows isn't exclusive to the Kohjinsha SC3 and will work just as well on any other machine, UMPC or not.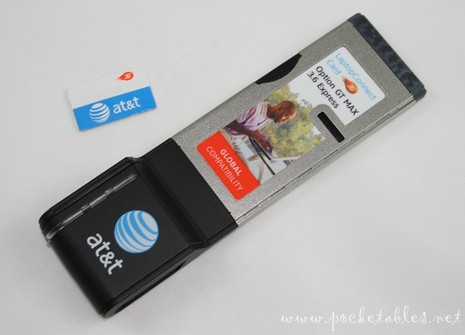 Brand new, the Option GT Max Express (and the newer Ultra Express) costs somewhere between $200 and $300. Used, the card can be picked up for under $100 on sites like eBay or Amazon Marketplace. It may not come with the software installation disc, but the latest version of the required AT&T Communication Manager can be downloaded here.
The card I bought on eBay came with no original packaging or paperwork, but getting it set up with the SC3 took less than 5 minutes. I downloaded and installed the AT&T software a few days before the card arrived, so all I had to do when it came was insert my AT&T SIM (both my iPhone and GoPhone cards work fine).
Then I just slid the card into the SC3's ExpressCard/34 slot and started the AT&T software.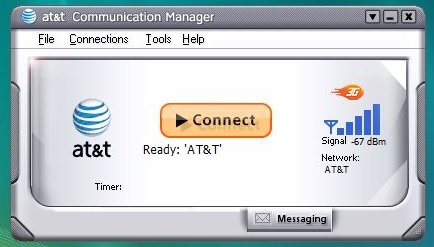 Vista installed the necessary drivers and the Communication Manager recognized the card and found the signal immediately. I changed the APN from isp.cingular to wap.cingular in the connection settings, which I knew to do from some of the comments left on my $20 unlimited 3G data tutorial, and hit the Connect button.
I was connected within seconds.
The card sticks out about 2.25 inches (1.75 inches on my Vaio TZ), which is rather unsightly, but it doesn't get in the way too much because of the SC3's design. Its mini notebook form factor makes it more of a "set it on a table/lap" device than a "hold it your hands" unit, so the protrusion actually has no impact on the way I interact with the UMPC.
Plus, look at the speeds it gets with the iPhone SIM:
Not too bad for surfing the web on the go!