Review: Willcom D4 cradle (CE-CR04)
One of the most interesting accessories designed for the Willcom D4 (Sharp WS016SH) UMPC is undoubtedly the official cradle (CE-CR04). It adds an impressive array of ports and functions to the device, but do all the extra features justify its $220 import price? See for yourself below. Specifications
Connectors:

USB 2.0 (4), VGA out (1), RJ-45 Ethernet (1),
3.5mm headphone (1), power (1), second
battery charging slot (1)
Dimensions:

8.1" x 5.4" x 1.6"
Weight:

10.6 ounces
MSRP:

19,800 yen (about $180, as of 8/08)
Design
The D4 cradle's glossy sides complement the equally glossy-faced UMPC quite nicely, but its all-plastic body undermines it.
Even though build quality is fine, the cradle feels very cheaply made and is just too lightweight for its own good. A weighted base would have made it feel more substantial, especially because portability is not the purpose of a docking station. The rubber feet prevent it from sliding across a desk too easily, but it doesn't take much force/effort to knock it around. And that's not good news when you're dealing with a $1500 computer. The main reason its weight is so noticeable is that the unit itself is . . . well, frankly, it's freaking huge. I mean, just look at it. It's enormous. Yeah, yeah, that's what she said (*rolls eyes*).
But while the cradle may look like it should've been cut in half, there's actually a very good reason it wasn't.
Function
The D4 cradle adds an incredible amount of functionality to the device. Except for a built-in optical drive, the dock has everything needed to make the most out of the UMPC.
First and foremost, it's equipped with a charging slot for a second battery. Both the standard (CE-BL57) and extended capacity (CE-BL58) batteries fit into the charging area and can be topped off while the battery attached to the D4 is being charged. This is a feature that should really be included on all docks.
The specs chart above already lists the I/O ports the cradle has to offer, so let's take a quick look at where everything actually is.
A USB 2.0 host port is deeply recessed on both the left and right sides.

On the back are the standard headphone jack (which the D4 lacks), VGA-out port for connecting to an external display, Ethernet port for wired LAN, two more USB 2.0 host ports, and the power port. Note that the cradle does not include an AC adapter; the one that comes with the D4 must be used.
Fit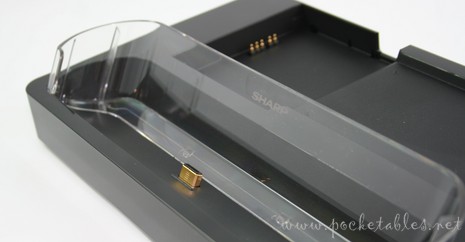 You may have noticed from my previous Willcom D4 coverage that all of the UMPC's ports are located under covers/doors that open to allow access but are not removable. The only exception to this is the dock connector, which is covered with a piece of rubber that is not attached to the unit. This "clean" opening lets the D4 slip into the dock with ease and makes for a perfect fit. The acrylic guides eliminate any fiddling and ensure that the UMPC is positioned correctly every time.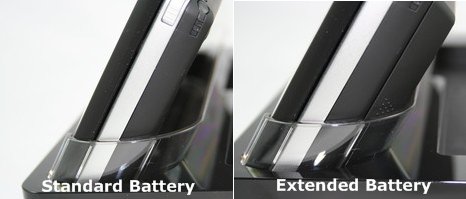 Better yet, the cradle is compatible with the D4 wearing either the standard or extended battery. My biggest fear when ordering the cradle was that the high-capacity battery, which I cited as an absolute must-have in my review, wouldn't fit into it. Not all docking stations are designed as thoughtfully, so this is definitely a plus.
Docked D4 (standard) with extended battery in charging slot:
Docked D4 (extended) with standard battery in charging slot:
Conclusion
The Willcom D4 cradle (CE-CR04) provides the USB 2.0 host ports and 3.5mm headphone jack the UMPC itself lacks, and adds extra functionality (wired LAN, VGA out, spare battery charger) to allow the unit to transition between mobile handheld and office workstation quickly and easily. But with an MSRP of about $180, an import price through Conics.net of $220, and materials that don't exactly scream "quality," the cradle is a cost-prohibitive accessory that should've been included free with the D4.
Note: Docking stations are often exorbitantly priced (e.g., the OQO Model 02 dock, which includes an ODD, costs $400), but that hardly makes it right.