Mobile must-have: CradlePoint CTR500 3G travel router
While preparing to spend the next several weeks out of town, I was introduced to the CradlePoint CTR500 Cellular Travel Router by wireless guru orbitalcomp in the Pocketables Forum. It's an ultra-compact EVDO/HSDPA router that creates a WiFi hotspot from a USB modem, ExpressCard modem, ethernet connection, or select cell phones, making it perfect for traveling and the newest addition to my gear bag.
The hotel I'll be living in has a hardwire-only connection, which leaves my husband with no way to get his internet fix on his WiFi-dependent gadgets while I'm online. And since the iPhone 3G has laughable Bluetooth support (another one of my gripes), I can't share its HSDPA connection with anything he has.
So what we plan to do is plug the hotel's cable into the CTR500 and blanket our room with secure wi-fi coverage. I haven't started packing yet, but based on what I think I'll be bringing, I believe we'll end up with eight WiFi-enabled gadgets between the two of us. Fortunately, the router allows up to 16 users, leaving us with quite a bit of room for spontaneous purchases.
CradlePoint makes two other travel routers, including one with a built-in rechargeable battery, but I chose the CTR500 for its ethernet port and ExpressCard slot. See compatibility list.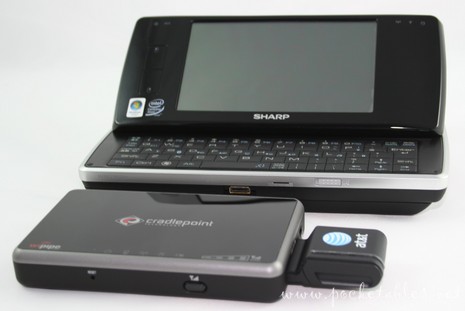 I'm having trouble getting my ExpressCard modem (Option GT Max 3.6 Express), which has no problems with the Kohjinsha SC3 and Sony Vaio TZ, to work properly with the router at the moment, but the ethernet connection is flawless. I definitely want to get the ExpressCard working eventually, but since all we really need for this trip is the LAN wire, I'm not fretting over it too much right now.
Although the CTR500's reliance on AC power makes it less mobile than if it were battery-powered, something like the Tekkeon portable power station is an easy workaround. The external battery charges lots of other devices (including notebooks and UMPCs), too, so it's already on my list of traveling must-haves.
In addition to being incredibly compact and providing so many different ways to get online, substantial firmware upgrades are another highlight of the CTR500. The latest one, version 1.3.1, adds load balancing, failback to ethernet, and more supported devices. For more information, check out EVDOinfo's fantastic CTR500 review.
Needless to say, our temporary home-away-from-home will be more like home because of this router.
The CradlePoint CTR500 Cellular Travel Router retails for $180 but can be found for a bit less on Amazon
.