More Fujitsu U2010 UMPCs launched with GPS
If you've been keeping score in the mind-bending Fujitsu U2010 GPS game, then take out your chalk and add a few more tally marks in the "Has GPS" column.
Fujitsu Taiwan has just announced the LifeBook U2010 with "exclusive built-in GPS satellite navigation" for a suggested retail price of 42,800 TWD (~$1333). The news comes about a week after the Korean version of the Atom-based convertible UMPC was confirmed to have an internal GPS module, making the Taiwanese U2010 the second officially launched model with integrated navigational functionality.
The third region to get a GPS-equipped U2010 is China.
Fujitsu PC China Division, who is currently in the process of giving away two U2010GPS Rose Gold Edition units as "super-lucky award" prizes, held a press event yesterday to formally unveil their 60GB GPS-equipped U2010 in a few more colors than Taiwan seems to be getting (even though the China product page shows the same four colors mentioned in the Taiwan press release).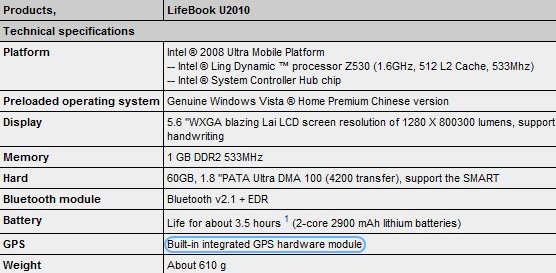 Whether or not different colors will be available in the two regions, the configurations will not be the same. In China, for example, the U2010 has a 60GB hard drive and runs Vista Home Premium. In Taiwan, however, the UMPC comes in 60GB and 100GB capacities with Vista Business.
In related news, the original U2010 press release (dated 8/6) from Fujitsu PC Asia Pacific has been updated with the text you see above (dated 9/5). Notice that the Senior VP of Sales and Marketing says that the U2010 builds upon the U1010, "accentuating its lifestyle capabilities with a distinctive GPS navigation feature."
The Hong Kong product pages make no mention of GPS, even though the updated press release links to them, but does show that its U2010 can be had with Vista Home or Vista Business and with either a 60GB hard drive or 64GB SSD. The same is true in Singapore. And if you're still with me, the Korean U2010 is available with a 120GB hard drive or 64GB SSD, while the GPS-less Japanese model (LOOX U/B50N) comes in 60GB/100GB/120GB hard drive capacities and the ever-popular 64GB SSD option.
With all of these configuration variations, who knows what we'll get when the UMPC is released as the U820 in the US.