Quick look: Kohjinsha SC3 extended battery
Though the Kohjinsha SC3 has an estimated runtime of 3.2 hours, real-world usage of the Atom-based UMPC lowers that figure to around 2.5 hours.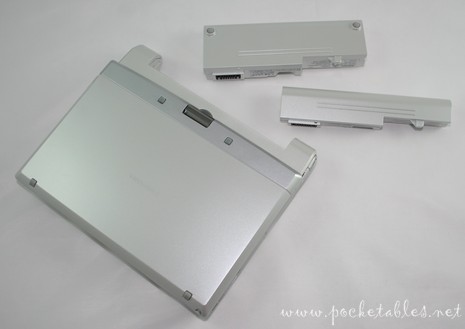 This is the same number associated with first-generation UMPCs, so many were understandably upset when the unit was released in July to see history repeat itself. Others (like me) were willing to overlook it, perhaps at least partially because of Kohjinsha's claim that the extended battery, due in late August, would run for up to 6.4 hours.
Conics.net was among the first to carry the 5200mAh li-ion batteries and is now shipping them to just about every part of the world.
I received mine last week and thought you might like to see how it looks when attached to the SC3. I think it should allow you to judge for yourself whether the aesthetic sacrifice is worth the actual extra runtime.
The extended battery sticks out about three-quarters of an inch and adds approximately 0.34 pounds to the SC3.
The appendage is rather unsightly at first glance, but you can see that it's pretty standard fare for a high-capacity battery when placed beside the Fujitsu LifeBook U810. This isn't to say that it looks good, but it's not as bad as its first impression.
Placed on a table, which is how I usually use the device, the added length and weight are completely unnoticeable. And in slate mode, the battery makes a nice, easy-to-hold "handle" (probably not recommended by Kohjinsha).
The extra length really only has a negative impact on the SC3's appearance, but since that's subjective, the main concern for one- or two-handed UMPC users' comfort is probably the extra weight. With the extended battery attached, the SC3 weighs about 2.1 pounds. This is too heavy for my hands/arms to be comfortable (hence the laptop usage), but yours may feel differently.
Even more important than how long you can hold the UMPC, however, is how long you can actually use it. That 6.4-hour battery life quoted by Kohjinsha? Rubbish. In real life, expect to spend about 3.5 hours online via wi-fi (Bluetooth and GPS off, mid-screen brightness, balanced power plan) before looking for an outlet. The number is good for a UMPC, I'll give you that, but it's shameful for an extended battery that's supposed to run for 6.4 hours. Even if Kohjinsha used JEITA to get that number (as Fujitsu did), actual runtime is still an hour short of the "reduce manufacturer's battery claims by 30%" rule.
If anything, wouldn't you expect a 5200mAh battery to provide twice the life of a 2600mAh battery? That seems reasonable to me. Yet with the Kohjinsha SC3, you've got a 2.5-hour standard battery life and a 3.5-hour extended one. That's 6 hours if used together, of course.
If that makes you happy, you can get the extended battery for 14,500 yen (~$135) now from Conics.net.