Spark mobile device concept should already be in production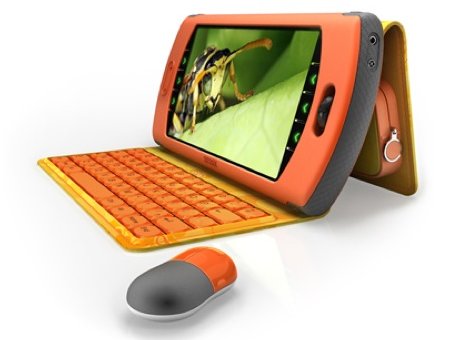 Meet the Spark, an ultramobile concept device designed by IDEO and Project Inkwell to help K-12 students "learn anytime, anywhere" via wireless connectivity and educational software. The portable slate can be used as a mini notebook when inside its portfolio-style case, which features a QWERTY keyboard and zippered pocket to store a Bluetooth mouse and hot-swappable spare battery, as well as a standalone gadget held between both hands. Based on the brief write-up and photos (below) on the project page, the Spark looks to have wi-fi, Bluetooth, ethernet and USB ports, a scroll wheel, and neon rubberized casing options. I'd also estimate it to be similar in size to the Willcom D4 (7.4" x 3.3"), as the keyboard seems well suited for the child in the last photo.
The Spark was actually designed in 2006, if you can believe that, so at this point it's probably safe to assume that it will never be an alternative to the OLPC laptop. Looking at the images, though, I seriously don't understand why this device wasn't made immediately.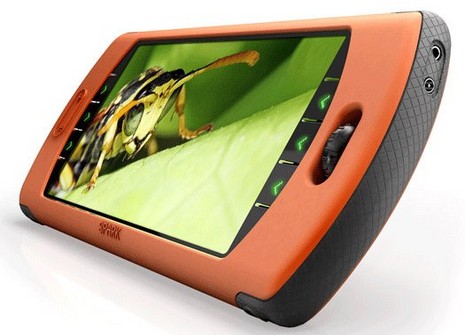 The colors could stand to be toned way down, but aside from that, I think it looks pretty good. I don't know if there's a touchscreen or how those ATM-style arrow keys on both sides of the display work, but paint it black, add some silver accents, and I'd want one immediately.
A case like this should really be a standard accessory for all UMPCs and any device that can be connected to a keyboard. It's similar to the Samsung Q1 organizer pack and the Nurian Avatar F1 add-on, but it's so much cuter! The designs may not appeal to men but again, paint it black and the problem is solved.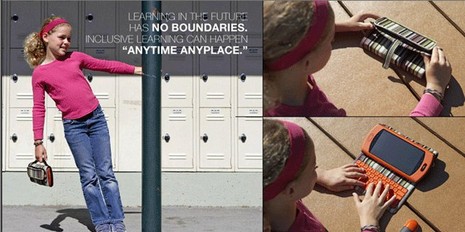 How much do you think it would cost to take something like this into production?
Thanks, Bocha!