The return of the Toshiba Libretto U100
In honor of their 20th year of selling notebooks, Toshiba has dusted off the much-loved Libretto U100 and put it on display in a Korea W Style Shop, a "mobile 2.0 cultural space" created by Korea Telecom (KT) for people to "experience, share, and recreate various mobile cultures [and get] a firsthand experience of WiBro." It isn't clear whether the "limited edition" U100 is actually for sale, but it appears from the live photos and limited specs available (7.2-inch display with LED backlighting, 2.2 pounds) that nothing about the mini notebook has been changed since its 2005 release.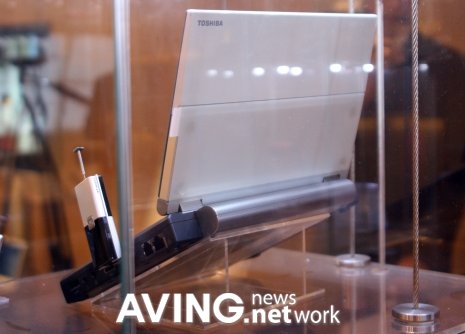 The Libretto's inclusion at the W Style Shop would seem to indicate some sort of WiBro connectivity, but if the device has any kind of WWAN functionality, my guess is that it's probably just the work of that antennaed black-and-white USB dongle.
It's actually rather puzzling that Toshiba hasn't come out with the Libretto 2 or something yet, isn't it? Sure, they've got that concept UMPC and the new SD Multi Tool, but if you made the Libretto U100 several years before the Eee-sparked netbook craze, wouldn't you have let the U200 loose by now?
[
AVING USA
|
SlashGear
]