VIA-powered M860 UMPC runs Windows XP
Here's a 7-inch UMPC I've never seen before. It's called the M860 and is manufactured by Match Tech Industrial, an OEM that lists North America as one of its main export markets.
In addition to a 1.2GHz VIA (C7-M?) processor, 60GB hard drive, and 1GB of RAM, the slate runs Windows XP Home and has three USB 2.0 ports, an SD/MMC card slot, ethernet and VGA ports, 802.11b/g wi-fi, and a 1.3-megapixel camera. In addition, Match Tech will throw in internal GPS and Bluetooth for an extra $19 and $9, respectively.
This, of course, is assuming that you're buying the M860 in bulk. I don't see a price listed anywhere, but the minimum order is 2,000 pieces.
I don't think anyone has picked it up yet, as I can't find a branded version anywhere, but those specs are in the same range as a low-end OQO Model 02 or HP 2133 Mini-Note. Not bad, then. Design is a completely different story, however, as the M860 has that cheap plastic look commonly associated with Chinese gadgetry (and definitely not a feature of the OQO or HP units).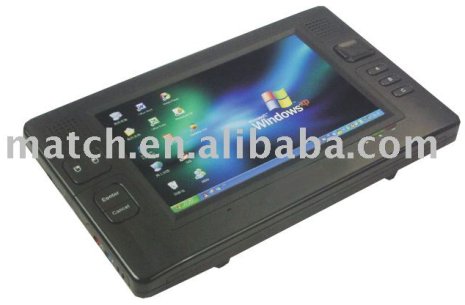 Since design is subjective, it's worthwhile to take a brief look at what else the M860 has to offer.
The UMPC's 7-inch display is an 800 x 480 touchscreen, but there are also mouse buttons, dedicated "enter" and "cancel" buttons, a navigational D-pad, and what appears to be user-defined keys (marked A, B, and C) for those who prefer hardware controls. I can also see stereo speakers, a built-in microphone, and LED status indicators on the front. As for battery life, the 2600mAh battery is expected to provide "3 to 4 hours working time" before needing to be recharged.
If all of these features were wrapped up in a prettier/branded package and the price was right, I think the M860 could easily find an audience.
[
Match Tech
|
Alibaba
]