Archos 5g priced at €279 with €30/month data plan [Updated]
French carrier SFR is expected to formally announce details of their plans to subsidize the 3.5G-enabled Archos 5g later this week, but November's Stuff magazine has already beat them to it. Publicly outed along with a device called the M! PC Pocket, which is evidently an Atom-based MID with a 30GB hard drive and 128MB of RAM (rebadged Aigo hardware with modified keyboard – see below), the 5g appears on page 32 of the French issue carrying a price tag of 279 euros (~$363) plus a monthly fee of 29.90 euros (~$39) for what I assume is unlimited 3.5G data. See updates below.
SFR is currently the only known carrier that will sell the Archos 5g, but if other service providers around the world decide to offer the device for a similar price, would you be interested?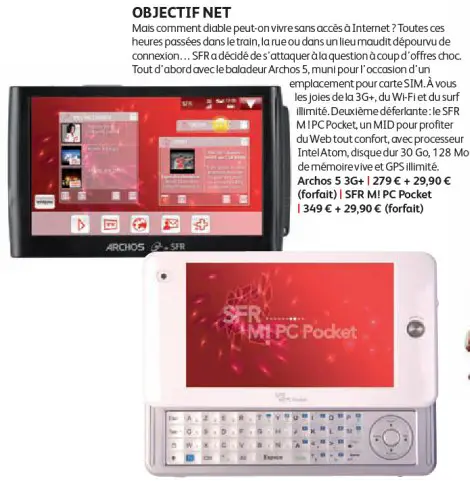 There are still a lot of unknowns about the subsidy, but the SFR press event is only a few days away.
Update 1: SFR press event coverage
Update 2: Official pricing is €249 with €19/month contract; unsubsidized price is €449
Update 3: Correct specs and other details on M! PC Pocket
[
Jbmm.fr
(trans) via
ArchosFans
]